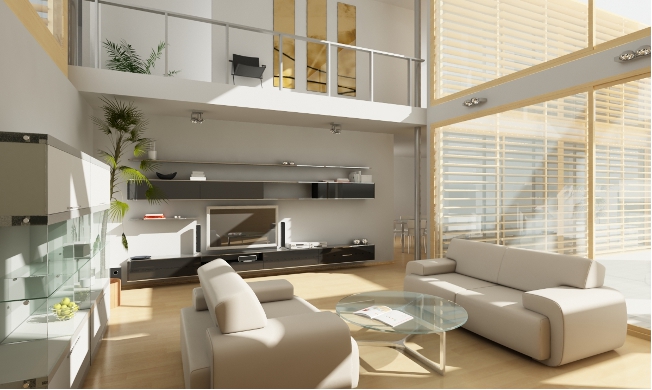 Summer will soon be here and no matter how much you hate the heat, you still have to bear it. So, it is better to adapt yourself to the season and prepare your holiday home to make it as pleasant as possible. The trick is to start early. You don't have to change the entire décor of the house; just adding a few elements to your existing décor can really make a huge difference.
Here are some simple tips to make your home a cool summer abode:
The first and foremost step a homeowner can take, is to cut the excess and strip your home down to its basic essentials in such a manner that it lightens up your space and brings in as much air and light as possible.


Using sheer or lace curtains that are light can give an airy feeling to your interiors.

If you don't want to replace the drapery, then only change the valance. You can also avoid the double rods for curtains and hang the main curtain and sheers in panels of 4 (2 sheer panels and 2 curtain panels) on a single rod. This can create a beautiful look and can also help block light adequately during different times of the day. You can also try sheer or lace curtains instead of heavy drapery.

Change the look of your décor by altering the fabric and colour of your upholstery like cushions, bed linen and curtains. Cool, natural and light fabrics are a perfect choice during summer and they never go out of style. 

Colors play an important role in brightening a room. White is a widely favoured colour. Light colours like baby pink, sky blue, pastel shades of bright colours or neutral colours can also be ideal for summer decoration. Shades of yellow and red can be used for your walls. Tables can be covered with white lace, doilies as runners or tablecloths to give a cool and airy feeling.

Dark and muted tones are perfect for autumn and winter, but for spring and summer seasons light and airy colors are best suited. So add a few revitalising elements like soft furnishing fabrics. If you have dark wood tables, add a touch of white lace to create a softer look. Also replace dark lamp shades with lightly colored or floral printed ones.


Fresh cut flowers in decorative vases can brighten up the room.

Another cost-effective way to make an impact is by adding fresh flowers to your overall décor of your home. Bright, fresh flowers either from your own garden or from the local florist can be placed in light and understated vases in the rooms. Also make sure that the flowers are always visible by placing vases on table/counter tops. The foyer, kitchen, bedroom and bathroom can be prime locations which will brighten up the interiors. But let the flowers take center stage. So avoid heavy, dark or bulky vases.

If you have a swimming pool, this is the best time to get it checked and renovated if there are any cracks in the tiles, etc. The water system too needs to be thoroughly checked to remove all kinds of clogged material and dirt.
So, instead of loathing the heat, enjoy the long lazy days of summer. Just throw open your windows and let the evening breeze enter your home!