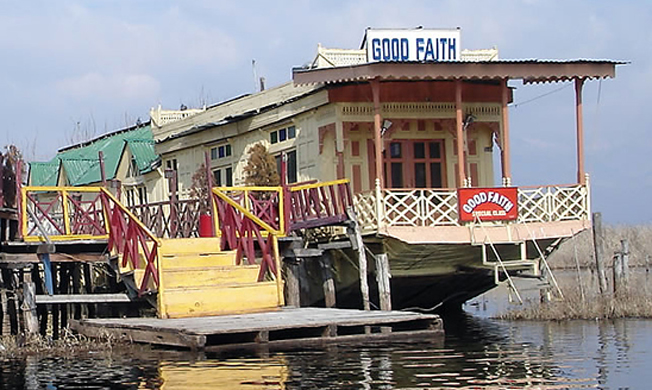 Nisar Ahmad Bhat, who owns a two-storeyed holiday home in picturesque Pahalgam area of South Kashmir, reckons the concept of holiday homes or homestays is yet to take a full flight in Kashmir valley. He advocates the need of both private and public players of the tourism fraternity to work in harmony to promote these alternatives in addition to traditional hotels in order to make it a commercial brand.  Nisar's holiday home hosts nearly 400 tourists in the peak season – spring and summer. Nisar believes there is an ocean of difference between the holiday homes of Kashmir and those in places like Goa and Himachal Pradesh.
In a chit-chat with Holiday Home Times' correspondent, Waheed Ahmad Mirza, Bhat candidly admits that holiday homes in Kashmir are in its infancy, but was quick to add that if the government offers a helping hand to those interested in this particular sector of the hospitality business, the industry would flourish in years to come.
Tell us something about your holiday home. What kind of facilities you provide to the guests?
Nisar Ahmad Bhat: It is a two-storeyed building having twelve rooms and a kitchen on the ground floor. It is on the left side of Pahalgam-Chandanwari road having an easy access to the vehicular traffic and markets of Pahalgam.  We have all the facilities that an established hotel provides to its customers.
Our rooms have double beds with attached bathroom. As winter and autumn seasons are very cold, our bathrooms are laced with geysers that help guests in procuring hot water when temperature is very low. Routine cleaning activities are carried out to keep the home clean.
As far as arranging meals for the guests are concerned, we outsource food or direct them to nearby restaurants that cater to their likings.
What are the merits of holiday homes?
Nisar Ahmad Bhat: The foremost advantage holiday homes have is that it gives natural Kashmiri touch to the hospitality. Not only it gives tourists a firsthand account of how Kashmiris live, it saves them a lot of money. It gives a homely atmosphere to the tourists and encourages them for a longer stay.
In Kashmir where most of the tourists destinations are hill stations and have scarcity of accommodation for the ever increasing flow of tourists, these holiday homes can be suitable alternatives to house the rush.
What is the current status of holiday homes in Pahalgam or for that matter in the valley?
Nisar Ahmad Bhat: To be honest, we have a long way to go if we want our holiday homes to be at par with those in Goa and Himachal Pradesh.  In Kashmir, most people don't know what this concept is all about. Although it is picking up every year, it would need continuous encouragement to the owners and proper promotion to make it a full-fledged industry.
There is a lot of difference between the holiday homes in Kashmir and rest of India. Hardly any holiday home provides breakfast to the tourists and guests have to go nearby restaurants to have their breakfast which somehow mitigates the real essence of these alternatives.
Lot needs to be done to bring top-class holiday homes on the world map and attract tourists to these lodgings. Government hasn't done enough to promote this sector and it takes a lot of time to get registration from administrators for homes to be used for commercial purpose.
Who are the people you think can play a role in shaping up a better future for holiday homes in Kashmir?
Nisar Ahmad Bhat: There are many of them. Government certainly is one of them. Government needs to help aspiring holiday homes' owners, in whatever way it can, to establish these facilities. It can announce soft loans that might well encourage people to have their homes available for tourists.
The government needs to work in harmony with private players of tourism to promote this industry. It should aware people about its market potential and benefits.
There is hardly any source where from tourists can get information about these homes in Kashmir. It is high time government addresses this problem and come up with a platform where tourists can have access to the facilities provided by these holiday homes and how to book to their stays.
How do you see industry shaping up in coming years?
Nisar Ahmad Bhat: I have no doubt, holiday homes or homestays are going to play a vital role in the tourism industry in a few years. As we all know the number of tourists visiting the valley increases every year and current hotel accommodations aren't enough to host all of them. And holiday homes can be good alternatives to cater to the ever increasing inflow of tourists.