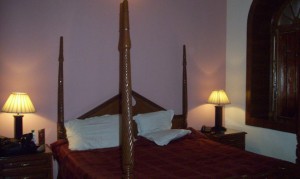 A recent media report has revealed that the popularity of homestays in Kullu-Manali in the Indian state of Himachal Pradesh has outrun luxury hotels.
The report published in the Times of India (TOI) newspaper goes on to say that despite the off-season, homestays were flooded with advance bookings from every corner of the world.
The report further said that homestay owners have beaten the management of hotels with their innovative strategies and earning handsomely providing accommodation to tourists in a home away from home. Situated amidst villages, clean rooms, freedom to cook the food of choice, watching TV along with family members of house and homely and secure environment is giving tough competition even to five star category hotels in Kullu district.
About 116 homestay units have been registered in Kullu district alone.
Rajeev Upadhyay, owner of Upadhyay Cottage homestay in Jong village was quoted by the newspaper as saying: "Not only domestic, but tourists from Germany, Norway, Denmark, Russia and many countries are loving their stay with my family, cattle, apple orchards and village atmosphere. My local pure Kulluvi dishes are doing miracle on tourists. High-end tourists, mostly families and couples enjoy staying in our homestay."
My family's devotion towards guests has earned applaud internationally and now we are in fact unable to handle enquiries from tourists."
"Each room is attached with a kitchen where tourist can cook food of his choice, but they like to dine with us. They feel like their own house here and enjoy TV and gossips with us. I'm introducing new gadgets and decoration materials to compete with hotels without tampering with the village look," Upadhyay added.
The report also said that most of the homestays in Kullu claim that they do not have any effect of off-season and therefore get regular guests; whereas reeling under a lean season, hotels in Manali are reporting only 20 percent occupancy rate.
"The thing I love the most is home cooked food and homely environment. There is no need to stay in commercial hotels when we get even better service in the form of homestay along with the fragrance of real Indian village," a Danish tourist, Astrid, staying at Upadhyay Cottage told TOI.