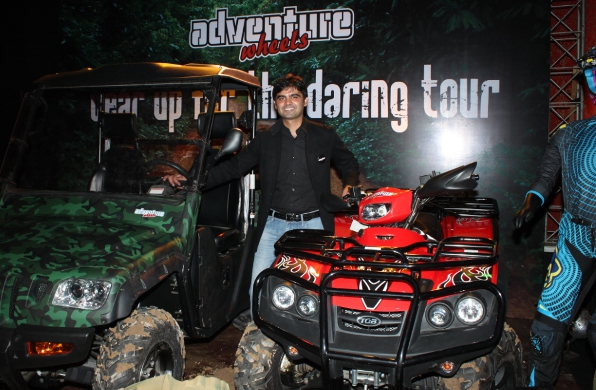 Ashish Bahl, the man who gave India its first adventure sports store, talks to Holiday Home Times in an exclusive interview about his love for ATVs and dirt bikes and about his company, Adventure Wheels, which he founded a couple of years back to give adventure enthusiasts easy access to these mean vehicles and high-speed modelling cars, and even monster trucks.
The interview…
Tell us in brief about yourself and your company.
Adventure Wheels started operations in November 2007. Our showroom in Gurgaon is India's first All Terrain Vehicle and hobby store, aimed at bringing the adrenaline to the junkies. The showroom today offers the best of ATVs for all ages and also well-known brands such as Tamiya from Japan for Hobby enthusiasts and Fox Racing Ridding gear from USA. Thrill-seekers can get themselves all-terrain vehicles (ATVs), dirt bikes and remote-controlled cars, whereas, those with modelling at heart can buy high-speed modeling cars, tanks, monster trucks and even fighter jets.
I, along with a small team started the company with only one thing in mind – Adventure on wheels. I'm a mechanical engineer by profession, but above all an adventure sports lover by heart which inspired me to start the company.
The main motive of the company in general and our showroom in particular was to give enthusiasts easy access to world-class gear, something that has been lacking in the country for long. Earlier, adventure sports enthusiasts had to rely on imports to get an ATV without actually getting to check their quality, and that, too, at a much higher cost. But being an adventure sports junkie myself, our company gives great importance to the end-user's experience. At Adventure Wheels one can buy the product after verifying it quality. Today we are the customers' first choice because we offer the ATV customer a huge selection, great prices and above all the convenience of Adventure Wheels' unique shopping experience.
Are these vehicles readily available?
Yes, most of the models are available off-the-shelf
Does one need to register the ATV with the local RTO?
No, ATVs don't require any kind of registration from the local RTO as these vehicles are only meant for off-road sports or recreational use. So buyers should also keep in mind that these vehicles are not meant for road use and should not be driven on any public roads. These are specifically off-road use vehicles.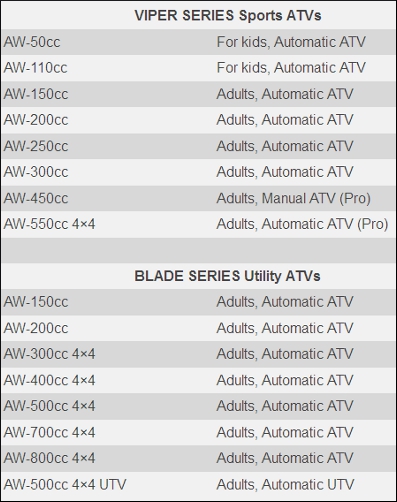 Tell us about your range of ATVs utility?
We have ATVs from 50cc for kids to 800cc for adults. We have both sports and utility options available in different models. Our mostly sought range are ATVs of: 50cc, 110cc, 150cc, 200cc, 300cc 4×4 , 400cc 4×4, 500cc 4×4, 700cc 4×4, 800cc 4×4.
Who is the manufacturer of these ATVs? Is it a Chinese manufacturer?
We have our OEM partners both in Taiwan and China.
Please tell us about the models you have and their specifications?
We have two series of ATVs – the VIPER SERIES Sports ATVs and the BLADE SERIES Utility ATVs. Some of the vehicles in the VIPER SERIES are for kids, while the entire BLADE SERIES vehicles are for adults.
What is the price range of these vehicles?
The price range starts from Rs. 65000 for a kids 50cc ATV to Rs. 8,50,000 for a 800cc 4×4 full size ATV.
Tell us about the fuel used and the ATVs' efficiency?
All ATVs run on petrol and their efficiencies vary as per their engine size. For example, a 50cc would be 30-35 kilometers per liter whereas a 800cc would be 12-15 kilometers per liter.
Do you have a sales network?
Our dealer network is spreading across from Himachal Pradesh to Cochin, Kutch to Imphal. All our dealers are equipped to give good service back-up at all times and are stocked with spare parts. However, if an authorised AW agent is not available in your city, one can contact us and we deliver the vehicle to one's doorstep.
What about service stations?
We have a full fledged service centre at our head office. Majorly we do onsite service on the customer's call anywhere in the country.

Are spare parts readily available?
Absolutely, we stock all major consumable at all times.
Have you seen any buyers of ATVs in the hospitality industry?
Yes, some of the best resorts and entertainment companies across the country have our ATVs. Two reasons why they rely on our vehicles is because (i) We have a wide range of vehicles that suit the needs of all age groups, and (ii) the products we sell are durable, have long warranties and minimal defects. Above these, we have also set up a dealer network with people who are adventure-oriented and are ready to give good service support at all times.
Leaving you with some of the ATV models of Adventure Wheels:
[wzslider]

To get more information & assistance, please submit the form below and our specialist will get in touch with you at the earliest.