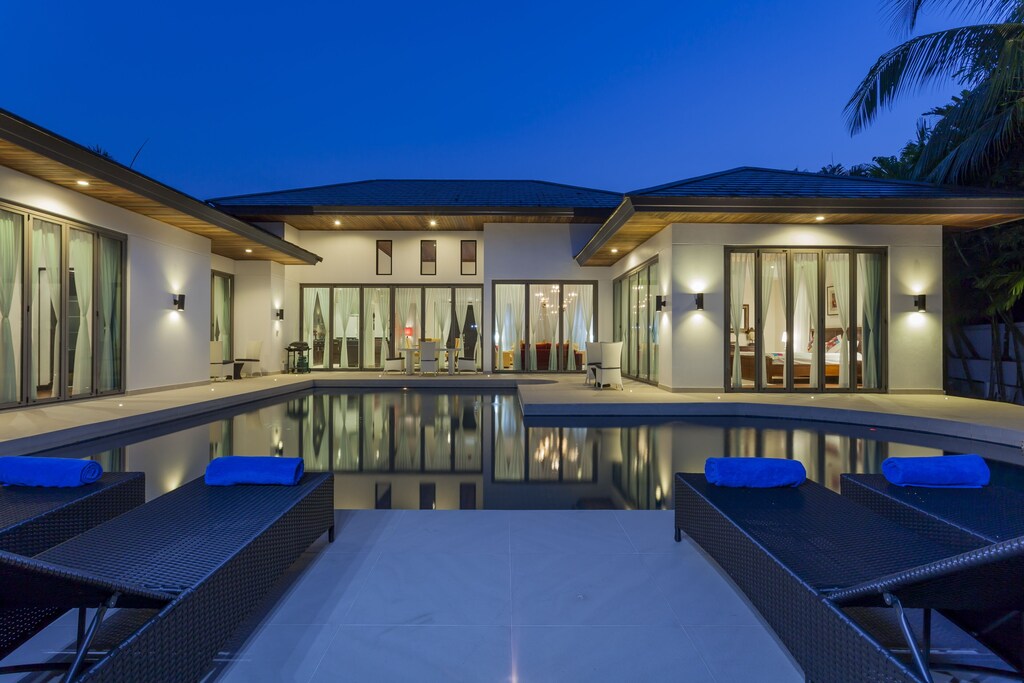 [wzslider]
Baan Mandala Condominiums Co. Ltd's two developments just 350 meters from Bang Tao Beach and three minutes to the famed Laguna area are today regarded as one of the best developments in Phuket. The location of the developments is just minutes away from a host of internationally renowned hotels like the Sheraton, Dusit Thani and Banyan Tree and also the Laguna golf course and chic Surin Beach.
With two developments side by side featuring villas and condominiums, Baan Mandala Condominiums Co. Ltd. was "Highly Commended" at the Thailand Property Awards of 2010 in the "Best Condominium Development in Phuket" category, while it won best condo, Phuket in the 2011 awards.
Staffan Nordstrand – the man behind Baan Mandala Condominiums Co. Ltd:
This Swedish builder-developer created quite a buzz in 2010 by launching the Mandala Condominium project which was built without any pre-building or off-plan sales. This meant, buyers could buy their Mandala condo and move in the next day – a completely different approach to sales. He set a trendsetting launch proposal by actually completing a project at the same time as going to market. Mandala Condominiums is Nordstrand's second development on Phuket. His first project, Mandala Villas, was fully completed and sold out several years ago. Owing to this trendsetting point, Mandala was also named Best Condominium in Phuket at the 2011 Thailand Property Awards.
Experts even went on to say that there was nothing for sale in Phuket then that compared with these two-bedroom apartments in terms of their spacious design, quality construction and location. It was also a risk-free investment because the project is completed and freehold foreign condominium ownership was still available. Here are the two developments of Baan Mandala Condominiums Co. Ltd:
Baan Mandala Villas: Baan Mandala is a collection of eight completed luxury villas located in the high-quality tropical gated community just 300 meters away from Bang Tao Beach, one of Phuket's best known beaches. Each exclusive and luxurious 3-bedroom villa measures 417 square meters complete with a swimming pool and covered terraces. Every villa here is a private, luxury home built with tropical living in mind. The indoor living space of the villa merges seamlessly with an outdoor entertainment featuring massive pools of 57.7 square meters by 90 square meters in size, covered terraces and a Jacuzzi. Featuring 4.5 meter ceilings in each villa comprises a large living room, dining area, and an airy open kitchen. Adding to the feeling of loftiness is the visual focus of each villa, which is a row of rectangular glass panes inserted into the wall above the folding doors. As a result, the living areas are infused with light creating a sense of unparalleled spaciousness.
Mandala Condominiums: This is a collection of 24 apartments with private pools with foreign freehold and leasehold ownership. The condos are sizeable units with the main indoor-outdoor living space and the main indoor area starts at the entrance by the storage and guest bathroom and flows through the kitchen, dining-living room area with 3 meter high ceilings (7 meter in the penthouse), then out to huge sliding glass windows, onto the outdoor deck with the private pool and garden. And this doesn't include the two large bedrooms with private ensuite bathrooms that enter from the main indoor area. The design includes features like double-insulated walls and everything is built to exceed ISO international building standards. Staffan Nordstrand, started building Mandala Condominiums at the beginning of the world financial crisis in September 2008 without any pre-sale purchases or any guarantees. However reflecting the quality of the project, Mandala Condos immediately sold 50% of their 24 units even during the global economic downturn.
The condos have been built to exceed ISO international building standards and are finished to the highest standard, using quality materials throughout. The 18 apartments and 6 penthouses reflect spacious, open-concept living and luxury. All the units have been elegantly combined to create an air of arrogance, each with its own plunge pool and ranging in size from 276 square meters to 546 square meters. The Swedish-designed apartments offer true luxury in terms of space with oversized rooms, high ceilings, large solid wood doors and spacious outdoor decks.
Location:
Both Mandala Condominiums and Mandala Villas are located 350 meters from Bang Tao Beach in the Laguna area and are within walking distance to some of the island's top beach clubs including, Bliss and Xana. The Laguna area is the most prestigious and sought after area by foreign residents and visitors on the island and is just a 20-minute drive from the airport. It is about the same distance to Phuket Town and the many fine beaches, restaurants and nightlife of Kamala and Patong. Also, the wonderful beaches of Surin and Laem Sing are only minutes away.
Project Status:
This article was last updated on 30th October, 2020.
To get more information & assistance on Baan Mandala Villas, Phuket, please submit the form below and our specialist will get in touch with you at the earliest.