In an earlier article we discussed about the areas at a radius of 11 to 17 kilometers of Mysore city which are currently witnessing good developments being launched by several developers and best suited for holiday homes, far from the hustle and bustle of the city.
BirdSong, a joint venture between RareEarth Developers Pvt. Ltd. and Jambhala Capital Pvt. Ltd. is another opportunity for holiday home buyers to own a villa plot near the Ranganthittu Bird Sanctuary.
Approved by TCPA, Govt. of Karnataka, the project being developed in several phases will spread across a total area of about 100 acres and will feature about 60 plots for eco-friendly homes.
On the design facts of the BirdSong, the developer says: "The Birdsong development along with the homes will reflect the spontaneous planning of our villages and the stress will be on retaining the character of the land."
Buyers of plots can choose between the several villa floor plans offered by the developer to build their villas (2, 3 and 4BHK). The developer is using locally available and eco-friendly building materials to reduce carbon footprint and to create an eco-village all the while not far away from the city.
The development is flanked by a canal on three sides and beyond that the paddy fields adjoining the Ranganathittu Bird Sanctuary nearby offering residents the opportunity to see several migratory birds that yearly visit the canal and the fields.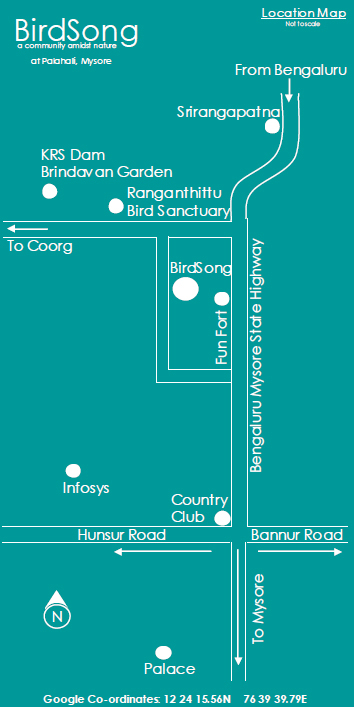 Location:
The development is about 5 kilometers from the Ranganthittu Bird Sanctuary and 10 kilometers from the Mysore palace. BirdSong can be accessed through well connected broad roads including the Bengaluru-Mysore State Highway.
Amenities:
Club House

Rainwater Harvesting

Eco-scaping

Bio-farming in common areas

24×7 security
Offerings:
Currently plots are available for buyers in sizes:
30 x 40 square feet

30 x 50 square feet

40 x 60 square feet

Pricing:
Plots in BirdSong eco village, Mysore starts at INR 5 lakhs.
About the developer:
Starting their operations in 2006, Bangalore-based RareEarth is a leading name in this part of the country and are known for building green sustainable development with unique and futuristic green housing architecture and development.
The core team of the company comprises professionals who have years of experience in building eco-friendly and sustainable homes to create and enhance the living spaces and surroundings with changing needs through sustainable development.
Contact:
For more information on BirdSong eco village, Mysore, you can contact their sales team at +91-821-2402281, +91-821-2402039 or you can email them at info@rareearthdevelopers.com. You can also visit their website, www.rareearthdevelopers.com for latest construction updates.
Project Status:
This article was last updated on 4-11-2020
To get more information & assistance on Birdsong Ecovillage, Mysore, please submit the form below and our specialist will get in touch with you at the earliest.