Buying a furnished or an unfurnished property depends on whether you find it an inconvenience to buy all the furniture, fittings, equipment and everything else or you take it as a rare bonus to put your own furnishings and add your own personal touch.
Yes, it always a dilemma when buying a second on choosing between a furnished and an unfurnished property offered by a developer or an individual seller. It's not just the cost difference that will play on your mind, but also whether the finished product will comply your needs and tastes. With many developers today offering fully furnished properties for buyers who always wanted to give their personal touches to their house, it is a decision that demands some thinking.
With both unfurnished and furnished houses having their own merits and demerits, we will, in this article, take a look at the factors based on which you will be able to easily decide which one suits you best.
WHAT'S YOUR PICK: (above) a self-furnished holiday home where we can see the personal touches of the owner and (below) a holiday home furnished by the developer.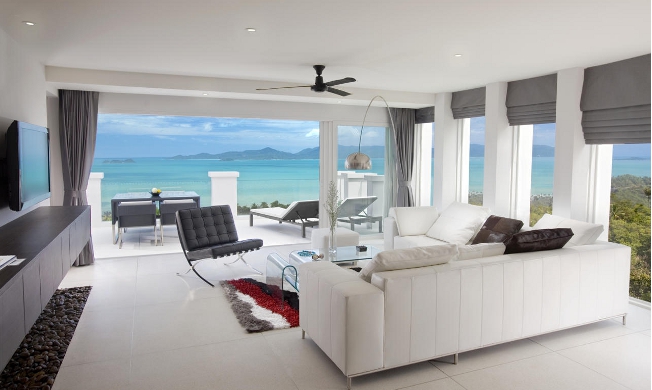 1. First of all, you must know that if you are opting to buy a furnished house it will cost you more. So you are a little short of funds and do not intend to stay in the property immediately then an unfurnished property makes sense. Whenever you get hold of some liquid cash, you can furnish it based on your budget.
2. Second, your interiors will be no different from any other property in the same development. To minimize the cost of furnishing, the developer buys everything in bulk and use the same interior design and items. The developer will look for uniformity in the furnishings of all the properties. So don't be surprised if the interiors of your neighbor's villa look exactly like yours.
3. Third, in case you opt for a furnished property, you don't have a say on the quality of the material being used. While the developer will give owners a choice between colors, there will be hardly any developer who will give you a choice of material used. Having said that reputed developers will invariably use quality furnishing material because they have their reputation on stake. Many gives warranty on the furnishings for a certain period of time. So if you are opting for a furnished property know well what materials the developer is using.
4. Fourth, before you decide find out how well developed in the retail market in the area. Are the retail outlets of the good brands that you would like buy from there in the nearest city center? Also if your property of choice is far away from these outlets, will they charge you for delivery or if you have to ferry them to your property yourself how much would it cost? There are times when things might be cheap, but the cost of carriage outweighs the effort. So if the location of your choice is a little off the path, it's best the developer furnish the property for you.
5. Fifth, if your intention of buying the second home is to start a holiday home business, it is very important that your holiday home interiors speak about your personality. Most travelers too opt to stay in a holiday home because they love the personal touches the owner brings to his house. So if you want to be unique, it is best to go for an unfurnished and furnish it yourself.
6. Sixth, if you are buying a resale property which has already been furnished, take extra caution. Take into account the shelf-life of what's inside. Ideally if the furnishings are, say 4-5 years old, take the help of a professional who can tell you whether it's worth the risk.
To get more information & assistance, please submit the form below and our specialist will get in touch with you at the earliest.