Canada's Start-up visa program is a government-sponsored immigration program that encourages technology entrepreneurs and investors to relocate their businesses to Canada with the aim to make Canada a hub for technology startups. As the Canadian economy continues to experience a sustained period of economic growth, the Start-up Visa Program is one of many immigration initiatives designed to help talented and enterprising foreigners find a home in the Canadian economy.
The program is ideal for technology entrepreneurs with an existing business that is ready to expand into the North American market and investors who are keen on investing and providing mentorship to these businesses in return for an ownership stake. A few points to keep in mind regarding the program:
A maximum of 5 shareholders can migrate to Canada as part of a Startup.
Each migrating shareholder must own at least 10% of the total equity of the Startup.
The Startup must be approved by one of the designated organizations vetted by the Canadian government.
The Startup must be a genuine business with real operations in Canada and the shareholders must have relevant backgrounds.
There is a 6 – 16 month waiting period for approval of Canadian PR through this program.
We have partnered with the Hilly Shore Angel group to bring this offering to our subscribers. The pricing for the program for investors is as follows:
Investment of CAD 195,000 into a Canadian Startup for 10% ownership.
Legal and Government fees of CAD 15,000 for up to a family of 3.
Prevailing Government fees for each additional family member.
Process for Investors/Mentors:
The first step for prospective investors is to complete an online application. The application can be accessed here. Once your application has been approved, you will receive an email confirmation informing you of your acceptance into the program and you will also be sent a payment link to pay the CAD 2500 program initiation fee. The fee covers the cost for the immigration review and membership fee for the Hilly Shore Angel Group. As part of the immigration review, we will guide you on the preparation of your resume to highlight your business and/or professional experience to highlight the value you would bring to any startup you invest in.
Once you are a member of the angel group, you will be able to interact with the pre-vetted startups that are part of the program through weekly investor presentations and pitches. You will then need to select the startup you would like to invest in based on your preference and mutual agreement with the startup founder. If a large number of investors are interested in a particular startup, the startup founder gets to select the investors based on who they feel will be able to add the most value to the company. The steps in the process are described below.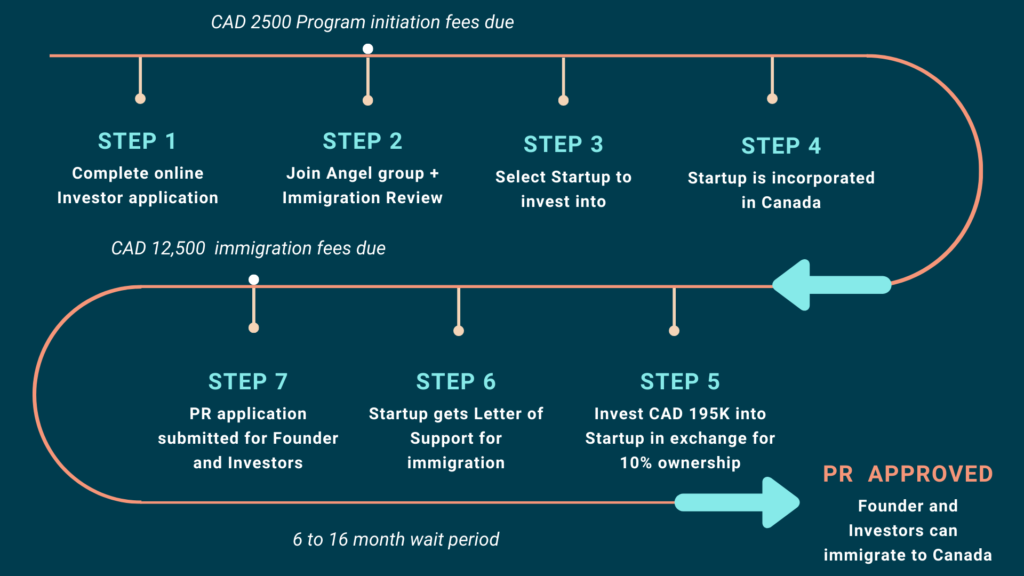 Dependents:
The main applicant's spouse and children can qualify as dependent family members. The children have to be under the age of 22.
Business Failure:
Participants in this program will be able to keep their Canadian permanent residence even if the business fails.
Language Requirement:
You must take a language test from an approved agency to show that you meet the minimum level of the Canadian Language Benchmark (CLB) 5 in either English or French in speaking, reading, listening, and writing.
Settlement Funds:
Applicants will also need to submit proof of funds to show that they have enough money to support themselves and their family members in Canada. The amount you need depends on the size of your family. As of 2021, the funds required based on the number of family members is as follows. These amounts are updated every year:
Single applicant (one family member) $12,960
2 members $16,135
3 members $19,836
4 members $24,083
5 members $27,315
6 members $30,806
7 members $34,299
Each additional member $3,492
Security and Medical Clearances:
As with all Canadian immigration programs, the applicant and accompanying family members must undergo a security clearance and a medical examination to determine whether they pose a security threat or have a health condition that would place an excessive burden on the Canadian health care system.
About the Hilly Shore Angel Group:
The Hilly Shore Angel Group brings together innovative businesses that can achieve commercial success in the North American market and angel investors looking to invest capital and provide mentorship to these companies. The group is committed to helping forward-thinking innovators, and entrepreneurs access the necessary mentorship and funding they need to achieve success.
The Principals of the Hilly Shore Angel Group are business leaders and venture capitalists who have founded, funded and built world-class companies themselves. The group is selective in its acceptance of both startups and investors into its programs and offers early-stage companies an opportunity to harness the insights and experience of more than 100 mentors who are successful entrepreneurs, senior executives, technologists and skilled professionals from a diverse set of industries.
The mission of the group is to provide opportunities for its members to obtain outstanding financial returns by investing in early-stage companies and accelerating them to market leadership. Prospective investors can complete an application here.
To get more information and assistance with the startup visa program, please submit the form below and one of our specialists will get in touch with you at the earliest.