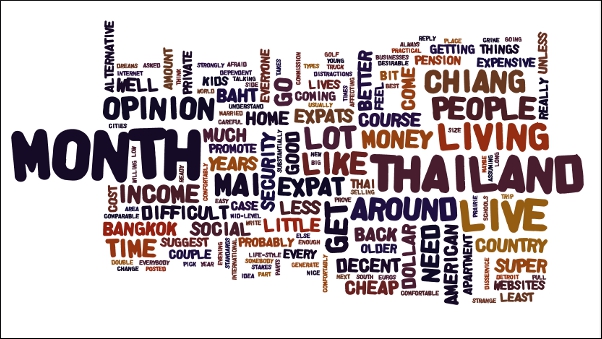 Most expat forums at one point of time discuss the question – what can I expect from retiring in Thailand?
Well, for starters, to hold a retirement visa one must show proof of a monthly income of 65,000 baht ($1,960, €1,435 or £1,255) which can also be acquired by showing 800,000 baht ($24,104, €17,667 or £15,443) in a bank account.
By global standards 65,000 baht a month is not a princely sum and is actually not a bad place to start. For a place like Thailand, with the exception of Bangkok, the lifestyle it can enable would certainly be extremely comfortable if not exactly luxurious.
When it comes to retiring in Thailand, many experts opine that if you want to retire in a cheap location, Thailand can be that place where one can live comfortably on $ 1,500 a month.
Having said that if you add a couple of luxuries to it, like a round of golf and some wine, then it could cost you $4,000-5,500 per month.
To put it in the words of Peter Ton, a Dutch CEO who developed Hua Hin's award-winning Baan Ing Phu development, the figure of 100-150,000 baht provides a baseline of luxury. "If you buy and use local products and local services, one can have a very comfortable life for about 100,000 to 150,000 baht. With that you can enjoy services that would be very hard to get in the West, like a full-time maid, private chef, private driver etc," he adds.
PLACES TO RETIRE IN THAILAND:
Now to the places where one can look to retire:
Phuket: There is a strip of houses here known as millionaires row, where all the houses are a million dollars plus and is the most expensive part of Thailand to retire to. Expect to pay a premium on most things here.
Bangkok: The Capital of Thailand and is also a very expensive city in Thailand to live. Being the most modern city in Thailand, there is no end of shopping malls, restaurants, pubs, coffee shops and entertainment areas in Bangkok. In addition to the high cost of living, retiring in Bangkok means living with a busy traffic and amidst a polluted environment.
Chiang Mai, Chiang Rai: Located on the north of Thailand, the most popular choices of retirement for expats in Thailand. Clean air, cooler weather and fantastic views of the mountains. Also cheaper than Bangkok. Chiang Rai is a fair bit smaller than Chiang Mai and less developed. Not as touristy as Phuket, both have a good but quieter environment loved by many expats.
Nongkhai, Mae Sai, Mae Hong Son: Nongkhai is on the banks of the Maekong River. Very close to Laos, so easy for border runs. Very picturesque and sleepy. You can easily venture into the Golden Triangle from here.
Pattaya, Chumphon: Again popular choices for expats who want to be by the beach on the sea and near to Bangkok. Known for its entertainment districts and racy nightlife, it also has a good array of malls and restaurants. Chumphon is more relaxed and away from all the action.
Hua Hin, Cha-am: A relatively new location among retirees. It is more subdued than Pattaya and the King has a palace at this seaside resort. You can pick up houses here at an attractive price. The beaches here are much nicer than those in Pattaya.
Isaan: Also known as Isan is the northeastern region of Thailand. This is probably the cheapest location to live in Thailand (and possible the hottest). People here are friendly and down to earth and are regarded as most friendly toward expats. However don't expect to find as many restaurants, bars or shopping malls aimed at expats.
Climate of Thailand:
The climate of Thailand is another factor that draws expats to retire here. For many retirees, their reason for choosing to retire in Thailand as their retirement destination is due to the warm, tropical climate.
Tax System for expats in Thailand:
Residents are taxed only on income earned in Thailand. Income earned outside Thailand is taxed if it is brought by the resident to Thailand within that same year. Meanwhile, expatriates in Thailand can resort to a self-assessment tax system in which s/he can estimate and pay income taxes. Expatriates who possess work permits may choose to be taxed at 15% for two years instead of the usual tax rates. Thailand has no capital gains or gift tax.
Healthcare of Thailand:
Thailand offers many leading, international hospitals at a much lower cost than what you would expect at home. In fact Thailand is one of the two top destinations for overseas medical treatment. Healthcare in Thailand is just absolutely convenient and inexpensive.
To summarize Thailand's healthcare status in the words of an American expat Cynthia Crowder who says: "…walking into Bumrungrad Hospital is like walking into a five-star resort. There's Au Bon Pain, Starbucks; it's absolutely gorgeous. And there's no long wait to see a doctor. Usually you can go in the same day you call for an appointment."
Real estate and buying a property in Thailand:
There are many options for expats retiring in Thailand to buy a property here. For more information on the real estate market of Thailand, laws surrounding buying property in Thailand and options to choose from click here.
I hope the article summarizes what you can expect if you decide to retire in Thailand.
To get more information & assistance, please submit the form below and our specialist will get in touch with you at the earliest.