Goa is the most popular destination and its cuisine has gained popularity worldwide. Goan cuisine is not only varied but is also very diverse. The variety in Goan cuisine is influenced by history. Goa was ruled over centuries by the Mughals, Hindu rulers and Portuguese, who have left a permanent mark on the traditional style of Goan cooking and have given it an exotic edge.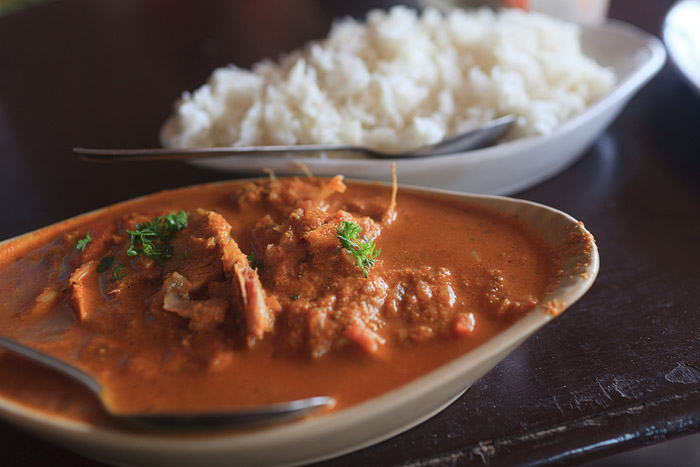 Goa being placed on the coastal belt, the Goans both – Hindus as well as the Catholics, relishes rice, coconut and fish (and a wide range of sea food as well) as their staple food. The native Hindu-Goans never added salt when rice was cooked, whereas the Catholics always did.
Goan cooking is all about using local ingredients. Coconut oil, coconut milk and meat flavor many dishes, and toddy, the juice of the coconut palm is also used to make vinegar and serve as a substitute for yeast. Another important product of the palm is jaggery, a dark sweetener widely used in Goan sweets preparation.
Goan cooking uses liberal amounts of spices. The most commonly used include cumin, coriander, chilli, garlic and turmeric. Another local ingredient used to flavor fish curry is kokum (gives a tangy taste like tamarind). Particular combinations of spices have led to a number of styles of cooking, which have subtly differing flavours-masala, vindaloo and balchao being some of the most famous dishes. Cafrial has become a method of preparation, usually with marinated chicken, in which the meat is marinated in chili, garlic and ginger and cooked dry.
For the content of the meal, fish is eaten in all variants, and pork and chicken meat are the most commonly used. Dishes like racheiado (fish preparation), caldeirada (fish preparation), cabidela (pork or rabbit curry) and reflect the legacy of the colonial heritage of the state. The result is rather dry, but spicy dish. Goan cuisine is not suitable for Vegetarians, and as a compromise of different styles, such as cooking xacuti, caldinha are sometimes used for preparing vegetables. Two vegetable dishes are mergolho, which is made from pumpkin and papaya and bread fruit curry.
Some of the must have dishes in Goa:
Sea food: Goa is known for seafood, the "classic" food is fish curry and rice. Kingfish is probably the most commonly seen in the menu, but there are many others like pomfret, doumer, shark  and mackerel. A wider range of crabs, prawns, shrimps and lobsters. Other seafood includes squid and mussels. Seafood is usually fried, grilled or cooked in garlic sauce and served with chips (French fries) and salad.
The most famous Goan cuisine is ambot teak,  sour curry with fish. Caldeirada is fish or shrimp cooked in a stew with vegetables and often flavored with wine. Racheiado is a tasty preparation, in which a whole fish, usually a mackerel or pomfret, slotted in the middle and is filled with a spicy red sauce and cooked to perfection. Balchao is a method of cooking either fish or shrimp in a dark red and spicy sauce. Balchao can be prepared ahead and stored up to four days without refrigeration. Rissois is a snack which is made with prawns and fried in pastry shells.
Pork Vindaloo: The most favourite dish of all times is "pork vindaloo". A Portuguese stew of pork, which was originally flavored with wine (vinho) vinegar and garlic (alho) was developed. It took an interesting transition in Goa by adding Goan palm vinegar (toddi) and spice. Pork vindaloo has a distinctive sweet and sour taste. The use of kasmiri mirch is what gives it a nice colour. Vindaloo is also made with chicken and mutton. Beware it is a dish made without any potatoes. It is best had with sannas – spongy and steamed bread pancakes (like idli) made with toddy and rice.
Sorpotel is another Portugese dish which is cooked with pork, beef or lamb. The meat is parboiled first, then diced and sautéed before being cooked in a spicy and vinegary sauce. Sorpotel goes really well with sannas or Goan pao.
Goan sausages: Goan sausages or chouricos are spicy pork sausages, adapted from Portuguese culinary traditions. The Goan sausages are well used salted and dried diced cooked pork. Once done, are strings of small sausages dried in the sun and then hung over the fire, which smoked slowly. Traditionally eaten during the monsoon, when fish is scarce. In preparation, is soaked with water and then fried and usually served with a spicy sauce and rice. A traditional Goan snack would be pao com chouricos which is basically fried Goan sausage, sautéed with onions and served with bread.
Bebinica: The popular Goan dessert is typically made using ghee, coconut milk, and flour, as well as eggs, and sugar. Traditionally, the pudding consists of 16 layers, all of which have to be baked individually. "There is a legend that says that Bebinca was made by a nun called Bibiona of the Convento da Santa Monica in Old Goa. She made it with seven layers to symbolize the seven hills of Lisbon and Old Goa and offered it to the priest. But, he found it too small and thus the layers were increased. There are some claims that it is made with 20 layers. But, ideally it is 14 or 16 layers."
Feni is the most commonly available drink in Goa. There are two types – one made with palm sap also known as toddy and the other with cashew feni, made with the cashew fruit. It is a  strong drink with a very strong smell. Feni has a taste appealing to only a few. Goa also offers local beer "kings" which is not only cheaper than other brands but also tastes good.
Goa also offers  a variety of other cuisines for vegetarians and non-vegetarians. You can take back yummy treats like –readymade pastes, cashew, sausages, feni or the famous bebinica. The Goan cuisine is sure to leave your taste buds asking for more and there is definitely a lot to choose from.
To get more information & assistance, please submit the form below and our specialist will get in touch with you at the earliest.