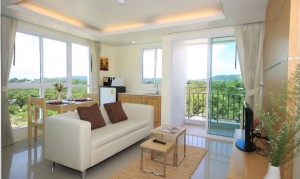 Buying a condominium in Thailand is a dream for many foreigner nationals who wish to escape the cold winters and the high cost of living in their home countries. Thailand offers many benefits including beautiful beaches, exquisite cuisine, friendly people, world class health care and inexpensive properties.
Condominium ownership is one of the few immovable property rights that foreign nationals are granted in Thailand and therefore condos are increasingly popular both as residences and investment purposes. Whether one is looking for a place in Bangkok or near the beaches of Pattaya or Phuket, Thailand has a lot to offer.
Many foreign nationals come to Thailand to purchase a condo for various reasons like to live a retired life or as a second home or just for investment purposes. Expats prefer to reside in a condominium since there is less maintenance involved for the owner and are highly secured. Most condominium projects in Thailand offer 24-hour security so one can feel safe that everything will be as it was when one is not residing.
For foreign nationals to buy a condominium in Thailand, she/ he needs to take into account a couple of laws and legal parameters that govern the real estate sector in the nation, including the following:
Condominium Act of 1979:
According to the Condominium Acts of 1979 (and following modifications) foreign nationals who have legally entered Thailand may be freehold owners (100% owner) of condo units, in buildings where not more than 49% of the unit floor space is owned by foreigners, with some exceptions in Pattaya and Bangkok.
Though buildings in Phuket and Pattaya may have high foreign ownership, in Bangkok, Hua Hin, and other locations this condition is rarely an issue and occupancy rates across the country are still not high enough to make finding a condo a fairly easy proposition.
Condominium Act B.E. 2522 (1979):
This first Act about condominiums in Thailand came into force due to the arising problems and conflicts about ownership and property rights in municipal areas where the Commercial and Civil Code of Thailand couldn't solve all problems and especially because of some properties of condominium, like their indivisibility.
Section 19 bis of the Condominium Act:
Ownership by aliens in each condominium under Section 19 shall not exceed 49% of the total area of such condominium which was registered under Section 6. Some alternatives in these cases where 49% is already owned by foreigners are to make a lease (30 years with option to renew) or to setup a Thai limited company.
Condominium Act No. 2 B.E. 2534 (1981):
These modifications on the Condominium Act were done to allow foreigners and foreign entities to buy condominium in oder to support foreign investments. The same is published in Government Gazette No. 2534/171 /1por/30 dated September 1991.
Condominium Act No. 3 B.E. 2542 (1999):
The government wanted to change the method of owning condominium units by foreigners or foreign entities in order to be adapted to the Foreign Currency Control Act, regulating and controlling imported foreign currency. The percentage of ownership held by aliens in the condominium was also modified to help the sales and to strengthen the investment in real estate sector. The same is published in the Government Gazette No. 2542/31 Kor 1/ dd. 27 April 1999.
Ministerial Regulation No. 8 (B.E. 2543) issued by the virtue of the Condominium Act B.E. 2522 (1979):
This Ministerial Regulation classifies Pattaya City as another local government zone apart from Bangkok Metropolis and other municipal jurisdictions to allow foreigners and foreign entities to possess condominium exceeding the limit of 49% of the entire area of the condominium building. In addition, the Section 19 bis paragraph two of the Condominium Act B.E. 2522 was amended by the Condominium Act No. 3 B.E. 2542 on setting other government zones. The same is published in the Government Gazette No. 117 dated 4 October 2000.
Condominium Act No. 4 B.E. 2551 (2008):
The condominium law was further strengthened recently by Condominium Act (No. 4), B.E. 2551 (2008), which was adopted to provide further protection for purchasers of condominium units from developers, by making developers responsible for the truth of their marketing materials, by making developers responsible for paying the ratable portion of fees and expenses for unsold units and by providing that contracts of sale had to conform to a form established by the Ministry of the Interior.
Meanwhile, additional protection for buyers of condominium units is being now provided through the enactment of the Escrow Act, B.E. 2551 (2008). Although the provisions of the Escrow Act are optional for condominium purchases, it does provide a way for a potential purchaser to protect deposits for condominium purchases from being used (and potentially lost) by a developer when short of funds.
Foreign nationals who can own a condominium in Thailand
Based on the Condominium Act, Thailand permits five classes of aliens to own condominium units, namely:
1. Aliens with a residence permit under the immigration laws;
2. Aliens allowed to enter Thailand under the laws for the promotion of investment in Thailand;
3. Juristic persons deemed to be aliens under the Land Code and registered as juristic persons under Thai law;
4. Juristic persons with a certificate of promotion of investment under the laws for the promotion of investment; and
5. Aliens or juristic persons deemed by Thai law to be aliens, who have brought into the Kingdom foreign exchange or withdrawn the money from the non-resident Baht account or withdrawn the money from the foreign currency deposit account.
Living in Thailand can be an enjoyable and relaxing experience if one plans and prepare in advance for the acquisition of the property. No doubt the Condominium Act has been amended numerous times to encourage foreign investment and protect owners, but using an experienced legal advisor is of utmost important for foreign nationals before they enter into an agreement.
To get more information & assistance, please submit the form below and our specialist will get in touch with you at the earliest.