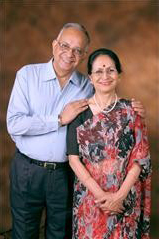 Dinesh Bharat who has a home with 3 rooms for guests in Delhi's NCR area of Gurgaon, tells Holiday Home Times why guests love his home and why the presence of premium hotels in the vicinity of his home doesn't bother him!
Excerpts of the interview…
Tell us about your homestay/ holiday home.
Dinesh Bharat: Our homestay is located in Gurgaon, just South west of Delhi and very close to the airport. We are a silver category B&B registered with the government of India. The homestay is managed by my wife, Mrs Vijay Lakshmi Bharat and myself and we have been operating this homestay long enough to have met a lot of wonderful guests. The best part of our home is that despite being surrounded by amenities that are necessary for city-dwellers, the locality itself is peaceful and calm—very important for guests who come to the city for a break from their usual routine or are passing through to another nearby destination. On the other hand, the NH 8 Expressway leading to Rajasthan is at a walking distance, the reason why guests also prefer to break journey and stay in our home for a couple of days. Our home is extremely well equipped and we are glad to help our guests in whatever possible way we can. We've been operating this homestay for several years now, so we know how to make sure that our guests enjoy their stay in our home. Guests staying in any room have access to practically the entire house including our air-conditioned living room which is fitted with LCD screen in a separate TV viewing area.
We have three well-maintained rooms which are fitted with modern amenities. The rooms are very well ventilated with individual air conditioners. Access to each room is independent and there is adequate storage/ locker facility. For guests who are inclined to self catering, we have a small kitchenette, which is equipped with cooking gas/stove, utensils, fridge, water dispenser, etc. For long-term guests, we can organise a cook too. Our air-conditioned rooms with double beds can accommodate two people in each room. We have an additional room to accommodate children, if any.
As far as meals are concerned, we provide breakfast, which guests can share with us. Guests who are inclined to learn Indian cooking, are welcome to see the food being prepared.
What methods do you employ to attract more guests?
Dinesh Bharat: We have a good web presence. While most of the guests come via word by mouth, nevertheless we receive a lot of inquiries through email and telephone.
How many guests do you receive in your facility, on a monthly average?
Dinesh Bharat: Well, the number differs. But we are happy with the number of guests that come to our house.
There are several premium hotels near the vicinity of your home. Why should guests choose your home?
Dinesh Bharat: First of all there is no competition with hotels for guests. Staying in a home is a different thing all together. Our home welcomes guests who are desirous of experiencing hospitality in a typical Indian household. One would be living in the house, would have breakfast with us and learn how an Indian family lives. Having travelled abroad many a time, we are able to appreciate the sensibilities of travellers from outside India too. Apart from that, hotels for long-term guests can be a costly proposition. We've had guests who can afford to stay long-term in a hotel, but they preferred to stay in our home because they could use the kitchen. So there are many reasons why guests prefer to stay in a home rather than in a hotel.
Moreover, the business model of a hotel and a homestay is different… at least I see it very differently. It's not always about making money, like hotels. Plus I think a homestay in a place like Gurgaon, we have gained from medical tourism in a big way. With many premium hospitals in Gurgaon today, offering world class treatment at a very reasonable cost, there are always people who come to Gurgaon and my home is in the vicinity of all these hospitals. So getting guests is not the problem. As for competing with hotels, I don't look at it that way. We also invite our guests to do yoga and to learn Vedanta, the Indian spiritualism…well, something perhaps hotels will not offer or will offer with a very pricy tag.
To get more information & assistance, please submit the form below and our specialist will get in touch with you at the earliest.