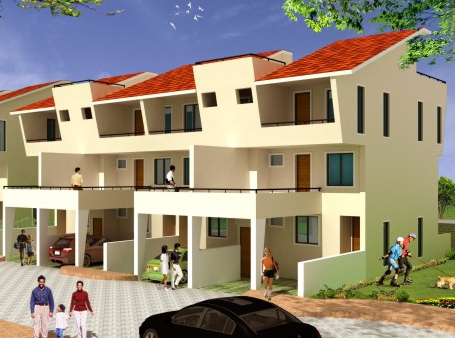 Open spaces, a tranquil setting and some peace and quiet sounds like bliss when compared to the hustle and bustle of Mumbai. That is why Lonavla is fast becoming a popular weekend destination for people from Mumbai (and Pune) who are just want to get away from it all for a few days. That is why Fernhill Real Estate & Constructions (Fernhill) have undertaken their latest development, Fernhill Villa, in Lonavla. We spoke to Huzaifa Patel about the project.
So tell me about Fernhill Villa.
This is a row house development that is intended to provide quality at economical prices. There are 21 houses in total, two have already been sold. The development has been designed to be a weekender property, with a children's area and swimming pool. Each house also has two outdoor terraces and its own independent garden area, giving the owner space and privacy, something that is so hard to find in Mumbai. Each property has between 2,500 and 3,500 sq feet of indoor and outdoor space. The development site is also near the market, which has all your everyday needs, and the railway station so it is easy to get to.
Who is your target audience?
The houses have been designed with families in mind, so they each have 3 bedrooms, 3 bathrooms and maid's facilities. Located only 90 kilometres from Mumbai, and close to Pune as well, they are perfect for people who want to get away on the weekend and escape the rat race for a while. We are also receiving a lot of interest from retirees as the properties offer good value and quality of life, whilst still being close enough to family.
What amenities do the residences include?
Each of the houses will be fitted with good quality, basic amenities such as lights and lever taps. The owner can then choose and fit the appliances and what other fixtures that they would like in their home. The development also has 24 hour security and water supply.
When do you expect Fernhill Villa to be completed?
The development will be completed by the end of this year (2013), but 4 houses are already finished and 2 have even been sold.
What is the pricing and payment terms for people who wish to purchase off the plan?
Prices start from Rs 60 lacs, with initial deposit of 10% payable upon signing on. Three months later, as construction continues a further 50% is payable, with the balance payment made upon completion.
What type of projects does Fernhill specialise in?
We are a family owned business who focuses on building quality properties at an economical cost. We have been operating since 1994 and have done several development projects in Mumbai and Gujarat.
What are your thoughts on the second home market in India?
We have seen a real growth in the second home market in India, it seems people are embracing the idea of having a retreat close to home. Whilst the market has been slow to take off, we certainly believe it will continue to grow. The market doesn't cater to everyone's needs, but there are many who are seeing the benefits, which is why we chose to create Fernhill Villa in Lonavla. It is a great option for people who are looking to get away from Mumbai or Pune for a few days or those who want to retire someone quiet, but don't want to be too far away from their families.
Lastly, how can a buyer contact you?
If you would like more information about Fernhill Villa, you can contact Fernhill Real Estate & Constructions at their Mahim office in Mumbai. Their contact details are: Phone: +91 22 2444 2094, 244 2095, 244 2283, Email: shabbirapatel@hotmail.com

Project Status:
This article was last updated on 4-11-2020
To get more information & assistance on Fernhill Villas, Lonavala, please submit the form below and our specialist will get in touch with you at the earliest.