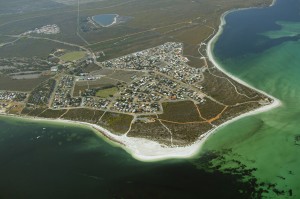 Located on Western Australia's Coral Coast, the small town of Cervantes is fast becoming an attractive destination for tourists and sea changers alike. Home to the magnificent Ningaloo Reef and miles of stunning coastline, the Coral Coast is a beautiful part of the world. You can find more information about in the Coral Coast here.
Location:
The small town of Cervantes is about 250 kilometres north of Perth and located close to the Pinnacles Desert and Nambung National Park. With these amazing natural limestone wonders and local animals, there are some wonderful places to explore around Cervantes.
Cervantes can be reached by car or bus from Perth via the recently opened Indian Ocean Drive. The drive will take approximately hours. The closes international airport is in Perth.
The Development:
Stage 2 of the Cervantes Estate is a land only release of 12 fully serviced lots. The lots vary in size from 586 to 843 square metres, and prices range from $160,000 to $179,000 Our newest release in Stage 2 of the popular Cervantes estate gives you the opportunity to live your dream coastal lifestyle.
Each lot has been planned with sustainable living in mind, and therefore there are specific design guidelines that are required to be followed. These include guidelines regarding the exterior design features of the property, colour palettes and garden features. The estate also has a 36 month development condition for any land purchased. As part of the facilities, water re-use is a feature of the planning, contributing to the sustainability features of the property and the local environment.
About the Developer:
LandCorp is the Western Australian Government's land and property developer. Since 1992, they have been responsible for infrastructure projects in the state, including the Joondalup City project and the development of 140 William Street that included the construction of Western Australia's first five star-Green Star office building. They focus on developing sustainable environments with a focus on integrating community, economy and environment for the long-term benefit of Western Australia.
Contact:
LandCorp can be contacted at their head office in Perth at their website, by phone on +61 8 9482 7499 or email on landcorp@landcorp.com.au.
For details on property sales you can contact Ian Kelly of Jurien Bayview Realty on +61 419 969 244 or see the development's website.

To get more information & assistance, please submit the form below and our specialist will get in touch with you at the earliest.