This article focuses on a webinar that was conducted by JBrown International on the 25th of Feb, 2021. The cast of speakers was diverse including people from different backgrounds and a vast amount of experience in the real estate sector between them. It also included Roshan Dsilva, the co-founder of Holiday Home Times. The company JBrown started its operations in London as it was already a global, multicultural city and then looked to expand its operations abroad. India was on their list since day one for 3 specific reasons:
The historical and cultural relationship between the 2 countries which will only get stronger as the UK seeks to strengthen its trading relationships outside the EU.
The growth of India's population and economy which has historically, always been accompanied by people looking to spend their money on property, whether at home or abroad.
The company has always had ties to India.
After starting services in India 3 years ago, the company has helped many Indians purchase property in the UK and has always had a remarkable reputation for comfort and seamlessness. The company was the first to launch an Indian company's project in the UK namely, the Embassy group's development.
Despite BREXIT and covid, people are still keen on investing in the UK for 4 main reasons:
Education – the UK has 4 of the worlds top 10 universities
Amazing culture
Safe and secure land and property titles
Fair and democratic society
The company is partnering with The Berkeley group which is one of the largest luxury builders in the UK. They have been in operation for 45 years and have developed a reputation as specialists in the regeneration of space. They are showcasing 2 properties:
West End Gate – Located in zone 1 in the heart of London, it is a project resulting out of regenerated land and comprises 9 buildings including more than 700 apartments in total. Westmark Tower is the flagship tower in the development. The property sits in close proximity to transport hubs like Paddington Station and Marylebone Station and green spaces like Regents Park and Hyde Park and tourist attractions like Marble Arch and Bond Street. The property has multiple phases with the Garret Mansions portion already being completed and fully operational. Facilities which are standard in all Berkeleys properties include a 24 hours concierge service, residents lounge, dining halls, cinemas, gym, spa, swimming pool and green spaces. The pricing is as follows:
1 BHK's start at £940,000
2 BHK's start at £1.4 to £1.6 million (859 sq ft)
3 BHK large on upper levels – £2 to £2.4 million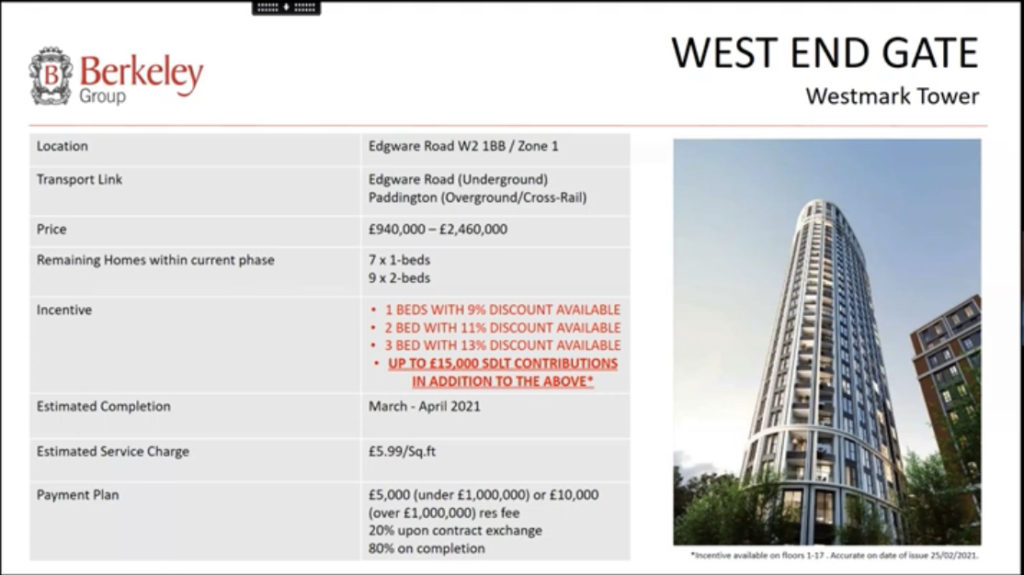 The Green Quater – It is one of Berkeley groups largest developments. There will more than 3000 units. The project is still in its infancy which is perfect from an investors standpoint as they can maximise their returns. The property promises strong appreciation and growth potential. The Site is 13 acres with 50% of it having green space. There will be meandering waterways, open parklands and a myriad of other unique elements. The property is in Zone 4 of London but access to Central London will be provided by Crosslink when it completes in 2022. It will be a multiple-phase property that will benefit from all the usual facilities like a 24 hours concierge service, residents lounge, dining halls, cinemas, gym, spa, swimming pool and green spaces. In addition, there will be access to public communities, schools, healthcare, sporting facilities etc. There are currently 2 phases with units available – Arber House and Sibley House. Prices start at £302,000 for a studio and range up to £650,000 for a 3BHK which makes it one of the more affordable projects in the Barkeley group's developments. Rental yields are around 4.4%.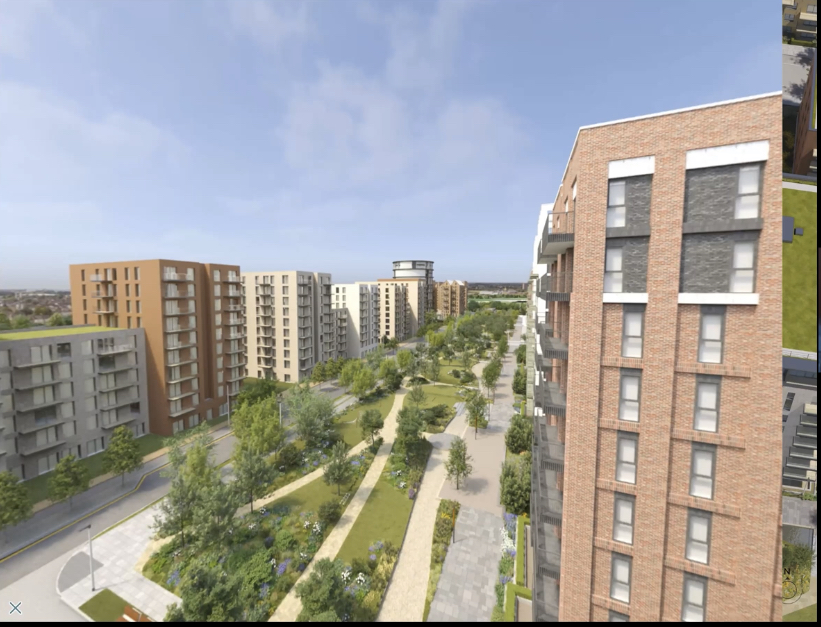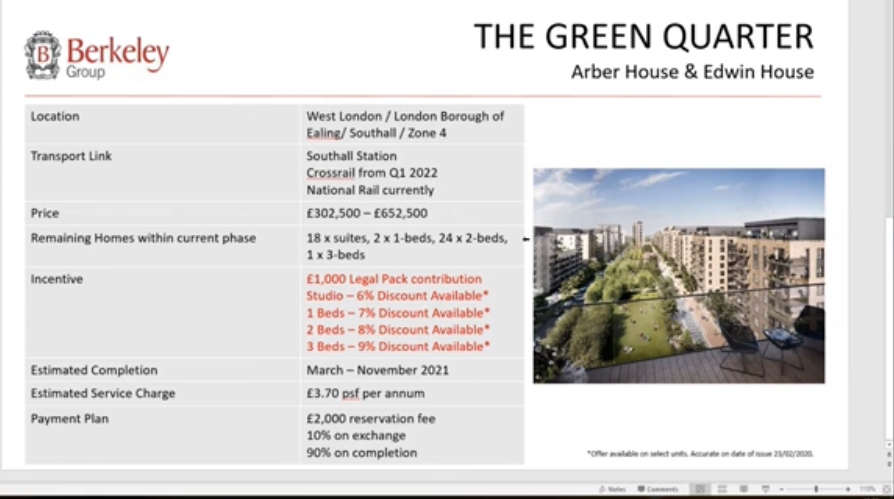 How to get a mortgage:
While applying for a mortgage, the bank will check what kind of income stream you have and how you will service the mortgage. If you are salaried, have a steady business income or the property itself will generate that income, it will be a boon. You also have to apply some level of equity where putting down 50% of the value of the property would be ideal and then you can take a mortgage on the remaining 50% however it depends on the bank and how comfortable they are with the applicant with even 70% being applicable in some cases.
There are 2 things to keep in mind:
You are able to not compromise on the type of property based on your goals as a family and you are able to buy a property that requires more liquidity that you have at the moment.
Interest-only mortgages which typically require a 10-15 year tenure, you only service the principle amount of interest every year For example, if the property costs 1,000,000 pounds and you have borrowed 500,000 pounds at 3%, you only pay 3% of 500,000 for the first 10 years and then you have another 10 years to liquidate the property and pay the remainder so if the property goes up in value, you just settle the mortgage and keep the gains.
To get more information & assistance on investing in London, please submit the form below and our specialist will get in touch with you at the earliest.