Himachal is dominated by upland climate. The variation in availability of raw materials, environmental conditions clubbed with the time tested traditional knowledge and wisdom have made the people of different regions of the hill state to formulate, develop and perpetuate the wide range of traditional food and beverage unique to its place since ages.  Due to the cold weather meat is preferred by all. But in the different region of the state, the cuisine differs. rice, paddy and maize is the basic food of people, but the use of spice is liberal and dominant. Boasting of uniqueness, the cuisine of Himachal Pradesh is typically a mix of Punjabi and Tibetan culture. The average Himachal kitchen churns out all sorts of meat, lentil and cereal preparations.
A typical everyday meal will include daal, chawal, sabzi and roti (the common north Indian meal of rice, lentil, vegetables and wheat bread), with sometimes non-vegetarian menu. The main preparation of food includes the locally grown coarse grains like buckwheat, millet and barley. Himachal food, uses spices like cardamom, cinnamon, cloves and red chillies.
Some of the most important everyday meal are Maahni (urad dal prepared with dried mangoes) or Madra (lentils made with yoghurt) while Indra is a dish prepared of urad dal and bada and is cooked in the Shimla district. However, every area seems to have evolved its own version of these recipes. Some of the other vegetarian specialties are bhatooru, marchu and chilra (are indigenous leavened bread or rotis that constitute the staple diet of Himachal Pradesh), chutney of til (sesame chutney) and pickles (brinjal, plum, peaches, tomato, bottle gourd etc). However, non-vegetarian is preferred, due to the weather. The most celebrated non vegetarian cuisine of Himachal Pradesh is  Kullu trout and chicken anaardana.
The best time to enjoy Himachal Pradesh cuisine is during the festivals, when the conventional cooking methods are taken over by mouthwatering and elaborate culinary delight. Dham, is a traditional festive meal, that is cooked only by botis (a particular stream of chefs who are brahmins). It is an elaborate meal and the preparation begins a night before. It starts with rice, moong dal and a dish of Rajma cooked in yoghurt. This is followed by boor ki kari and a dark lentil. This elaborate cuisine ends with a sweet.
Himachal Pradesh is famous for quite some delicacies that are sure to leave you asking for more. Some of the must have dishes:
Madra: One of the most famous delicacies here is known as Madra, which belongs to the Chamba region. It is made up of kidney beans or Rajma cooked on slow fire in yoghurt and ghee using about twenty spices. It is also prepared with chickpea (kabuli chana) or black eyed peas (raungi). It is served hot with rice or flatbreads (rotis).
Luchi Poti: or intestines of lamb are another delicacy of Himachal Pradesh that is served in many restaurants. Juma is another traditional dish favorite of Spiti prepared during winters. Wheat or millet flour is mixed with spices and this paste is stuffed in sheep's intestine and steamed. It is eaten with chutney or mutton soup (tchati).
Flatbreads or rotis: made of different flours like buckwheat, wheat, millet, rice etc. Some common rotis are ankalos (made of rice flour slurry), aktori (roti prepared by mixing leaves of buckwheat with wheat flour) in the dry areas of Lahaul and Spiti. Then, there is patande (very thin rotis of rice flour) an exclusive of Sermur region of Himachal Pradesh. The list is endless when it comes to flatbreads.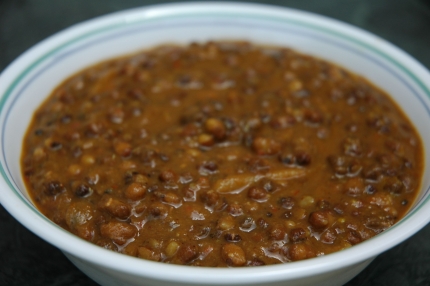 The main meal is followed by 'Khatta', a kind of sweet and sour sauce made of tamarind and 'gur' (jaggery). Dessert comes at the end, sweet rice mixed with raisins and dry fruit known as 'Mittha'. These courses are served exclusively on leaf plates during celebrations.
In addition to cereal and legume based food consumed at Himachal, milk based food is consumed in form of curd (dahi), buttermilk (jhol, churpa), tea (tchaku cha) and ceremonial dishes (nudu).   Tchaku cha is a salty butter tea – made with butter, small amount of milk and salt is added and it is blended in traditional vessel called dongmo.
A large number of traditional foods and beverages are prepared in rural and tribal areas of Himachal Pradesh (also known as Pahari food/cuisine). Cereal and legume based foods and beverages are most popular followed by fruit, vegetable and milk based products. The preparation of most food and beverages involves fermentation of raw materials available in the region. Apart from traditional food you also get Tibetan food like momos, noodles and international cuisines in restaurants.
You can carry back walnuts or some really good homemade jams, chutneys or pickles made by small organizations or cottage industries.
To get more information & assistance, please submit the form below and our specialist will get in touch with you at the earliest.