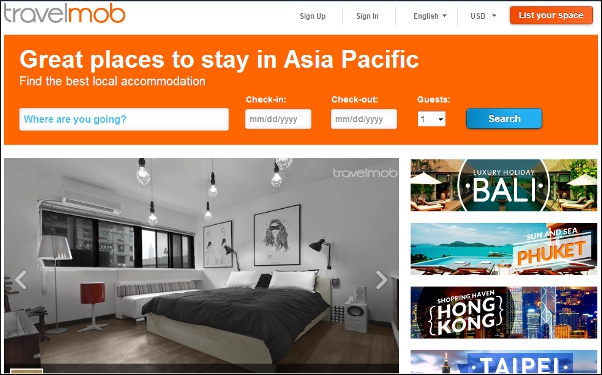 Since its beginning in July last year, we have been getting a couple of queries from our readers, mostly holiday home owners asking us to have a look at the website review it from them, like we had done for many others. So today I will try to give an unbiased opinion of the website, which proclaims to be Asia's answer to Airbnb.
Frankly being an owner of a holiday home myself, I don't have a high opinion of enquirers from Airbnb, a view which many owners will second. When we owners open our doors to travelers we have previously never met, it is important to look for a vacation rental website that gives the right quality of guests so that their properties are safe and secured. Airbnb globally has in my opinion not done a good job of this attracting primarily younger, hipper guests but very rarely families and the older demographic who are the best guests for holiday home owners.
Now back to TravelMob.com. The website is the brainchild of Turochas T Fuad, former managing director of Skype Asia. The company is based in Singapore, which gives it that added advantage of being nearer to the main touristy destination of Asia Pacific.
THE HOMEPAGE:
The homepage is just like any travel booking website. As a traveler, one can search for an accommodation in the location of his choice and check-in dates.
SEARCH RESULTS AND PROPERTY PAGE:


Now when I go to the search result page, I'm a little disappointed. I see multiple postings of the same property.
When I go to the property description page, I find that these are properties not listed by the owner and have been listed probably by a property manager who has several other properties listed on the website.
OWNER LISTING AND COMMISSION:
For owners to list their property there is a button on the top right hand corner – that's easy! Being an owner myself, although they say listing my property is free, I know for sure they will charge a commission on my bookings, which is perfectly the accepted norm. But how much? I go to the websites' 'How it works' link but was unable to find any information on the same. After much hunting, I get to know that TravelMob takes a 3 percent commission. My guess is that they make another 10-20% for fees to the traveler which I feel is fair.
Well, this may be TravelMob's strategy to entice owners to list their properties, but for genuine owners it gives a feeling that this might only go to open the floodgates for property managers to list their properties rather than owners. With the website offering nothing more than just a space for owners to list their properties, it needs to be seen whether this strategy works well for both the guest who would be dealing with property managers instead of directly with owners and owners who might be pushed to the back benches by the more aggressive property managers.
I also hope they don't go down the Airbnb route and focus on the young, single and ready to party audience. While owners may like hanging out with such people at a bar, would we be comfortable having them unsupervised in our homes?
To get more information & assistance, please submit the form below and our specialist will get in touch with you at the earliest.