We're going to this week cover a tricky topic – Airbnb House rules around cleaning during check out. Have you have encountered guests who leave in a huff without even bothering to keep the used plates in the sink or leaving the wet towels on the bed? Situations like these are not uncommon and unless you have strict rules for guests on how to leave the property before they checkout, you will invariable be left to clean the mess left behind.
But first what should you as the owner of the holiday home should expect from guests. While keeping the used towels on the bathroom hanger or cleaning the barbecue after it is used should be expected, washing the towels or sending them to the dry cleaners should not be expected. Here are some things which guests need to do before they checkout:
Put all waste in the dustbin and leave it in the designated place to be collected

Ensure that all electric appliances are switched off

Remove all leftover food from the dining table and the kitchen

Keep the sink clear of any used tableware

Make the beds

Hang used towels on the bathroom hangers

Keep used linen in the laundry bag

Remove any CDs from the player and keep them in the CD rack
Now what you should do:
First, in your airbnb house rules should specify whether you have a housekeeper or not. This will give a fair indication to travelers who are looking to book your property, on what they are expected to do.
Second, when you are preparing the rental agreement, insert a clause advising guests on how they should leave the house when they check out. Also specify that it would be considered breach of contract if the house is left in disarray and would attract a penalty that would be cut from the rental deposit.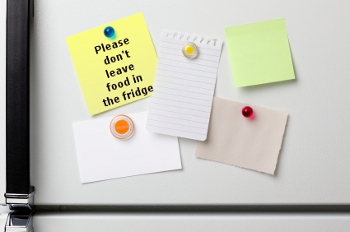 Third, when you are preparing an instruction book, specify that used plates should be washed and kept in their designated place; the fridge should be removed of all food and the leftovers should go into the kitchen dustbin; the garbage bags should be kept out for the authorities to collect, etc.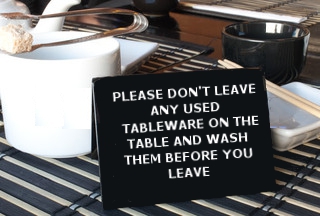 Sometimes guests may not read the instruction book, so it is a good idea to leave individual notes in the places where you want to draw the attention of the guests. For instance sticking a note on the door of the fridge can do the trick or placing a card on the dining table to remove all used plates and wash them before they leave can be the perfect idea.
Hope the articles outlines the pointer on how you can avoid situations where guests leave your property in a complete commotion. If you had other ways to ensure this, do share with us.