Every beach homestay or resort, it seems, has to use the word "Mediterranean" somewhere in their copy. While this usually refers to the interiors, it is often used to evoke a slow, relaxed pace of life, of afternoon siestas and al fresco dinners, of colorful cocktails and lots of seafood. In this story, we'll look at what defines Mediterranean style, using two properties. The first is a villa in Palolem, Canacona, Goa, India and the second is a villa in the village of Lefkes on the island of Paros, in Greece.
The Mediterranean style of interior design originated in countries like Spain, Italy and Greece. The warm color schemes, with yellows, oranges and deep reds mirroring the spectacular seaside sunsets, the turquoise reflecting the color of the sea off the Côte d'Azur, immediately set the tone for long lunches, afternoon siestas and evenings of music and dance. This casual and carefree design aesthetic is true to its environment, liberally using natural materials and hand-dressed rough-cut finishes on stone, tile and wood.
Other than the yellows, oranges, deep reds and blues, Mediterranean interiors prefer lavender, aubergine (deep purple) and greens, as the following images from our properties in Goa and Greece show.
Spanish Andalusian mosaic tiles and Portuguese Azulejo ceramic tiles are commonly inset into walls and furniture. They are also commonly seen in accessories.

Tiles are deeply associated with Mediterranean flooring, as only in that part of Europe is it warm enough throughout the year to use tiled flooring.
Flowers are a popular motif in all forms, fresh, dried, and in cast iron, carved wood and drawn on tiles.
Columns, plaster mouldings and cornices are also common in the Mediterranean style, and are used in a distinct way. Furniture is usually of light pine wood, and communal in design, preferring large plank tables to intimate dining, for example. Armoires are preferred instead of built-in closets, and ironmongery (handles, latches and bolts) are cast iron. Notice the upholstery on the furniture in the pictures below? See how both in Goa and in Greece the same colors are used to define the style?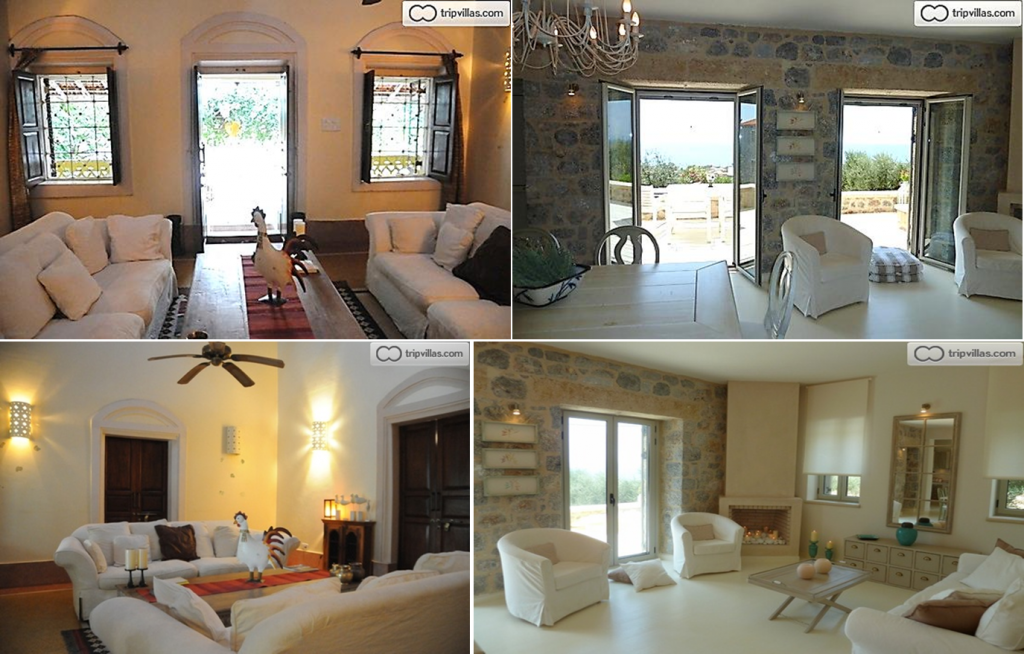 The use of lightweight and light colored fabrics also marks this style. For example, the beds in both properties are draped in delicate fabrics.
As you can see, despite its name, the Mediterranean style of interior design is popular throughout the world, found on all continents, embodying a languorous coastal lifestyle, full of warmth and passion. It's easy to distinguish, and fun to implement. Tell us about it if you have chosen this style for your property!
To get more information & assistance, please submit the form below and our specialist will get in touch with you at the earliest.