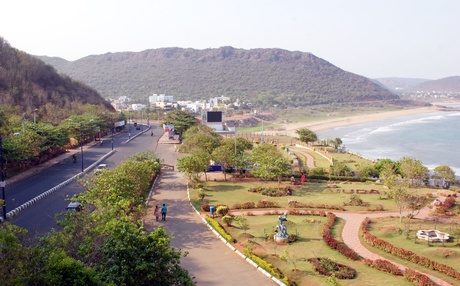 After the initial euphoria, the real estate market of Vizag had remained almost stagnant till the end of 2010-11 fiscal. However the market is now not only showing signs of recovery, but also sterling growth, with several new areas in the port town coming to fore with housing options catering to both the budget and the high-end buyer segments.
But the real shot in the arm and the reason why we are considering Vizag as a holiday home destination with good potential is not solely the announcement of the mega tourism projects worth Rs 45.88 crore in the Visakahapatnam-Bhimili beach corridor this year. With several infrastructure development projects in the pipeline and emerging areas bordering the coastline of the town, we have no doubt that a discerning holiday home buyer who enters the market at a low investment can expect good capital and rental returns in say another 3-6 year's time.

If we go by what K Suresh Kumar, head of sales and marketing division of Omcon Reign Forest has to say – "Already many people from Coastal Andhra Pradesh have stopped investing in Hyderabad and instead they prefer to purchase properties in Vizag," – speaks volumes of the Vizag's real estate market.
The picturesque landscape apart, other reasons that make Vizag a holiday home buyers destination are future better connectivity, recent international status of its airport, IT companies/ industries expanding their bases in the city and ambitious projects of a link between beach road and NH-5 in on the offing.
Leading Residential areas of Vizag:
Since the revival of the real estate market of Vizag, residential prices are witnessing a steady appreciation. For instance, posh areas like Lawson's Bay Colony, MVP Colony, Kirlampudi Layout, Beach Road, Seetammadhara, Dasapalla Layout, Dwaraka Nagar and Asilmetta which were about INR 2,200 per square feet six years ago, are now available for INR 3,900-4,750 per square feet. Meanwhile in the affordable localities of the town like Madhavadhara, Akkayyapalem and Murali Nagar the price is around INR 3,000-3,250 per square feet as against INR 1,300 a couple of years back.
From INR 1,500 per square feet areas like Kommadi, Madhurawada, PM Palem, Sagar Nagar, Duvvada, Sheela Nagar, Kurmannapalem and Gajuwaka, which were considered suburbs about 3-4 years back prices have gone up to INR 2,000 to 2,500.
Areas to buy a holiday home:
While the Beach Road remains the primary location in Vizag to buy a holiday home, the areas lining Visakahapatnam-Bhimili and R K Beach have also seen a heighten interest from upper crust buyers looking for a second home on the eastern coast of the country.
And what makes these areas suitable for a holiday home?
With the announcement of the tourism projects earlier this year, property prices in the coming years as the projects take shape along the beach road and the land between the National Highway and Madhuravada Beach Road will witness manifold appreciation. These tourism projects are likely to give a fillip to areas like Bheemunipatnam, Erramattidibbalu, Kailashgiri, Mangamaripeta Beach, RK Beach, Thotlakonda, Pavuralakonda, Rushikonda, Bhavikonda. Another reason why buyers will see a good appreciation on their investment.
Today, land prices along the beach road are around Rs 20,000 per square yard and Rs 25,000-30,000 around Rushikonda. Meanwhile plots and independent houses are in Vizianagaram where a large number of layouts are emerging are available for anywhere between INR 8 to 12 lakh for a 200 square yard plot. This is good entry price for discerning holiday home buyers who can expect a 15-20 percent increase in land values and in property prices, which is good enough.
The suburban areas lining the coast are now becoming hot areas and if have seen a two to three time increase in registrations in places like Nakkapalli, Anandapuram mandals, Chodavaram, Narsipatnam and Sabbavaram.
In the next couple of articles we will bring to you some of the top recently launched holiday home developments where you can buy a holiday home. Invariably if you know one, do share with us and we will get back with the details and will tell you whether it's worth investing.
To get more information & assistance, please submit the form below and our specialist will get in touch with you at the earliest.