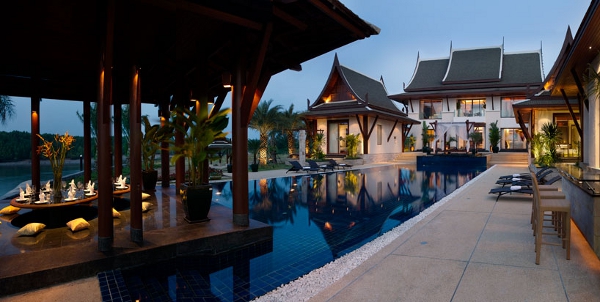 It all started in 1992 when Gulu Lalvani, the owner of Britain's Binatone Telecom Group, forayed into the real estate market of Phuket. But it was perhaps a year before that when Mr Lalvani's passion for sailing took him to Phuket that gave him the idea of Royal Phuket Marina. Today, his company, plays a major role in Phuket's high-end property market, having developed the Royal Phuket Marina on the east coast, which features waterfront luxury apartments and Villas.
GULU LALVANI – THE MAN BEHIND ROYAL PHUKET MARINA: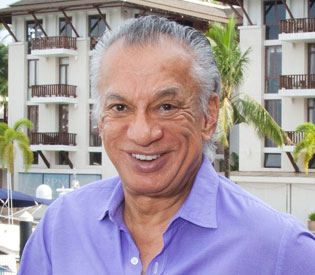 He was instrumental in turning Phuket into a world class yachting destination and a magnet for celebrities and the rich and famous. This Hong Kong and London based telecom baron embarked on the marina project located on Phuket's eastern seaboard overlooking scenic Phang Nga Bay when he retired from his company Binatone, which he co-founded in 1958, the world's second largest manufacturer of digital cordless phones.
Meet, Gulu Lalvani, the telecom tycoon who instead of enjoying his retirement on the idyllic island, set about creating his vision to construct Thailand's first world-class luxury lifestyle community, rivaling top marina resorts in Europe and the Caribbean. And he hit success immediately. All phases of Royal Phuket Marina's comprising condos, apartments and penthouses were a sell-out success. Today, Royal Phuket Marina has also become a vibrant entertainment and lifestyle center, with open air restaurants and bars overlooking mega yachts moored in the Mediterranean-style marina. The 2,500 square meter Waterfront International Exhibition Center at Royal Phuket Marina is Phuket's largest single space and has paved the way for a new era of large-scale conferences and expos as well as the ideal venue for weddings and functions.
As development of villas and innovative apartments continue in the Royal Phuket Marina, Mr. Lalvani is today hailed for raising the profile of Thailand's luxury real estate and for making a significant contribution to Thailand's property industry.
ROYAL PHUKET MARINA – AN OVERVIEW:
Royal Phuket Marina (RPM) is one of the most distinguished world class destinations combining luxury waterfront living with a state-of-the-art marina within itself. It is probably Asia's most sophisticated high-tech yachting haven which has been awarded with the prestigious "5 Golden Anchor Award" by the British Yacht Harbour Association.
Project Description: Unique waterfront development covering an area of 230,000 square meters
Residential developments: 700 condominiums, 300 villas, hotel, retail boardwalk and marina.
In the residential segment, Royal Phuket Marina comprises:
The Royal Villas: The Royal Villas in the Royal Phuket Marina are grand residences, opening up to sweeping panoramas of the marina. On the exterior, the distinct lines of classic Thai architecture position the structures seamlessly within their natural surroundings, while inside, owners and their guests can luxuriate in a range of rare and desired spaces. Through function, design and status, these exclusive residences create a tropical marina lifestyle of consummate ease, freedom and luxury and are some of the world's most unique investment opportunities. The Royal Villas are the only residences in Phuket to feature private yacht berths. Situated at the foot of each waterfront estate, the berths accommodate vessels of up to 25 metres and benefit from Royal Phuket Marina's full range of professional services. Highly trained marina concierges provide crew support and a full range of vessel maintenance services.
The Aquaminium: Created for the discerning individual, The Aquaminium is perhaps the world's first condominium to house a private yacht berth within the residence itself. Each residence allows its owners and occupants to experience a seamless flow from one space to another from indoors to out, from land to water. Rooftop dining decks, elevated cabanas, ceiling rain showers, sleek kitchens and private Jacuzzis embody cutting edge appeal and convenience. The Aquaminium boasts distinctive features to accommodate every aspect of the consummate yachting lifestyle.
La Reserve Residences: After the successful launch of Phase I and II Royal Phuket Marina launched the third phase of their residential development in March 2012. Branded as La Reserve Residences, the initial offering is 40 one and two bedroom condominiums with rooftop Sky Pools. Royal Phuket Marina is regarding La Reserve Residences as one-of-a-kind opportunity for uniquely affordable access to the lifestyle of the Marina. All units feature sophisticated interiors – fusing tropical modernity with lavish yet functional design elements. All units are fully furnished and ready to move in. These deluxe one and two-bedroom condominiums provide all the privacy and space you need to live in style.