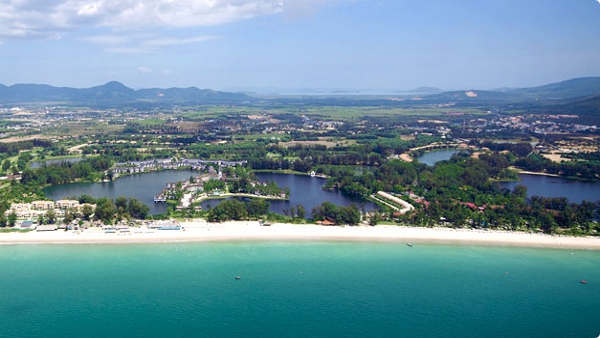 With Michael Ayling, who ran the show for Laguna Phuket for almost a decade, making way for a new chief of this seven-resort Phuket sanctuary early this month, I felt it a good time to do a recap of the development which is considered as a pioneer development in Phuket's real estate scenario, starting with its genesis as a tin mine wasteland in the 1980s.
EARLY DAYS:
Laguna Resorts & Hotels Public Company Limited entered the resort development projects with the acquisition of the Laguna Phuket site in the early 1980s. The company was listed on the Stock Exchange of Thailand in 1993 and has gained a reputation as a responsible developer whose interests combine hotels and real estate with an emphasis on quality and environmental protection, having received numerous environmental and tourism awards.
CURRENT STATUS:
Today, Laguna Phuket is a destination resort comprising a collection of world-class hotels and luxury villa properties, private villas, luxury spas, a shopping village, 18-hole golf course and myriad recreation and leisure facilities. Laguna Phuket consists of Banyan Tree Phuket, Angsana Laguna Phuket, Dusit Thani Laguna Phuket, Laguna Beach Resort (now being redeveloped), Outrigger Laguna Phuket Resort & Villas, Best Western Allamanda Laguna Phuket, and Laguna Holiday Club Resort set in 1000 acres of tropical parkland and three kilometres of beach frontage with Laguna Phuket Golf Club, Canal Shopping Village, Banyan Tree Spa, four Angsana Spas, Laguna Wedding Chapel, the Quest team building facility, and Latitude, a function venue.
RESIDENTIAL DEVELOPMENTS – LAGUNA VILLAGE:
Laguna Village is a community comprising luxury homes, set within Laguna Phuket. Nestled around a pair of long lagoons or on an island in the middle, this new development offers buyers the option to become Village residents or join a rental pool while enjoying regular holidays there.
The Village features a choice of Laguna Village Villas, semi-detached Townhomes or spacious island Residences, with 24-hour security, resort shuttle bus, attractive landscaping and only five minutes from Bang Tao Beach. In a nutshell, Laguna Village embodies all the elements that have made Laguna Phuket synonymous with bright ideas and comfortable living. The entire Laguna Village comprises of:
Deluxe Townhomes: The Laguna Deluxe Townhomes are two-storey, semi detached. Based on the successful Laguna Townhomes and Laguna Residences, which were first introduced into the market in late 2001, the Laguna Deluxe Townhomes were launched in 2008 and completed in 2010. These properties feature a new architectural design and upgraded home option packages, all on larger land plots. Among the home options available are a home automation package, an audio/video entertainment package, lighting package, auto window blind package, alarm system, wireless Internet package, outdoor jet-pool, outdoor shower, and much more. There are six three and four bedroom Laguna Deluxe Townhomes on individual land plots ranging from 643-788 square metres.
Deluxe Residencies: Also launched in 2008, this property development consists of nine units on land plots ranging from 1176 square metres to 1446 square metres, all facing a tropical lagoon providing spectacular water views. The units are two-storey, four bedroom detached villas with private pools. Furnished thoroughly in a unique modern Thai style, with the choice of two elevations and multiple optional furniture packages, the Deluxe Residences also feature a study room, walk in closets and skylights to flood your home with natural light.
Laguna Village Villas: These are 260 square meters two-storey, semi-detached, two bedroom Villas overlooking a shared free form swimming pool and tropical gardens below. The two bedrooms are situated on the upper floor featuring spacious en suite bathrooms and the private balconies combine comfort with outdoor living. On the ground floor the living and dining areas open onto an inviting sun deck.
Laguna Village Townhomes: These are two-storey, semi-detached, three bedroom exquisite pool villas with manicured gardens and private swimming pool. All the three bedrooms have their own individual balcony with a superb view. With a total area of 465 square meters, these villas have a spacious living room and a well-appointed kitchen and dining area.
Laguna Village Residences: These are two-storey, detached grand villas featuring four luxurious bedrooms overlooking a large private swimming pool and extensive gardens. Awash with natural light, their stylish interior features a spacious living and dining area as well as a fully equipped kitchen. The villa which is 671 square meters in size also has a maid's quarter with bathroom and a fully landscaped garden.
The Lofts: The Lofts, located to the north east of Laguna Village, consist of 110 units distributed over three buildings which surround a lake with lush landscaping and manicured gardens.  The first phase contains twenty five apartments – one bedroom Executive apartment, two bedroom Lofts distributed over two floors and three bedroom Penthouse. The one and two bedroom units have living areas of 87 square meters to 141 square meters respectively. Each unit will have a private balcony with stunning views of the tropical rainforests and mountains surrounding the development.
Types of ownership available:
The various types of ownership available in the Laguna Phuket depend upon the type of property:
Laguna Village Townhomes and Laguna Village Residences: These two types of property are available on a leasehold basis. Laguna Phuket offers a 120-year lease of land.
Laguna Village Villas: This development project is under the Condominium Act of 1979 whereby condominiums can be acquired on both a leasehold and freehold basis.
Lofts at Laguna Village: This development project is available on a leasehold basis.
OWNER BENEFITS:
Owners of properties in Laguna Phuket receive a Residents' Privilege Card offering generous discounts at the 30 restaurants and bars and five spas, a Laguna Phuket Lifetime Golf Club membership, a five-year building warranty, resort management and optional rental programme.