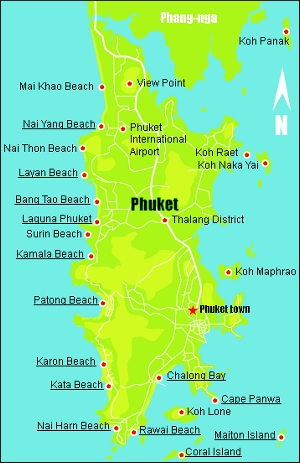 The largest island in Thailand, Phuket is a mountainous province located in the southern tip of the Andaman Sea. It comprises approximately 590 square kilometers, including 39 surrounding islands. About 70 percent of the land is covered by mountains, which stretch from the northwestern tip of the island to the southern edge. The remaining 30 percent is plains. Millions of tourists flock to Phuket each year to experience its scenic beaches and picturesque mountain ranges.
The island has a long rainy season in the late spring, summer and autumn months.
PHUKET'S PROPERTY MARKET:
If, for you, life's a beach; then where else in South East Asia other than Phuket can you choose from a staggering range of property for sale? From humble beginnings to ultra top-end condominiums and pool villas, Phuket has something for everyone. Property deals in the island also reflect the new-found affluence of the island with a good choice of villas and condominiums on offer. Two of the four marinas on the island also offer luxurious and striking accommodation for sale and rent.
In just a couple of years, Phuket has grown as a very mature real estate market, creating tremendous opportunities for the astute buyer. The increasing numbers of tourists visiting the island over the years also have had a direct correlation with property prices.
TIPS TO BUYERS:
While location and timing are of utmost importance, buyers must also look very closely at the developer and the financial capacity backing the project. It is recommended that you buy from developers with a proven track record of building in Thailand, coupled with experienced maintenance and resort management teams.
Buyers should also place proximity to the beach as the most important factor when looking for a home in Phuket. Generally, developer's pricing increases as the construction of the development progresses. Which means the developer's profit margin on initial sales is very low. So if a project is in the right location it can be a good investment opportunity if you are able to get in early.
Since location and timing are the keys to successful real estate investment, it is imperative to choose a good real estate agent who has good knowledge of the Phuket property market.
BUYING A LEASEHOLD PROPERTY:

In Phuket there are not much issues with buying leasehold properties as long as the structure is setup correctly through an experienced law firm. Experts however suggest that when foreign nationals buy leasehold property in Phuket or in Thailand in that matter, they should buy through an offshore facility to simplify the process when it comes to selling later on. It is also possible to add a clause in the contract allowing leasehold titles to be converted to freehold at any time throughout duration of the lease.
PROPERTY OPTIONS:
At the moment there are some spectacular buys for buyers looking to buy in Phuket. The island also has a lot of resale properties which are good value for money. Here are some of the developments where one can look to buy: