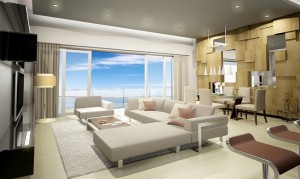 After the successful launches of its earlier residential projects of IJM Land Bhd's RM5 billion iconic waterfront project in Penang, 'The Light' intending buyers can now look forward to the launch of The Light Collection IV scheduled for soft launch in early 2012. This phase will consist of quayside apartments and seafront bungalows and thus promises a totally new experience for its residents and visitors.
Just off the Penang Bridge on the island's eastern coastline, the entire Light project has been designed as Penang's first integrated leisure, retail and cultural destination within an up-market and luxurious waterfront enclave.
Located along the eastern coastline of Penang island, the project is easily accessible via Lebuhraya Tun Dr Lim Chong Eu. This exclusive development is also ideally located beside the Penang Bridge. It is a mere 15 minutes drive to Penang Free Trade Zone and Penang International Airport, 10 minutes to George Town and 15 to 20 minutes to mainland Penang via the Penang Bridge.
The first phase of the project was launched in August 2009. Approximately 80% of the units of this phase were sold within the first two days of launch. The second phase, 'The Light Point' also saw 65% of the units being sold within the first few hours of its soft launch in December 2009.
'The Light Collection I' which consists of 24 units of Water Villas was launched in May 2010and till date 65% of the units have already been sold.
'The Light Collection II' which consists of Pier Apartments was launched in December 2010 and was an immediate hit with buyers. Interestingly in the first day of its soft launch, 60% sales were recorded. Subsequently, 'The Light Collection III' was launched in August this year which was also well received by buyers.
The first series of residences is targeted for completion in the third quarter of 2012, and the rest will be completed every six months after that. The last phase featuring The Light Collection IV will be ready in early 2015.
The Light Residential, featured under PHASE I, is a semi-furnished development with tastefully done fittings. It consists of six projects as follows:
The light Linear comes with inverter air condition units, water heaters for all bathrooms and a centralised water filtration system, while The Light Collection comprising The Light Point, The Light Collection I, II, III & IV; come complete with fittings such as kitchen cabinets with hood, hob & oven, centralised vacuum system, inverter air condition units, water heater for all bathrooms and a centralised water filtration system. The indicative price starts from as low as RM639,800.
The project will offer a comprehensive range of special amenities and facilities to suit a luxurious lifestyle, including a swimming pool, wading pool, jacuzzi, tennis court, gymnasium, games room and study area. Other facilities include a sky lounge, putting green, reflexology path, jogging and cycling path, and a children's playground. There will also be a BBQ area and community hall to cater to various functions and events.
Participating in a recent premier real estate exhibition and conference at the Hong Kong Convention and Exhibition Centre, the MIPIM Asia, IJM Land Bhd's chief executive officer and managing director Datuk Soam Heng Choon said: "The residential component (of The Light) is on 16.8ha (42 acres) reclaimed land which we launched in 2009. Currently, we've launched four parcels of the residential projects."
"We've launched (the residential component) and was mostly sold to Penangites. The first phase of the residential component is under construction."
"This project will take 10 years (to complete). This, however, depends on how fast we can go. If we can get investors to come in to partner us in some of the commercial projects, this can go very fast, may be in the next five to eight years, it will be completed, he added.
Project Status:
This article was last updated on 30th October, 2020. The updated phone number is 604-296 1333 and the updated email is ask@ijm.com
To get more information & assistance on The Light, Penang, please submit the form below and our specialist will get in touch with you at the earliest.