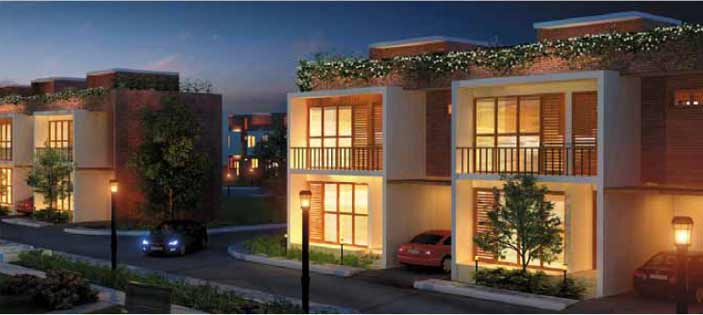 Zuari Garden City promoted by the Zuari Group, a leading corporate house founded by Dr. K. K. Birla is being seen by real estate players as the first integrated residential township in Mysore. Offering three types of residences – grand villas, luxury villas and town houses – the development being built in a total area of 74 acres is scheduled to be completed in the last quarter of 2014.
Being built in two phases, Zuari Group has partnered with Adventz Infraworld India Limited to construct the township which will also have a wellness resort, a leisure complex, a residents' club and a recreational hub with a multiplex, food court, a shopping complex and fine dining restaurants.
Location:
On the KRS Road about a 10-minute drive from Mysore's IT corridor on the way to the Brindavan Garden, Zuari Garden City is located at a distance of about 20 kilometers northwest of Mysore city in Mandya.
Designing:
The housing design of Zuari Garden City is being done by Romi Khosla Design Studio, led by architects Romi Khosla and Martand Khosla who are known for designing luxury hotels, educational buildings for schools and universities, retail locations, small specialized interiors and urban planning.
Grand Villas:
These villas will be built on a 5,550 square feet area and will have 5 bedrooms with attached balconies and spacious dining and living spaces. Other features of the grand villas of Zuari Garden City, Mysore will include a family lounge area, a private terrace pool, garden-facing wooden deck, a store room, separate Puja room, servant quarters and parking spaces for three cars.
Luxury Villas:
Meanwhile the three bedroom Luxury Villas at Zuari Garden City, Mysore will have a super built-up area of 3,230 square feet with individual sit-out areas, a spacious dining and lounge area, a family lounge area, a terrace garden, a store room, separate Puja room, separate servant quarters and parking spaces for two cars.
Townhouses:
The three bedroom townhouses will be built on a total area of 1,850 square feet (super built-up area) and will have feature living and dining spaces, a utility room, a Puja room, a terrace garden and a covered parking space.
Amenities/ facilities:


Zuari Garden City, Mysore will have a 30,000 square feet Health Club to be managed by an international brand which will have a 5,000 square feet gymnasium, a steam & sauna room, an Olympic size swimming pool, a library & reading room, simulated golf driving range & other indoor games.
Meanwhile the 6,500 square feet clubhouse will feature a convenience store, a multipurpose hall for parties, a terrace party area, a cafeteria, a gym, a bar and restaurant.
Pricelist:



Appreciation:
While it is difficult to predict an exact appreciation figure on your investment in Zuari Garden City, but going by the current and past trends of the property market of Mysore, a 10 to 15 percent appreciation can be expected as the development nears completion. In fact good appreciation in realty prices in Mysore is not unheard of. The property prices in the last couple of years have appreciated four-fold in some neighborhoods like Siddhartha Nagar, Gokulam I and Jayalakshmi Puram, etc.
Players in the real estate sector who are dealing with properties in the Mandya area are forecasting a three-fold appreciation to one's investment here once the entire development is completed and units are handed over to its owners.
The other reason why real estate operators are predicting a higher appreciation on one's investment in Zuari Garden City is the good reputation of its promoter, Zuari Group.
Contact:
For more information one can contact their sales team at 1800-123-2345 or email them at sales@adventzinfra.com. You can also take a look at the current status of the development on their website: www.zuarigardencity.com/construction.php
Project Status:
This article was last updated on 4-11-2020 The updated phone number is 074061 00000
To get more information & assistance on Zuari Garden City, Mysore, please submit the form below and our specialist will get in touch with you at the earliest.