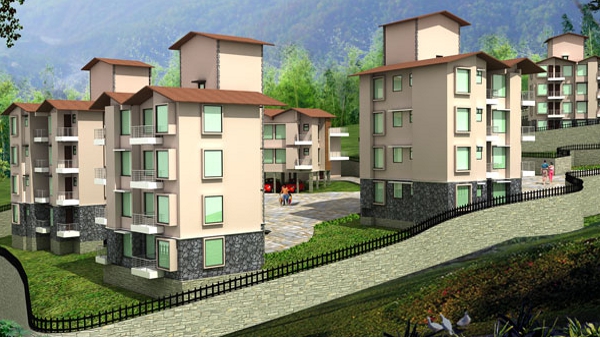 Many of our readers have of late been asking about the various developments in Ranikhet, so I decided to visit the place to get a firsthand  account of the state of activity of the real estate market there, which otherwise is predominantly a cantonment area in the Kumaon region of Uttarakhand. I have been in Ranikhet a couple of times as a traveler, but this time my visit was primarily to give you an overview of some of the projects here and a feel of the place for a prospective buyer.
But, before we go to the reviews of the properties a brief about Ranikhet as a destination to buy a vacation home: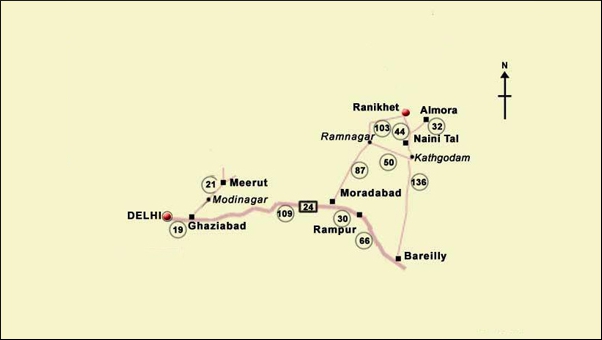 REACHING THERE: Ranikhet is actually very well connected than it is usually assumed. There are a couple of good overnight trains that leave Delhi in the late evening and reach Kathgodam early morning (takes approximately eight hours).  From Kathgodam cabs are easily available from the station itself and take not more than two hours. However if you are driving down from Delhi, the roads are in pretty good shape and it takes about eight hours, which is reasonably a good driving time for a vacation in one's own house, or in that matter to manage it too.
AREAS OF DEVELOPMENT: As I have said earlier, Ranikhet is mainly a cantonment area, so most developments are a couple of kilometers ahead of the main town. Most of the developments are either at Chaukhoni or on the Majkhali-Almora road. However don't panic! These are just about 10 to 15 minutes drive from the Ranikhet town.
LEGALITIES/ RESTRICTIONS: There have been conflicting reports on laws for non-Uttarakhand residents wanting to buy properties in the state. So we tried to put an end to these and find what the restrictions actually were. For non-Uttarkhand residents, they are allowed to buy land up to 300 square yards (2,700 square feet). There are no restrictions in buying an apartment (flat). Because most developers in Ranikhet who are offering plots are within this limit of 300 square yards, a non-Uttarkhand resident should not have any problems in buying one. And there is another restriction which doesn't allow any development above 40 feet in height. So in Ranikhet you will not find any high rise apartment. However being a mountainous region, how the 40-feet height restriction is calculated is actually not very clear.
TYPES OF PROPERTIES AVAILABLE: Most of properties currently being offered by the developers are 1, 2 BHK apartments (flats) or independent villas/ cottages.
PRICING: Based on the plot sizes and number of bedrooms, prices of villas/ cottages starts from about INR 46 lakhs, while on an average a studio apartment of 600 square feet would cost around INR 16 lakhs; a 1 BHK measuring about 780 square feet would cost about INR 23 lakhs and a 2 BHK of 1,075 square feet would approximately cost around INR 27 lakhs.
AMENITIES: The development I have seen in Ranikhet and where it's worth buying provide furnished units fitted with kitchen fittings, beds and wardrobes. However, almost all developments have no other facilities like swimming pools and club houses.
LIVING IN:
Owner profile: Many of the buyers whom I had met were either retired or professionals working in Delhi, Chandigarh or parts of Uttar Pradesh going there for an occasional vacation. Many owners have also turned their properties into holiday homes where guests can come and stay comfortably.
Basic amenities: Ranikhet is a small town which is ideal for buyers looking for a quiet time. Developers offer an un-obstructed view of the snow-peaks of the Himalayas from the apartments and is a major selling point. Usually in the mountainous regions of Uttarakhand, water can be a problem, but developers are providing residents with running water and have their own ways of water storage. Electricity outage or power cuts are almost unheard of.
Internet: Although state-owned BSNL is the leading provider of internet in Ranikhet, it is erratic and is almost down during the monsoons. However another provider AirJaldi has been providing internet which the residents opine is far better. We will be reviewing the services of AirJaldi in our next article where we will discuss their plans and pricing in detail.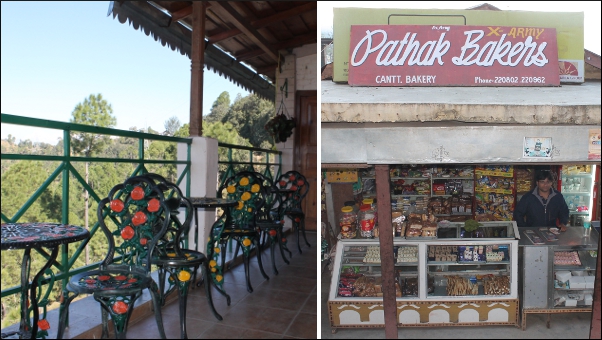 Eating out: Ranikhet has a handful of options for residents wanting to eat out. Most of the hotels and resorts have restaurants which are open to not only their guests, but also to walk-in residents. The restaurants offer quite a good palatable cuisine for the foodie. There is a quaint café named The Café where one can enjoy a hot cuppa watching the majestic mountains surrounding it. Many residents recommended Pathak Bakers. It is a small bakery on the way to the golf course road and the garlic bread is a must-try.One can also try the restaurant of Chevron Rosemount, which serves good food too.
In our next couple of articles I will review a couple of good developments in Ranikhet which are worth buying.