After the success of recently completed developments – Vicente Greens and Emerald Court – Acron Developers Pvt. Ltd. has recently launched two other projects in the beach capital of India, Goa. In this article we will review two under construction projects of the developer which have seen good response from buyers:
(i) The Eugenia Evergreens is a luxury villa project in the tranquil and picture perfect village of Moira, close to NH 17 Highway to Mumbai.
(ii) Meanwhile the Fleur Greens in Aldona near Mapusa is an eco-certified residential development comprising one and two bedroom homes.

About Acron:
Acron Developers Pvt. Ltd. is Goa's leading-edge developer and has been in the business since 1988. The group comprises of four companies in property development, hospitality, construction and retail. Today the developer has earned a name, among its peers, for its quality construction, superior specifications and punctual delivery. Since 1988, starting with the progenitor enterprise Acron Associates, the group has fostered a culture of continuous improvement of its product. Construction guarantees, conforming to accepted codes of practice, are incorporated in the contracts signed with clients.
EUGENIA EVERGREENS:
The development comprises 15 stand-alone, balcony and courtyard villas spread over four acres of landscaped greenery with an unobstructed view of the countryside of Moira. The villas are actually on the edge of the plateau and have a commanding view of the valley below. Every unit of the development is detached with individual, private gardens. Each villa has its own unique features with some having celestials bathing the indoor courtyards with light, and certain master bedrooms opening out onto private sundecks with great views. These 4 bedroom villas with en-suite toilets will have walk-in closets and large attached bathrooms with the master bedrooms. The units will also have domestic quarters with attached toilets and utility rooms, large kitchens, dining rooms with bay windows and the larger villas have entertainment space too.
A handful of villas will don 10-feet tall windows for the living-dining areas and double height atria. Ground floor heights of some villas will be 12 and half feet offering absolute luxury and comfort. Each luxury villa in Eugenia Evergreens is designed in accordance to the eco-friendly rating by the Indian Green Building Council. Acron is also offering buyers of these villas to customize the design and interiors of the villas to suit their preferences.

SIZES:
The sizes of the villas range from 4,140 to 5,080 square feet and the private gardens ranges from 4,000 to 8,600 square feet

COMPLETION DATE:
For the courtyard and balcony villas the date of completion is June 2014, while that of the stand-alone villas the date of completion is 18 months from the day of payment.

PRICING:
Only six villas are now available for sale and will cost between Rs 1.65 crore to Rs 3.22 crores.

AMENITIES:
Each home has an individual IGBC eco-friendly rating

Swimming Pool in the open space

Landscaped terraced gardens

Solar water heating

Piped cooking gas

Effluent treatment plant

Hydropneumatic system for water supply

On-line water filtration system

Air conditioned clubhouse and gymnasium

Domestics' quarters

Round the clock security

premises protected at all times

CCTV surveillance

Back-up generator for common areas.
FLEUR GREENS IN ALDONA: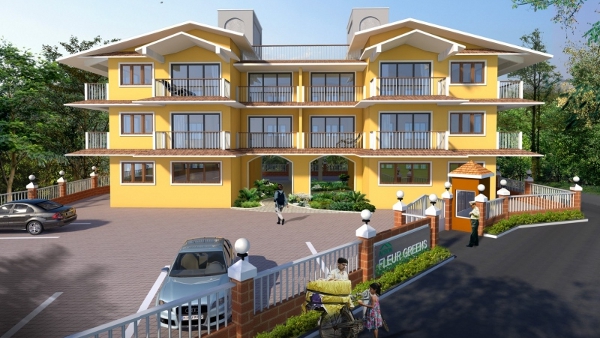 Fleur Greens, located just off the main road in Aldona at Carona in North Goa, is a low rise apartment development ideal for buyers looking for reasonably priced and well designed residences close to Mapusa, a happening location of Goa. The development will have a total 10 apartment units of four 1 BHK and six 2 BHK apartments.

Apart from the unique eco-friendly design of each units, the development will have amenities and facilities including, hardwood doors and powder-coated aluminium French windows, ceramic tile flooring and skirting or Jaisalmer natural stone flooring, gypsum coating on walls, segregated wet and dry areas in bathrooms, en-suite bathrooms, Australian Zincalume water-proof sheeting over reinforced-concrete sloping roofs, earthquake-resistant structural design, etc.

AMENITIES/ FACILITIES:
Rainwater harvesting

Vitrified tiling

Water-efficient fixtures

Grey-water recycling

Drought-tolerant flora

Garbage disposal systems

Low VOC paints

Thermal roof-insulation

Individual water control

Energy efficient luminaries

Electric-vehicle charging points

Children's play-area

Designated parking.
SIZES:
The sizes of the apartments range from 700 square feet (one bedroom) to 1085 square feet ( two bedroom).

COMPLETION:
The development is scheduled to be completed by December 2013

PRICING:
The apartments are priced at Rs.26.08 lakhs for one bedroom and Rs. 44 lakhs for the two bedroom units.

ADDITIONAL INFORMATION:
Acron is also offering a maintenance and rental program for out-station buyers which will be managed by its managers.

CONTACT:
For more information, one can contact Kunal Balsara, Head Sales and Marketing at: +91-8888886083 or via email: kunal.balsara@acronindia.com
Project Status:
This article was last updated on 25th Oct 2020. The updated phone number is 91 99229 07667 / 8550 98 7667 and the updated email is sales@acronindia.com
To get more information & assistance on Eugenia Evergreens and Fleur Gardens, Goa, please submit the form below and our specialist will get in touch with you at the earliest.