Disha Direct, a leading developer of holiday homes in India, especially in the western part of the country is currently offering NA plots at affordable prices in a project that focuses on adventure as its theme. The development at Malshej in Maharashtra, is being marketed as an Adventure Resort for adventures Sports & family activities with 35 fun filled and thrilling activities for every weekend. There is a dedicated Adventure Zone providing activities like Mountain Climbing, Rock climbing, Hiking camps with tents, River crossing, ATV biking and obstacle course.
Spread over a total area of 50 acres with a sprawling 8 acres of recreation zones the project once completed will be a one-of-its-kind vacation destination offering a refreshing and invigorating experience to city dwellers of the West India. Surrounded by breathtaking scenic views of the Malshej Mountain Range, a beautiful rivulet gurgling along the periphery and a serene atmosphere is indeed a project to buy one's vacation home. The development will have a total 375 Resort NA Plots with clear and marketable title. The layout plan has already been duly sanctioned by the Tahsildar of Murbad and the plots have received all the legal approvals and permissions. Separate 7/12 extract for each plot will also be given to buyers.
LOCATION: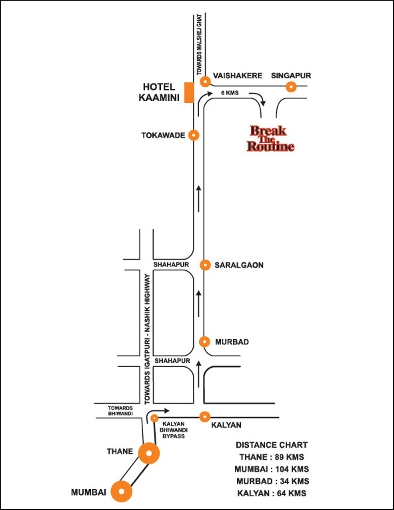 Malshej in Maharashtra has always been a happy hunting ground for hikers, trekkers and adventure lovers. The nature here is at its best. Since a couple of years, Malshej has found its place in India's map of the top destinations to buy a holiday home. Not only it the ornithologist's paradise with the most exotic migratory bird, flamingos, choosing Malshej as their monsoon abode, it also has a rich history – the Shivneri Fort which is about 40 kms away is the birthplace of the legendary Shivaji and the Buddhist Caves dating to the 3rd century are also in close proximity. Well connected by road, Malshej is about 104 kilometers from Mumbai and 125 kilometers from Pune.
AMENITIES:
For water enthusiasts the development will a H2O Zone with activities like Water Zorbing, Hanging Bridge, Balancing Bridge, Aqua Activity and Water Sports to name a few. It will also feature a dedicated kid's zone with facilities like Herbal Maze Garden, Edutainment Park, Fish Feeding, Bird Feeding and a general play area. For health freaks, Break The Routine (BTR), Malshej will have an Energy Zone with activities like Lawn Tennis, Basketball Court, Bicycle Track, Sports Pavilion and a Jogging Track. But if you like to laze around and enjoy the sun set, development will also have a Leisure Zone with facilities like Bonfire Camps, River walk, Fishing and a Sunset Point Gazebo. Other facilities and amenities include:
24 hours security

Barbed wire fencing

Conference Room

Electricity & Water connection

MS Gate with RCC columns

Restaurant

River Deck & Gardens.
PLOT SIZES AND PRICING:
| | | | |
| --- | --- | --- | --- |
| Type of Unit | Plot Area | Rate (per square feet) | Cost |
| SILVER | 1615 | 300 | 4.84 Lakhs |
| GOLD | 1615 | 325 | 5.25 Lakhs |
| PLATINUM | 4758 | 350 | 16.65 Lakhs |

CONTACT:
For more information one can get in touch with Disha Direct's sales team at: +91 9987782024 / 9987525324

Project Status:
This article was last updated on 25th Oct 2020.
To get more information & assistance on Break The Routine, please submit the form below and our specialist will get in touch with you at the earliest.