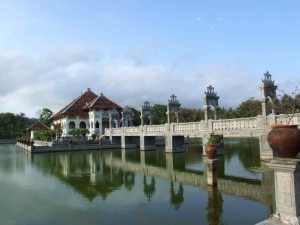 There are several different types of property that you can purchase or acquire an interest in, two of the most popular recently are Villas and Condotels. Understanding the differences between these two types of property is important to inform your investment decision, and ensure that you have the holiday home that you want in paradise.
Buying property in Bali can also be complicated, particularly with Indonesia's regulations around foreign ownership of property.
Condotel:
Condotels are popping up all over Bali, with many being offered with rental yields that seem almost too good to be true. So what exactly is a condotel?
A condeotel is a short name for a Condominium Hotel, essentially condominiums that are run like hotels. Most are operated by hotel groups, who rent out the rooms as a hotel and maintain and run the property as a hotel.
From an investment perspective, condotels operate in a similar way to a time share property, whereby the investor has the right to stay in the property for a certain number of days a year (usually about 21 days a year). So essentially you will be purchasing a share of a property. Each property will have different restrictions on how long and when you can stay in the property, as well as advance booking requirements. These can all make condotels less than ideal as a holiday home option, if you want the flexibility to stay at your property regularly and at times that suit you.
Generally if you are purchasing a share in a condotel it will be through a Rights Usage, which means you have a right to use the property for a period of time, rather than as a freehold ownership (due to Indonesian property regulations). When you are not there, your condotel will be rented as hotel accommodation and you will receive a rental return, which is sometimes guaranteed for a period of time. This can be as high as 8% on your investment. If your condotel doesn't have a fixed rental return, the return will depend upon vacancy rates at the hotel, which may vary and can also be seasonal. A guaranteed rental return is great if you want to take the risk out of your rental, but may have prohibitive conditions and restrictions attached (such as exit clauses).
Condotels can be attractive from a maintenance perspective as this is looked after by the hotel. This may be subject to a (mandatory) service charge, so look out for any hidden charges that may seek to cover these costs. If you don't want to be concerned with the daily upkeep of your property whilst receiving regular passive income, then condotels may be a good option for you.
As condotels are effectively owned by a large group of people, this can complicate the management of the property if there are large scale renovations or improvements that need to be made the whole property. Depending upon how the maintenance and management structure is established, a majority or all owners may have to approve and invest in major repairs, which can impact the rental opportunities and returns for the property in the short and long-term. Ensuring that there is a clear management structure and decision making process for the property is important to check.
Most condotel developments are large scale commercial investments, and it is important to do your due diligence when reviewing the investment. Make sure you read the fine print and will get the returns and benefits that you expect from your investment. There are quite a few on offer at present that look almost too good to be true, which usually means they are.
However if you are looking for a passive investment with minimal management required, and only limited access to your property, then a condotel is worth considering.
Villa:
A villa is either a private property or one that is run by a group operator, depending upon which property you choose to purchase. These are generally much smaller operations than a condotel and are much more like a private investment.
There are several options with villas which will impact your investment returns, for example if you have an operator they may charge a service charge to maintain the property. However if you purchase an interest in a stand alone property then you will have to organise maintenance and up-keep of the property yourself.
Villas do offer more flexibility than a condotel for you to stay, it is your property after all. This is great if you want to spend long periods of time there, or would like the flexibility to make last minute travel plans.
In terms of rental yields, villas will have less certainty than a condotel with fixed returns, but may offer the opportunity for you to make higher returns during peak tourism seasons. Of course factors such as occupancy rates will also impact this.
As an investor in a holiday property in Bali, villas offer you greater flexibility to enjoy your property than a condotel. With less day to day management required, condotels can be a more attractive investment for a passive investor, but may have some unexpected pitfalls in the fine print. Depending upon what you want from your investment property, a villa or condotel in Bali could be a good investment for you.

To get more information & assistance, please submit the form below and our specialist will get in touch with you at the earliest.