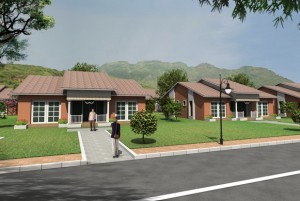 Aamoksh One Eighty Pvt. Ltd., the Indian arm of the US based One Eighty, one of the largest privately owned and most innovative operators of retirement communities in the United States and Canada, has launched its one-of-its-kind managed retirement home in Kodaikanal at Bahri Beautiful Country, at the foothills of Kodaikanal under the name of 'Anandam Retirement Community'.
Reckoned as the first International brand name for retirement living in India, Anandam Retirement Community is spread across 121 acres and will have 200 units to stay. It is a part of the integrated township being developed under the name of Bahri Beautiful Country, in partnership with Bahri Estates.
This retirement home in Kodaikanal, will also feature a golf course, high-quality housing options, and services that create an incomparable living experience for seniors in India.
Kodaikanal also referred to as the Princess of Hill Stations is a popular tourist destination and a hill city in the state of Tamil Nadu. The beautiful natural surroundings, moderate climate and good connectivity to major destinations make it a very attractive destination for retirement living.
Apart from a medical centre, sports academy, resort & spa, club house golf course, tennis academy, ayurveda hospital and eateries, senior residents will also have access to a five star fun lifestyle. Anandam Retirement Community in Kodaikanal will have a horde of amenities for the retired community members like monthly events and activities including activities like art classes, movie screenings, shopping trips, picnics, sightseeing tours, celebrations, lectures, fun gaming events, etc.
Apart from these, there will be customised physical and brain fitness programs to enhance the physical fitness of the seniors and also to focus on exercising the brain to help increase memory and alertness.
Anandam Retirement Community in Kodaikanal will also have an innovative travel desk in place to take seniors to dream destinations, both national and international.
Currently, the laying of roads of the township is complete and the construction of the villas which are available in 1, 2 and 3 bedrooms in plots ranging between 232 sq yards to 777 sq yards, have also commenced and are scheduled to be completed in the third quarter of 2012.
In a nutshell, Anandam Retirement Community in Kodaikanal, is a perfect place for a senior citizen to retire from work and not from life!
Project Status:
This article was last updated on 30th October, 2020.
To get more information & assistance on Anandam Retirement Community, Kodaikkanal, please submit the form below and our specialist will get in touch with you at the earliest.