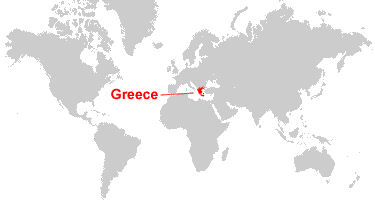 Key Facts:
Climate – temperate; mild, wet winters; hot, dry summers
Population – 10,724,599
GDP (Per Capita) (2020) – $20,845
Official language – Greek
Major Religions – Christianity (93%), Islam (2%)
Ethnic Groups – Greek (91.6%), Albanian (4.4%)
Government – parliamentary republic
Currency – Euro (EUR)
Taxes – Resident individuals are taxed on their worldwide income. Non-residents are taxed only on Greek source income.
Taxable income includes employment income, business income, income from capital (dividends, interest, royalties, and rental income), and capital gains from the alienation of real estate and securities. Each category of income is taxed separately.
Business income and employment income are taxed at progressive rates ranging from 9% to 44% (the lowest rate applies on income not exceeding EUR 10,000, while the highest rate applies on income exceeding EUR 40,000).Dividends are taxed at a rate of 5% (reduced from 10%) for dividends received on or after 1 January 2020, interest at a rate of 15%, and royalties at 20%. Rental income is taxed at progressive rates ranging from 15% to 45% (the lowest rate applies for rental income not exceeding EUR 12,000, while the highest rate applies on income exceeding EUR 35,000).
Capital gains tax at a rate of 15% applies to gains arising from the sale of securities (listed and unlisted) and derivatives. Capital gains tax on the sale of real estate has been suspended until 31 December 2022.
Residency by Investment:
The golden visa program in Greece offers an affordable real estate investment route to permanent residency in Europe. Following the launch of several European investment visa programmes it was introduced by the Greek government in 2013 to encourage investment into Greece.
Investment – An investment of €250,000 is required in real estate in Greece making the Greek programme the lowest investment level of any real estate residency visa scheme in Europe. The property, which can be located anywhere on the Greek mainland or the islands, can be either residential or commercial. Any number of properties can combine to make up the €250,000 minimum investment. Joint buyers can combine investments into one property.
Process – The application process takes approximately 40 days from the time of investment until the Residency Permit is issued. The applicant needs to have made the property investment in Greece prior to applying for the visa. Once a property has been selected through ourselves at La Vida, the lawyers who we recommend can take care of the application process, conveyancing and legal work for the property.
A typical application involves initial discussion with ourselves followed by a 3 or 4 day visit to Greece to view properties, meet with lawyers and open a bank account. The application after this point can be processed within Greece by the clients' lawyers under Power of Attorney. Provided everything is done correctly at this stage the client will not need to visit again to collect the residence permits.
Citizenship by Investment:
To be Updated.
Why it makes sense?
To be Updated.