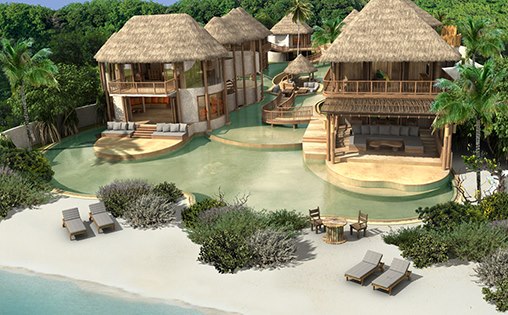 Holiday home buyers across the globe wanting to buy a property in Asia can now profit from Abercrombie & Kent's entry into the luxurious residential segment with its new venture, Abercrombie & Kent International Estates. Abercrombie & Kent is the world's leading luxury travel company. The new business will market and sell exclusive residential properties from around the world, including private homes and resort residences in leading Asian tourist destinations.
A&K International Estates will leverage Abercrombie & Kent's brand, service, reputation and global connections to seek out and market unique and special properties. The business will focus on service, and for that reason it intends to only market a select number of unique residential properties and developments from around the world.
The company has already earmarked leading destination of Asia including those in Thailand, Maldives and Sri Lanka. With over 250,000 high net worth clients on A&K's database, 50 offices and over 2,200 employees in 26 countries, A&K International Estates is ideally placed to market directly to buyers in search of unique and inspiring holiday homes.
Robert Green who has been appointed General Manager of A&K International Estates said: "Demand at the top end of the market remains strong and with our dynamic and fresh approach to marketing, A&K International Estates will deliver first class real estate services to our existing and new clientele, including buyers from emerging markets such as India, China and Brazil, all of which show a growing appetite for lifestyle products such as high end second homes."
Green has significant real estate experience, most recently as Director of Sales and Marketing for Six Senses Private Residences and prior to that as Director at Cluttons Resorts, responsible for sales and marketing of luxury resort developments.
The company expects its buyers to be international, especially from A&K's core markets, the UK, USA and Australia and other key territories where demand for luxury property is high, such as Monaco, where A&K opened an office last year, and India and China where A&K has existing offices.
A&K is uniquely positioned to offer buyers a range of services both during and after purchasing a home through A&K International Estates. Having been at the forefront of luxury travel for 50 years and with a range of additional services being made available, buyers can benefit from A&K's tailor made travel, lifestyle and concierge services.
About the new venture Geoffrey Kent, Founder, Chairman and CEO of A&K said: "I am hugely excited to be entering the real estate industry with a whole new approach based on integrity and personalized service. A&K provides the perfect platform to market luxury properties to discerning individuals worldwide. There are many synergies between luxury travel and high end second home ownership and this expansion has been on our agenda for a number of years, so I'm delighted to make it a reality."
Meanwhile, the company will also assist with housing market research by preparing detailed competitor benchmarks and buyer demand reports. It will offer advisory and consultancy services and provide professional feasibility studies, including residential mix analysis, buyer profiles, projected sales rhythms and developer price points.
For more information you can visit their website
Project Status:
This article was last updated on .The updated phone number is 4-11-2020 1 315-536-7559
To get more information & assistance, please submit the form below and our specialist will get in touch with you at the earliest.