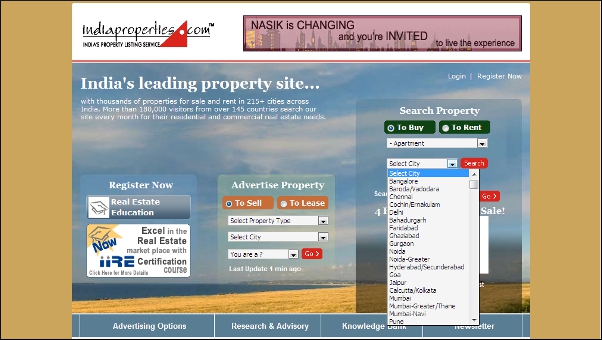 Yet another website claiming to be India's leading property site with thousands of properties for sale and rent in 215 plus cities across India. So let's find out if the website is really what it claims to be. The first shot of the Indiaproperties.com homepage gives you a feeling that it is not totally a property listing website. It talks about real estate education with link to the India Institute of Real Estate (IIRE ) offering various real estate courses.
Then there are advertising options for developers and brokers – right from free listings to banner ads. However when you browse the website you will notice that there are hardly any ads in the website. It gives a feeling that developers or brokers do not see the website as a serious player in the India property market.
For advertisers Indiaproperties.com offers free listing for 90 days. Paid advertisers can feature their property in the 'Hot Property' section for Rs. 500 for 90 days.
Now, this is what we found in the indiaproperties.com website:
SEARCH: The search options for end users who want to search properties to buy or rent is very basic. From the search on the homepage there is no option to add the locality name of your choice and if you want to buy a property in Karjat or Alibaug, you end up searching all the properties in Mumbai (because it's the closest to these locations). The option to search for properties in Maharashtra is not available. However after many clicks I finally found the advanced search option, but again adding localities of my choice is not possible.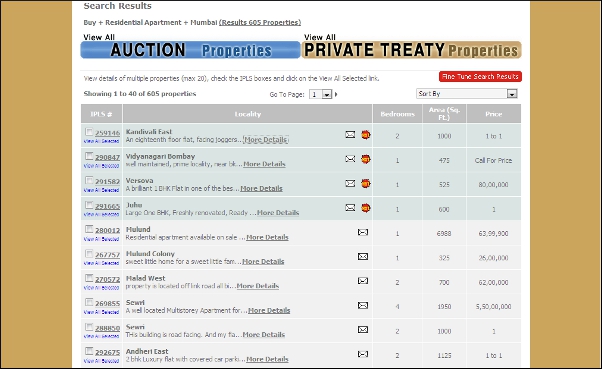 LISTING PAGE: The search result page for the properties is very basic and doesn't look very professional. Most of the properties do not have images.

BLOG: Its blog was last updated on April 19, 2010. While some of the blog posts do evoke interest, I really wonder why they discontinued with it.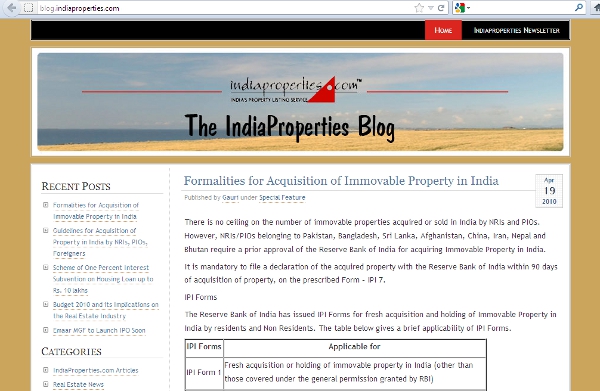 RESEARCH & ADVISORY AND KNOWLEDGE BANK: These two sections probably do justice to the website. They have done good research to compile these sections that have an exhaustive list of the legal documents required in real estate transactions, ask the expert section, ready reckoners, glossary of real estate terms, calculators and FAQs amongst others.
However after I discovered that their blog has not been updated for more than two years, I really will not take a chance on relying on the city property rates which might be outdated.
FINAL WORD: As the corporate objective of the website states that "Indiaproperties aims to be the de facto Source of Information for buying, selling or leasing any type of property anywhere in the country," it does a good job, but as a property listing website it has a long way to go to match up with websites like 99acres.com or magicbricks.com.
To get more information & assistance, please submit the form below and our specialist will get in touch with you at the earliest.