After the successful completion of its projects in various developments in Mumbai and Goa, Palacio Property Developers Pvt. Ltd. is currently working on three projects in Goa, the foremost holiday home destination in India. The developments include Regalo & Grandeza at Glenwood Gardens, a 3 BHK apartment complex at Goa Velha; Bonitto Val, comprising residential plots at Pilerne; and Golden Retreat, a 1 and 2 BHK luxury retirement apartments again at Goa Vehla.
In this article we will take a look at these projects – their current status, pricing, availability, etc. – and try to find out whether these developments are worth investing in.
ABOUT THE DEVELOPER:
But, first a brief about the developer. The Palacio Group, founded in Mumbai, has over 30 years of expertise in real estate construction, hospitality and entertainment industry. The company has developed over three million square feet of space across Mumbai and Goa. The vision of the company is to create residential properties in Goa and Mumbai which are intrinsically eco-friendly. Palacio Group's years of experience and knowledge has resulted in developing projects that incorporate modern facades seamlessly into the existing heritage-based architectural designs. In Goa, Palacio Group has created projects ranging from INR 23 lakh to INR 50 lakh and as high as INR 1 crore to INR 3 crores. The Group's high-end projects are located in Goa's most luxurious location – Dona Paula and most preferred destination – Calangute.
GRANDEZA & REGALO

AT GLENWOOD GARDENS

:
Palacio Group had launched this riverfront apartment complex Glenwood Gardens' at Goa Velha in two phases Regalo and Grandeza last year and comprises 3BHK apartments along the bank of the Siridao river. Besides river views, the apartments have private gardens, terraces and large balconies. Designed by architect Mr Sanjay Puri, who along with local architect, Mr Bryan Soares, has designed the living spaces at 'Regalo, the development once complete will reflect the world renowned architect's innovative designs.
The gated community which will feature 64 signature apartments is just 9 minutes away from the capital city of Panaji and while it will offer convenient access to the heart of Panaji, it will remain exclusive and retain all the privacy away from the hustle and bustle of a city life.
The development will have an array of facilities/ amenities, including private Jacuzzis and lap pools flanked by vast open spaces, natural ventilation and stunning views.
LOCATION:
Glenwood Gardens is located in North Goa and is just 9 minutes from the capital city, Panaji. The development is 25 minutes from the airport and 2 minutes from Siridao Beach and 4 minutes from Bambolim Beach.
AVAILABLE PROPERTY TYPES:
3BHK signature apartments
AVAILABILITY, SIZES AND PRICING:
Only a few apartments are now available for sale. The apartments are available in seven sizes – 179.74, 197.98, 181.38, 190.59, 190.60, 262.13 and 268.48 square meters. Prices of these apartments start from INR 4,088 per square feet.
AMENITIES/ FACILITIES:
Gym and Health Spa

Yoga and Meditation Centre

Swimming Pool

Tennis Court

Eco-friendly Buggy

Private Jetty and Boat only for Residents

Indoor Games – Table Tennis, Snooker

Community Hall for Meetings, Birthdays & Anniversary Celebrations

Hobby and Art Centre

Gardens and Riverfront Promenade

Library

Laundry Service

Wi-Fi

Onsite Chemist cum Grocery Store

Sewage Treatment Plant

Rainwater harvesting

24×7 Security.
BONITTO VAL: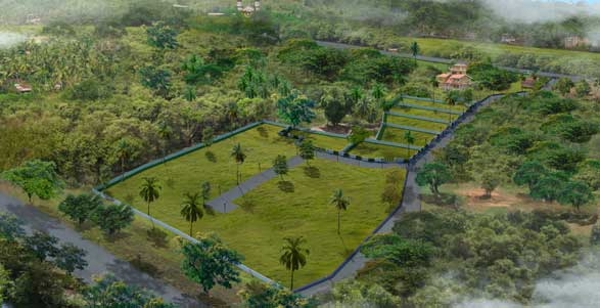 Bonitto Val is Palacio's villa plot development located in the Pilerne Village of North Goa, which is also a prominent birding spot in Goa. The well known beaches – Calangute and Candolim are 5 kilometers from the development, while the capital city of Panaji is 7 kilometers away. The plots measure between 350 to 600 square meters and the entire gated community is being developed at a total area of about 2.5 acres. The internal roads of the development had been laid. The developer is also offering the option to combine two or more plots.
PRICING:
INR 1,300 square meters
GOLDEN RETREAT: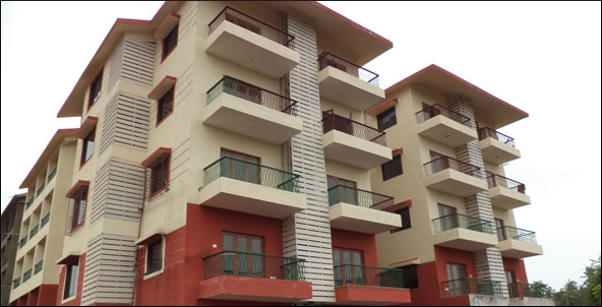 Golden Retreat is a luxury retirement complex located at Goa Velha on the NH17. It is situated on the bank of the Siridao river with around 180 meter river frontage. The project is built on a 10.50 acre plot with almost half of the plot reserved for open area like garden and landscaping, making it a self sufficient location for the residents who can even use the eco-sensitive electric buggies to get around. Golden Retreat also has its own state-of-the art gym, swimming pool, bar and café, space for indoor games, community halls and a tennis court. Furthermore, the river frontage with its own private jetty and boat is a joy to behold.
This luxury retirement living project designed to meet the standards of the retirees has one and two bedroom apartments and has close access to hospitals and the airport which is just twenty minutes away. Other amenities also comprise of a well equipped club house and Gym, canteen facilities, travel desk, laundry service, chemist and grocery. Provisions such as the use of anti-skid tiles, grab rails, generator backup and 24/7 security, doctor on call service and an onsite ambulance ensure the safety of its residents.
Built in various phases, many of the apartments have already been handed over, while some of them are in various stages of construction.
AVAILABLE PROPERTY TYPES:
1 and 2BHK luxury apartments of sizes ranging from 741 square feet to 1710 square feet.
PRICING:
View

Accommodation

Floor

Area (sq.ft)

BSP (per sq.ft)

Field

1 BHK

2nd

741

3,252

Field

4th

3,577

Garden

4th

4,041

Field

1 BHK

1st

850

3,159

2nd

3,252

3rd

3,344

Garden

2 BHK

2nd

1,503

3,763

Riverfront + Corner

2 BHK

1st

1,710

3,995

Garden

3rd

3,902

Garden

3rd

3,623
CONTACT:
For more information on the projects by Palaciao one can contact their sales team at +91-9325209934 or +91-9552530466 or email at sales@palacio.in
Project Status:
This article was last updated on 25th Oct 2020. The updated phone number is 888888 4804 and the updated email is sales@palacio.in
To get more information & assistance on Palacio Property Developers, Goa, please submit the form below and our specialist will get in touch with you at the earliest.