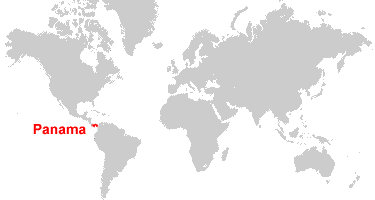 Key Facts:
Climate – tropical maritime; hot, humid, cloudy; prolonged rainy season (May to January), short dry season (January to May)
Population (2018) – 4,176,869
GDP (Per Capita) (2020) – $17,148
Official language – Spanish
Major religions – Christianity (91.5%)
Ethnic Groups – Mestizo (mixed Native and White) (65%), Native Panamanians (12.3%), Afro-Panamanian (9.2%), Mulatto (mixed African and White) (6.8%), White Panamanian (6.7%)
Government – presidential republic
Currency – Balboa (PAB), United States Dollar (USD)
Taxes – Residents and nonresidents are taxed on their Panama-source income. Individuals are taxed on wages and salaries, income from the carrying on of a commercial, or an agricultural business and investment income.
The first $11,000 is exempt; a 15% rate applies to income from $11,000 up to $50,000; and the rate is 25% on income exceeding $50,000. Nonresident individuals hired or otherwise rendering services to Panamanian residents for periods of less than 183 days in a calendar year are subject to withholding tax at source at a rate of 15% of their gross income.
Capital gains derived from the sale of securities and negotiable instruments are subject to a 10% tax. The purchaser must withhold 5% of the sales price as an advance payment of income tax and remit that amount to the tax authorities.
Gains from the sale or transfer of real property are considered capital gains. If the transaction giving rise to the gain is part of the taxpayer's ordinary business activities, the gain is subject to the corporate tax rate; if the transaction is not part of the taxpayer's ordinary business activities, the gain is taxed at a reduced rate of 10%. However, in the latter case, the purchaser must withhold 3% of the higher of the purchase price or the ratable value of the property as an advance payment of tax.
Residency by Investment:
You must first obtain permanent residency by depositing $5,000 in a Panama bank and opening a Panama company. After five years as a resident, you and your family may apply for citizenship. Panama does not allow dual citizenship, so you need to renounce your current citizenship to become a Panama citizen.
Citizenship by Investment:
To be Updated.
Why it makes sense?
To be Updated.