As a homestay owner, one of the most important things you can do to improve your room revenues is to renovate. This does not mean going all out and making your guestrooms look like luxury hotel rooms – in fact, that's the one thing you should not do, as guests who choose homestays do so to get away from the bland standardised hotel room. However, ensuring that your guestroom looks warm, inviting and attractive will seriously increase your repeat and word-of-mouth guests, and well-shot photos on tripvillas.com will influence first time searchers.
In this series of articles, I'll select one property each week that's listed on this site, and show you what the property owner can do to improve it – economically and quickly.
This week's property is a comfortable terraced flat in New Delhi.

First, let's look at the terrace.
A space like this is always a draw for any traveller. What better than a tranquil, green space for some alfresco dining or lounging?
My tip here? Photograph spaces like this with classy seating. Empty open terraces don't look enticing.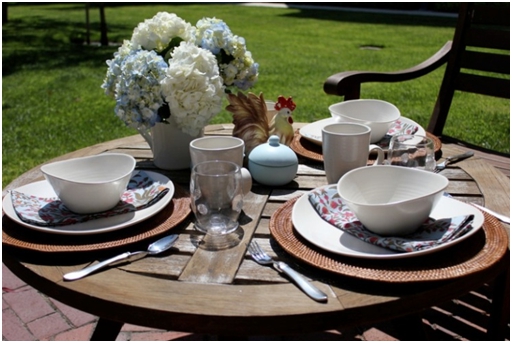 Add a table, some chairs, and – most importantly – a table setting for a meal, and the place transforms into something most desirable.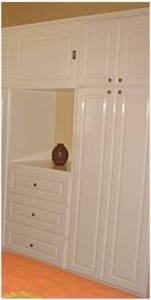 So how do we fix this? My approach here is to determine what we cannot change, and then work everything else in the room around that. In this case, it is the white AC grill in the wood-framed window. Because it's not easy to change that, in this case, I'd paint the window frame white. However, though this would solve the visual patchiness of the window, it would not fix the shrinking effect of the dark wood wardrobe, which makes the room appear smaller. Therefore, my recommended fix for this room is to spray paint the wardrobes white (for example, with Dulux Woodcare Satin – Rs 20 per sft), after removing the beadings, so that the end product looks like this.
In addition, window ACs and normal curtains do not complement each other – the AC breeze tends to blow the curtain around, and half-curtains look tacky. This can be addressed by roman blinds, which are soft curtains that can be raised or lowered as required.
Lightening the pelmet colour immediately adds impact, like this.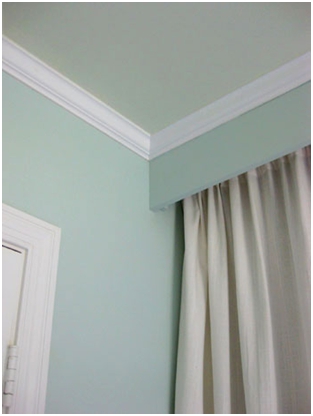 After the white paint approach, the rooms can be embellished with light bedding like these, to evoke that classic bed-and-breakfast feel, with an Indian touch.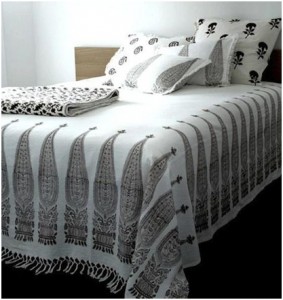 And now to the most important room of all – the bathroom. Though it's the room that people spend the least amount of time in, their opinion of the homestay is disproportionately decided by the bathroom.
Then, address the problem of the water heater. Ideally, or course, the water heater would not be inside the bathroom. It should be up in a loft or false ceiling. But that's not always feasible in an existing property, so first, ask your electrician to replace the wire by a white wire, and secondly, cut away the excess wire. Cover the inlet and outlet pipes with flexible white sleeves, available at most hardware stores.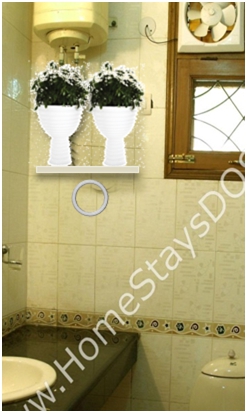 In addition to this, the inlet and outlet pipes should be hidden by a slim shelf with curios or planters. Add a towel ring below that, as in this picture. Fresh folded towels are absolutely necessary at all times.
Extending the mirror to the full length of the wall makes a massive difference to the perceived size of the bathroom. You would need to move the soap holder to the side wall to do this. Another option is to frame the mirror, as in the photo on the right.
Finally, using a dramatic light fixture like in the picture below, will enhance the entire bathroom.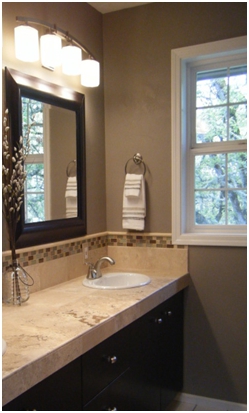 Why, do you ask, should you do all this? Such easy fixes make your rooms look designed, and that increases your occupancy and room rate.