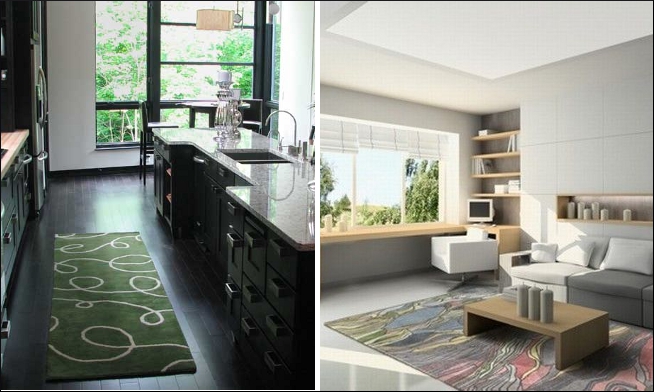 There are so many things to be sorted out while doing-up a holiday home, like furniture, matching upholstery, color schemes for the walls, lighting, etc. that we often overlook the floor we tread on, which also contributes towards the décor of the room.
When we consider the floor, we think of surface types such as tiles, marble and wood. These materials add value to the décor in their own way, but don't give that snug, warm and cozy feeling that a rug would give.
Until the 19th century, the carpet was used to cover all surfaces. However, with the introduction of machine-made products, it has been used exclusively for the floor.
Rugs, on the other hand, refers to a partial floor covering, as opposed to a carpet, which is usually used to cover the whole floor. In the context of handmade carpets, however, rugs and carpets are used interchangeably. Here are some of the benefits of making rugs integral to one's home décor.
Adding to beauty:
Rugs are universally loved and for good reasons too – they express style, while being functional. They are a visual reflection of the holiday home owner's personality and taste. With so many choices of colors, styles and fabrics, rugs are an essential part of the decoration. Today, however, rugs have evolved with technology and have graduated to becoming one of the preferred mediums of floor décor. Available at every home décor outlet, rugs have become part and parcel of every home – modern, traditional or otherwise.
Rugs are a perfect blend of aesthetics, beauty and function and can make a room look fresher and more comfortable, apart from brightening the space. Therefore, homeowners today prefer rugs to carpets.
Variety and options available: Rugs come in various textures — Persian, woolen, polyester, chenille, leather, cotton, among many others. They also come in various sizes and in a palette of colors mostly brown, beige, green, or multi-colored. Rugs are available in different patterns as well — solid, self-designed, ribbed, shaggy, bamboo and braid rugs.
Versatile: Rugs are so versatile that they can divide a room into different areas or bring different elements together. While carpets can only be used for floor coverings and are bigger in size, rugs on the other hand can be used for many purposes, such as wall hangings, foot rugs, bath mats, sofa coverings and other decorative purposes as well. The best part about rugs is that they can adapt to changes in decoration. The homeowner can define an enclosed space, such as a separation chamber in separate zones. For instance, your large sitting room can be defined by adding a rug to create an indoor playground area for children or to watch television in the viewing area. They can be changed to help create a theme or a color to unite the other components of the room.
Low on maintenance: Rugs require very little maintenance unlike big carpets. This makes them ideal for holiday homes which receive several guests. They can be cleaned with a hard brush and their beauty is maintained for several years.
Noise reduction: The noise and bustle of everyday life can be overwhelming, and floors or other hard surfaces can be another source of noise. A rug can reduce noice by several decibels.
Pricing: Rugs are cheaper than fully-fitted carpets, a benefit which all holiday home owners will perhaps appreciate. Although cheap, they offer you more versatility and eventually help you create a warm and inviting feel to any room.
To get more information & assistance, please submit the form below and our specialist will get in touch with you at the earliest.