Whether you are in the mood for fresh pastries, delicious vegetarian thalis or traditional Goan fare at a beachside club you'll find it all in Goa. Goa is beautiful, with its clean beaches, amazing cafés, and vibrant nightlife but the vast range of dining options can be overwhelming. We try to ease the confusion with a list of some of our favourite cafés and restaurants in Goa; chances are  you will pass by at least one of these on your next trip to this sunny paradise!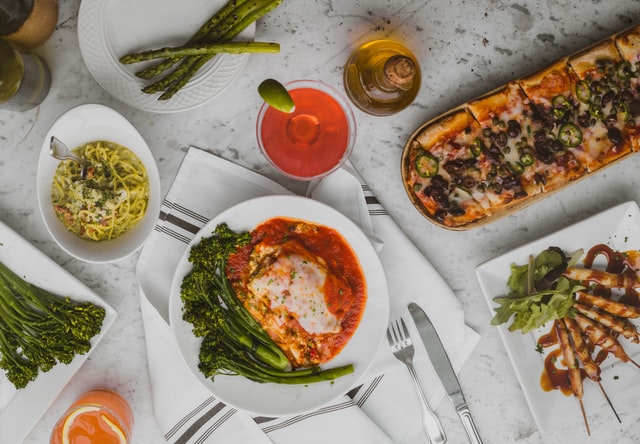 Our Favorite Restaurants in North Goa:
Caravela Cafe And Bistro, Panaji
From its colorful exteriors to its minimalistic interiors, The Caravela Café and Bistro accurately represents Goa's Portuguese heritage. The café offers exciting Western breakfast and lunch options as well traditional Goan cuisine. It also serves India's famous Lying Squirrel brand of Artisan Coffee along with delicious bebinca.
Must try: Croquettes, Bebinca, Artisan Coffee, Chicken Xacuti
Address: 27, 31st January Road, Sao Tome, Panaji, Goa
Artjuna, Anjuna
Artjuna is known for its peaceful vibe and open outdoor library. Grab a book  and select from a diverse set of tasty meals and a wide range of nutritious breakfast options. The menu offers a wide variety of toasts, sandwiches, and salads in addition to more elaborate Mediterranean options including their famous Mediterranean Thali.
Must try: Baba Ganoush, Almond Croissant, Healthy Breakfast, Mediterranean Thali.
Address: 940, Market Rd, Monteiro Vaddo, Anjuna, Goa
Baba Au Rhum, Anjuna
Baba Au Rhum is situated in one of the most beautiful locations in North Goa. The outdoor location surrounded by greenery and a magnificent view is not only beautiful, but also calming and serene. Specializing in pizzas, burgers, quiches, and french pastries they are famous for  their handmade ham, which goes wonderfully on pizzas and in croissants.
Must try: Strawberry Daiquiri, Pizzas, Croissants, Hercules Burger
Address: House No. 1054, Sim Vaddo, Anjuna, Goa
Saraya Restaurant – Ecostay, Art Cafe and Art Gallery, Bardez
Saraya is the spot to go if you're searching for some excellent organic and vegan meals! This café is perfect for nature lovers, since it is set among lush green trees and has a rustic bohemian-styled interior. The café, like its décor, takes pleasure in providing and utilising only natural items in its contemporary menu featuring a wide variety of foods from pizzas to thalis. While here be sure to check out the attached art gallery to get your creative juices flowing!
Must try: Thali, Wood fired Pizzas, Pasta
Address: House 64, Chogm Road, Bardez, Goa
Infantaria Restaurant & Bar, Calangute
This not-so-hidden treasure, located between Calangute and Baga, provides just the right mix of soothing music and comfort food. When you enter this café, you will come across a large selection of  pastries and confectionery items that are sure to make your mouth water. In addition to breakfast, Infantaria also serves traditional Goan and Continental food. If you are fantasising about indulging in some delectable sweets while listening to soothing music, this is the place to go!
Must try: Fresh Lime Soda, Goan Pork Sausages, Pastries, Chicken Cafreal
Address: 5/181, Opp. Ticlo Resort, Calangute-Baga Junction, Calangute, Goa
Our Favorite Restaurants in Central Goa:
Venite Bar and Restaurant, Panjim
Venite Bar and Restaurant in Panjim is the place to go if you want to truly  experience the joy of seafood. The tables at the windows are the finest in this restaurant since they allow you to enjoy the outdoor views. This charming small house is nicely tucked away in a quiet alley of Panji, and the staff is kind and welcoming. The cuisine is delicious and genuine, and you should certainly stop here while visiting Goa.
Must try: Stuffed Crabs, Fish Cafreal, Calamari Balchao
Address: Rue 31 De Janeiro, Hotel Venite, Panjim 403001
Down The Road, Panjim
Down The Road is located in a convenient location close to the casinos and overlooking the river. This charming little establishment has its own dance floor with live music, and a lively upbeat atmosphere. The restaurant is popular with both visitors and residents, and it provides delicious Indian bar food and cocktails. The cuisine is also fairly affordable, and a great option for going out for drinks in Panjim.
Address: No 99, Old Patto Bridge Rua de Ourem, Near Hotel Sona, Panjim 403001
Must try: Chilli Cauliflower, Spicy Fried Fish, Roast Pork Chilli Garlic
Horse Shoe, Panjim
If you enjoy Portuguese and Goan cuisine, you must pay a visit to the Horse Shoe. The property is immaculate, and the service is flawless but the food is what really sets this place apart. Try the clams in white wine for something mild or the chicken vindaloo if you want something to stir up your senses.  
Must try: Bacalhau no Forno, Prawn curry and rice
Address: E-245, Rua de Ourem, Opposite Footbridge, Altinho, Panjim, Goa 403001, Panjim
Mum's Kitchen, Panjim
Mum's Kitchen is a lovely place that does a great job serving authentic traditional Goan cuisine. Even the name is a homage to all the moms throughout Goa who have helped preserve the local cuisine by passing on their traditional recipes. In addition to its delicious food, it's bright turquoise tables and relaxed atmosphere make this place a must visit. 
Must try: Mutton Xacuti, Sorpotel, Prawn Balchao
Address: 854 Martin's Building D B Street, D.B Street, Panjim-Miramar Road, Panjim
Our Favorite Restaurants in South Goa:
The Blue Planet Cafe, Agonda
The Blue Planet Cafe is a cafe with a vegan menu and has views of hills and beaches all around. This cafe is ideal for travellers who want to maintain a healthy diet while on vacation. It uses only organic ingredients in all of its dishes and carries a wide selection of innovative vegan meals. 
Must Try: Soup, Salads, Eggs to order and Peanut Chocolate Banana Smoothie 
Address: Agonda, Canacona, Near Palolem, Goa
The Village Cafe, Majorda
Village Cafe was originally a rice mill until 2016, when it was converted into a cafe by a foodie architect. It has charming interiors and a lush green exterior. It's a great spot for a quick bite with free Wi-Fi, board games, and a cozy atmosphere. A fantastic selection of food, including European and Indian breakfast options, as well as a counter for local delicacies.
Must Try: Chicken pizza, Caesar salad and Quesadilla
Address:Park Hyatt Resort, Arossim Beach, Cansaulim, Goa, Majorda, Goa
Upper Deck, Cavelossim
Upper Deck is a café as well as a casual dining establishment. In addition to North Indian and Goan delicacies, the café provides mixed cuisine breakfast buffets throughout the holiday season. The café is large and well-designed, with modern furnishings.
Must Try: Watermelon mocktails, Chicken satay, Honey chili lotus stems and Grilled chicken Portuguese style
Address:  Radisson Blu Resort, Cavelossim Beach, Mobor, Cavelossim, Goa
The Magic Italy, Palolem
If pizza is your thing, Magic Italy is the place to go for the perfect crust and a wide range of toppings. The atmosphere and scent of fresh breads will transport you to the backstreets of Italy. After a long day of touring Goa, a bowl of fresh pasta and some music at The Magic Italy is an ideal way to unwind.
Must Try: Pasta, Tiramisu, Salads, Ravioli, Bruschettas and Pepperoni Pizza
Address: Palolem Road, Palolem, Goa
The Fisherman's Wharf, Cavelossim
The Fisherman's Wharf experience is defined by its romantic setting, riverfront seats, indulgent music, and food that leaves you wanting more.This is one of the most romantic restaurants in South Goa, and the popularity of the initial location has resulted in a slew of franchisees. This restaurant on the banks of the Sal River demands a reservation if you want to obtain the nicest tables by the river.
Must Try: Pork Vindaloo, Crab Xec -Xec, Prawn Balchao, Rawa Fried kingfish, Goan sausage Pulao
Address: Before the Leela, Mobor, Cavelossim, Goa