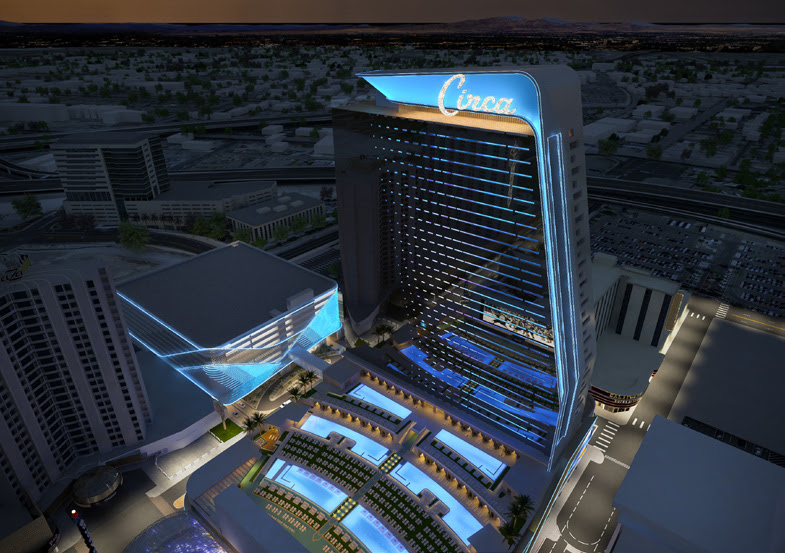 Circa Resort & Casino (the "Project''), sponsored by the Pacific Casino & Entertainment Group Regional Center will be a 1.3 million square-feet (''SF'') resort and casino facility encompassing one square city block the Old Downtown Strip of Las Vegas. The Project is the first resort & casino ground up development since 1980 in downtown Las Vegas. The Project will be situated on prime frontage on the Fremont Street Experience (''FSE''), one of the most frequently visited tourist destinations globally, with over 19 million visitors annually. The Project will be 35 floors with 510 hotel rooms, 59 luxury suites, 85,000 SF of gaming space, a two-level casino, 1,400 gaming slots and 49 tables, the longest outdoor bar on the FSE, 7,000 square-feet of retail space, a state-of-the-art rooftop pool and entertainment area with a 128 ft x 36ft LED outdoor video screen, a 17,000 square-feet stadium style sports book, health club/fitness center and a 8-level parking garage designed specifically for the Circa guests covering 1,038 parking spaces.
Project Highlights:
• The Project received exemplar approval on September 25, 2018 from the U.S. Citizenship & Immigration Service (''USCIS''). 
• According to a TEA letter issued by Impact DataSource dated November 26th, 2019, the Project is located in a TEA under the new EB-5 rules.
• The Project is estimated to create approximately 8,943, equating to over 80 jobs per investor, or a 700% jobs premium. The economic jobs report is available for review upon request.
• According to the Project economist's most recent jobs report, the Project has already created 2,837 jobs (25.6 jobs per investor) as of September 30th 2019, meaning all 111 EB-5 investors will have met the minimum 10 job creation requirement before any additional EB-5 capital has been committed to the Project.
• If an investor's I-526 petition is not approved, the investor will receive a full refund of his/her investment capital.
• Vertical construction commenced in March 2019. Project completion is scheduled for Q4 2020.
• The Project secured $450 million in senior financing with a syndicate of lenders led by a major commercial investment bank.
• The EB-5 portion ($98.3 million) of the capital structure represents less than 10% of the total project costs ($1.012 billion) and is ahead of the developer's equity in the capital structure. The developer will bridge the EB-5 portion until EB-5 funds are available.
• The developers have executed a project completion guarantee.
• The EB-5 offering is being transacted through a licensed and registered U.S. securities broker-dealer, Sequence Financial Specialists LLC (member FINRA/SIPC). Sequence is one of a select few U.S. securities broker-dealers who successfully went through the FINRA 1017 process for approval to offer EB-5 private placements. Sequence is regulated and monitored by the Securities & Exchange Commission (''SEC'') and the Financial Industry Regulatory Authority (''FINRA'').
• The developers, Derek and Greg Stevens, have over 10 years of experience in developing, owning and operating resort and casino facilities in Las Vegas. They currently own and operate two profitable, debt-free resort and casino facilities in Las Vegas, The D Las Vegas and the Golden Gate Hotel & Casino.
• To date, the developers have approximately $373 million in equity capital invested in the Project in land acquisition, demolition costs, site work and hard construction costs. The developers will invest a further $90.7 million in equity capital in the Project, taking their total common equity capital to approximately $463.7 million, which accounts for roughly 45.8% of total project costs, in addition to bridging the EB-5 capital.
• 2% annual return to individual EB-5 investors, subject to applicable conditions, restrictions, or limitations as set forth in the offering documents. The payment of preferred returns and distributions is not guaranteed.
To get more information & assistance, please submit the form below and our specialist will get in touch with you at the earliest.