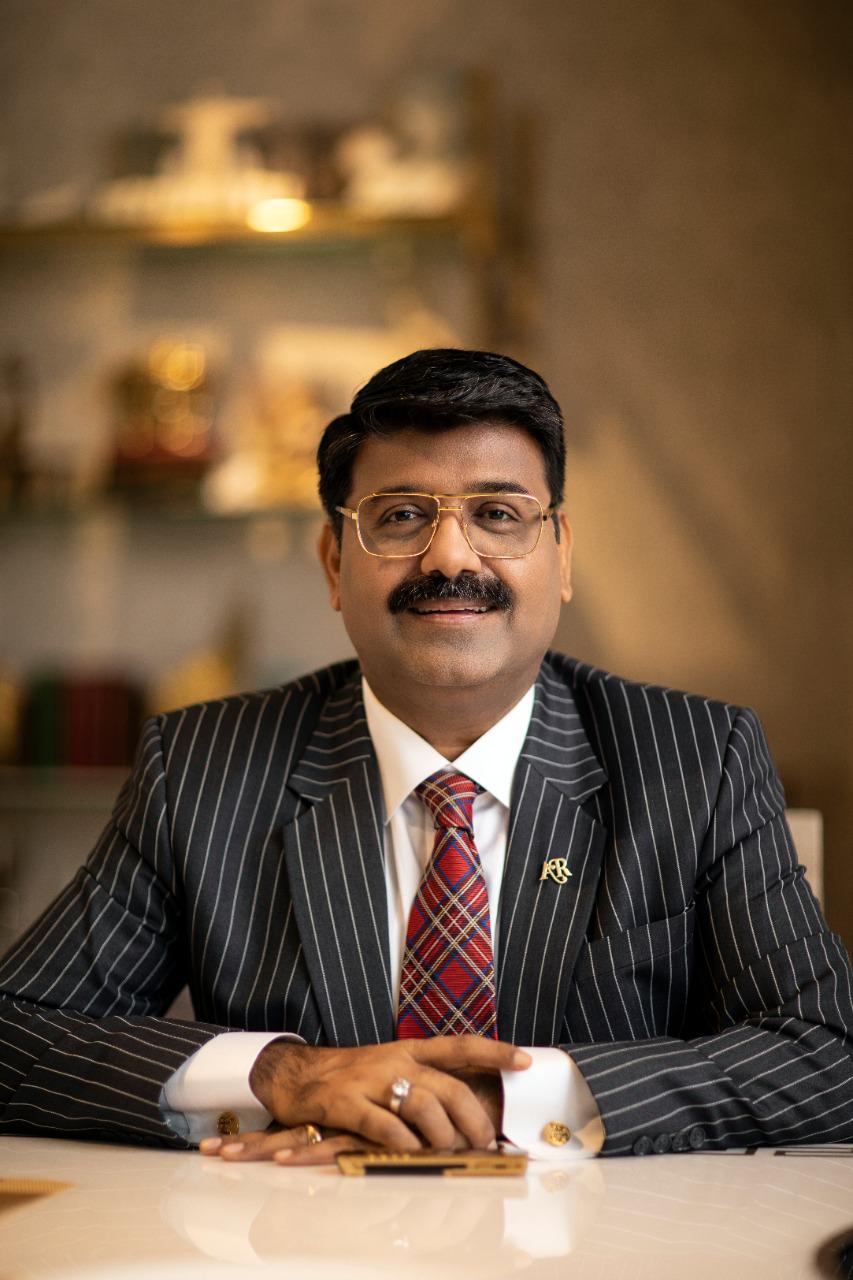 Hi everyone, welcome to this exclusive subscriber briefing by holiday home times. I'd like to also welcome Mr. Agnelo Rajesh, one of India's most popular real estate developers and a great personality in his own right to the show. Thank you Agnelo for taking the time to share your views and opinions with our readers across the globe. Just to give you a little bit of a background, holiday home times was started about 5 years ago by Tripvillas and has today grown into one of the leading publications for weekend home, holiday home real estate investors across the globe. We have about 50000 subscribers who read our weekly newsletter and others who come to our website and access the facebook page etc. Really what our subscribers want is to get some inside information you know. They're all ready to make money, they're looking to put their money into the best investments and that's why we thought who better than yourself and which better city as compared to Mumbai to focus on for this show. So Agnelo, let me start off by introducing you a little bit. As most of you may know, Agnelo Rajesh is chairman of SAVV global which stands for St. Angelo's VNCT Ventures. This is one of the largest villa developers in India with projects across Mumbai, Andhra Pradesh, Tamil Nadu, etc. Agenelo has done excellent work in spotting the right locations and building the right sized villas in these locations. He's a very successful entrepreneur, networker and inspiring personality in his own right. Early in his career he started what is one of india's leading computer training institutes, St. Angelo's computers and then ofcourse he's bashed out into real estate over the years etc. So welcome Agnelo to the show.
Thank you so much Roshan. It's a pleasure and a privilege being here with you on the screen.
Thanks Agnelo. Since time is short, let's quickly go into the matter of today. I'd like you to give our viewers just the benefit of your experience, a little bit of an overview of the Mumbai market, specifically the weekend home market, what do you see as the overall market , which areas are growing, what's the infrastructure development that's happening etc.
So Roshan, there are 5 entry and exit points from Mumbai City. Mumbai is a magical city of India, the financial capital which everybody is proud of and definitely are connected to Mumbai in some form or the other, either from the work front or the friends front or the relatives front but there are 5 entry and exit points from Mumbai, the Mumbai – Gujarat Highway, the Mumbai – Nashik Highway, the Mumbai – Pune Highway and the Mumbai – Goa Highway. And the 5th entry and exit point is by the sea route which is the Mumbai – Alibaug sea route that you cross with the help of a boat or a ship. So these are the 5 entry / exit points and Mumbai as a city grows by 10 kms every year. If you see historically once upon a time, Mumbai was only up till Bombay Central but today it's gone up to Boisar, it's gone up to Kasara on the central side and it's gone up to Panvel on the other side and much beyond Panvel also. In fact there is no gap between Mumbai and Pune so all the directions of Mumbai are absolutely the growth zones. The highest growth and the first growth that happened was in the Mumbai – Pune Express Highway on that direction, purely because of the infrastructure development. The 2nd that took place was Mumbai – Gujarat and now the 3rd one which is taking place is the Mumbai – Nashik Express Highway and the Mumbai – Nashik- Nagpur Super Express Highway which is the country's largest road development project of 703 kms long which is already on the verge of completion and should be operational within a years time. So these are the areas and Mumbai expanding every year, the strength and the backbone, one of the best railway networks of the world would be the Mumbai Railway and the local train takes you away so far that it keeps on expanding the city. Like today the local trains go up to Boisar and beyond. It goes up to Kasara and beyond. It goes up to Panvel and beyond. So local trains are the backbone of transportation to the majority of the population of the city and that keeps the city expanding, also because of the highways.
Right. Agnelo, Mumbai is also in the news because of the bullet train right. So that I think is another corridor which is also going. Also, whenever we see, because I see so many holiday home developments and weekend home developments, I also find that Mumbai is the first place in India and probably because it you know, a normal resident in Mumbai , it's very rare for him to be able to buy a villa and the prices of even apartments are astronomical so can you tell us, and you have launched here some very interesting villa projects on the very well located, just on what can be called the Mumbai region itself, can you tell us how you've chosen these locations and what makes you launch a particular project in a particular location.
So Roshan, what we do at St. Angelo's VNCT Ventures is we always look at how the customer is going to benefit beyond us doing the project and exiting the project at a particular point in time within the span of 2 – 3 years or 4 years. That's immaterial but the location plays a very critical role. So we look and focus on the location. Our calculation is simple – the villa development that we are doing, in fact, we are the only villa developers which are the closest to the city of Thane and Mumbai. We are on the Mumbai – Nashik National Highway, NH3 and whenever we select a location, we always try to look out for a national highway and a railway station closeby. We always make sure that the railway station should be a Mumbai local train railway station . The objective of doing all this is and the planning behind this is so that a buyer can get appreciation in a span of 5, 10, 15, 20 years. And that's how Mumbai as a city has grown. Like 20 years back, what Borivali was, what Bhayandar was, what Virar was, and what it is today is a sea change. What Thane was 20 years back and what it is today is a sea change, in terms of not only the development but also in terms of the investments that people get. Like 20 years back you could buy Thane at Rs. 600 – 900 a square feet and today, Thane starts at Rs. 6500 – 7000 a square feet and it goes to as high as Rs. 22000 – 25000 a square feet. In Thane, which is a twin city of Mumbai. So the amount of money that a buyer makes in the appreciation of an asset that he's invested in, that kind of money can never be earned by a person either by the way of a job or by the way of doing any kind of a business because in business also, we keep ploughing back our profits into the business to expand the business furthermore. So the average asset appreciation is a windfall profitable gain and in the whole country Roshan, the maximum gains that people have seen is in Mumbai because of obvious reasons that the whole country is attracted to Mumbai, people from all across the country have come and settled down in Mumbai and they have bought real estate which has appreciated like nobody's business and the appreciation has made them very wealthy and it has also taken care of the further generations from the guy who bought it 40 – 50 – 60 years back. So we are looking at that trend and with that in mind, we select locations which will be a windfall gain for every buyer who buys with us and we encourage them to buy with a bank loan because when you leverage a bank loan, your contribution to buy the asset is the minimal. In fact, the majority stakeholder is the bank but the bank is only interested in that interest, they are not interested in the appreciation and that's how an economy propels so the person buys with the loan, he gets EMI's, he keeps paying the EMI's, the value of which keeps decreasing and the value of the asset keeps increasing, irrespective of the economic scenario Roshan, the location plays a critical role in that appreciation.
Agnelo, a lot of our viewers are NRI's. They are based across the globe and some foreigners. Can you give them a little bit of a sense of what Mumbai is in India and what are the main components of their economy and things like that.
So the best part about Mumbai and the vicinity of Mumbai upto 100, 125, 150 kms is the accessibility because of 2 reasons. 1 is the highways. The highways can be divided into 2 parts – national highways and state highways. Of Course national highways have got more prominence than the state highways because national highways, the infrastructure is dramatically different compared to a state highway and the most other important aspect is going to be the railway stations. The railway stations need to be the local train railway stations so that you get frequency. Like even at Kasara, your frequency is 15 to 20 mins for a train where as the closer you come to Mumbai, the frequency reduces. Within the city, the frequency is amazing. Before you've listened to half a song, the next train is already arrived at the platform so that's the frequency of transportation. So transportation is 1 strong key point of mumbai and that has given us a humongous appreciation and today with the experience of the last 5 and a half – 6 months, we have realised that even the distance from where you work and where you live has got no significance because IT companies have given 80% of their workforce perpetual working from home kind of an option. So now, living in a comfortable home of a good size, of a good environment around the house has gained more prominence. And roshan in the last 5 – 6 months, we have seen a large spurt in the people getting interested in properties on the outskirts. As far as NRA's are concerned, they get the brilliant advantage of the dollar being strong against the rupee so they get the buying advantage on day 1 because for nominal dollars they can buy assets and the dollar appreciates plus the asset appreciates so its a double benefit for them to invest into india. And NRI's also with an OCI card, when they buy a home in india, they get the banking facility of India with our very convenient banking loan facility. Companies like St. Angelo's VNCT Ventures, we are empowered ourselves with teams who are specifically trained to cater to the NRI market. Real estate investment in India today is absolutely safe thanks to RERA and thanks to the multiple checks and balances which are in place as per law. And the scenario is totally different and in the last 1 – 1 and a half – 2 years we have seen huge NRI investments coming into India because NRI's also want to make money on their money and leverage their money for banking money and make huge profits which is not possible in developed countries but which is very much possible in the developing country of india which today has a population which has become a strength rather than a weakness.
I also feel that Mumbai and the outskirts of Mumbai is actually the location with the most variation in prices. Can you give roughly, a sense of what's the price that people can expect from an apartment in the center of Mumbai and what is the price that they would expect at a St. Angelo's VNCT development for a villa per square foot?
So I will give in a very simple example, a one bedroom hall kitchen in Thane will range from Rs. 60 lakhs to 1 crore, 20 lakh, a bedroom hall kitchen which is an apartment, you've got neighbours on both your sides, you've got neighbours above you, you've got neighbours below you and you've got high density of people living in one large complex where the developer has consumed more than FSI and congested a vertical tower which is deadly against the current norms of population density because of the pandemic. What basically happens when you buy 1 bhk apartment in a place, a beautiful city like Thane which will cost you Rs. 60 lakh to 1 crore, 20 lakhs. For the similar amount, the project that we have developed at Shahapur, The White Villas at Shahapur, designed by Suzanne Khan, you can get the villa for as low as Rs. 99 lakhs all inclusive. In Rs. 99 lakhs all inclusive, you get the land ownership which is the 7 by 12 extracts in your name. Jisco umm hindi mai kehtay saat baat uttara, that comes into your name so your a proud owner of the land, your also a proud owner of the structure above that particular land and these villas are the tallest villas in the country with 29 feet tall height. Generally the ground plus 1 floor villa will not be beyond 18 feet or 20 feet. We have developed 29 feet vertical height ground, 11 foot on the ground floor and 18 feet on the top floor with a sloping roof, american shingles, Kohler fittings, Jotun paints, designer tiles, designer grills and the works, the works. And a villa at The White Villa, Kasara, Roshan, all inclusive, can come for as low as Rs. 76 – 77 lakhs. So for the price of a 1 bhk in Thane, you can comfortably buy a villa with 3 bedroom, hall, kitchen, great height, great infrastructure, power backup, water purification plant, treated water in every tap of the house, so that is the price difference. And the advantage is the 1 bhk apartment if your buying for Rs. 75 lakhs in Thane, we don't know whether it'll become Rs. 3 crores or not but the villa which you buy on the outskirts of Thane which is at Shahapur or Kasara will multiply minimum, the capital price will multiply from anywhere between 3 times to 5 times, where your payment is only 20% to the value of the villa. For example, for a Rs. 99 lakhs villa, your contribution, all inclusive is just Rs. 20 lakhs, balance money has to paid over a period of 20 years so its absolute financial leveraging. You are waiting for the money to depreciate, you are waiting for the asset to appreciate and over a tenure of 5 – 10 years, if your Rs. 1 crore villa becomes a Rs. 3 crore or a 4 crore or a 5 crore property, the benefit of that money that you've invested of Rs. 20 lakhs on earning those kind of multiples will be fantastic where as the interest that you'll pay for the next 20 years is not going to irk you at all with the depreciation of the money happening every single moment of your life.
Agnelo, for every person, design means something else. You know, we see so many ads of most luxurious, most royal, most all those superlatives, tell us a little bit about what good design is for you. I mean what do you keep in mind when you design your projects?
Okay, so whatever designs that we develop at St. Angelo's VNCT Ventures, for us, design plays a very critical role. Prime importance is the location and 2nd most equally important aspect is the design, the architecture and the quality of the development, Roshan. We don't compromise on that for anything. So the design is critical. It needs to be functional. That's the first criteria. User is the best architect so when I sit with my architects to agree on the design, I request them to create it with my inputs because I am in touch with my customers on a personal basis so i absolutely understand their needs and their desires. Now, what basically happens is when a good architect, we have the best architects like for example, The White Villas at Shahapur is designed by Suzanne Khan. She's an interior designer, she's not an architect. But she has got a battery of architects who absolutely try to implement the design that she invisions. Like for example, The White Villas at Shahapur, is mediterranean in architecture, greek architecture so its beautifully done, great height. The american shingles look classy, the rounded walls look classy so it's a mediterranean piece of development in the place of Shahapur near Thane. So it's a wonderful feel. So the pride of ownership, the comfort and luxury of living also gives you a good feel. Today we have realised the importance of a good design much more than what we have ever understood in the past because people are all glued within their houses. So how a room is structured, how your bathroom are structured, how your living room is planned, how your kitchen is made comfortable has started gaining a lot of prominence because we have spent the last 6 months in the house itself. So the house and the space and the space management has critically become very very important. So this is now, people have started understanding it and we sold lots of villas in the last 5 – 6 months, purely because people have realised what they've missed out in life. So in hindi they say jab tak admi tikhani chaktha tupta usko methay ka value nahi samage me atha. "So till you don't taste victory, you don't know the value of sweetness". The last 6 months, we have tasted anything and everything in life that we have never tasted before so now we have actually started prioritising on what should be the element of our lives, what should be the home that we want to live in and dwell upon. And Roshan, interestingly, I've been saying this for the last couple of days, that a home, no longer is a home. A home is a home, it is also an office because you're working from home, and it is also a school because your children are studying from home. There are online schools which are teaching them. The parents are teaching them and even the tuitions have started happening on the online platform. So your home is the home, a school and an office. So it's a 3 in 1. So space and designs has now gained absolute prominence.
Very very rightly said. So Agnelo, what changes have you made post covid or post coronavirus. What changes do you think should be made post covid?
So post covid, every house has to have all the 3 provisions for very 1, comfortable home, 2, a very comfortable office and 3, offer very comfortable home school. So these 3 aspects needs to be taken care of. In fact, you'll be surprised Roshan, one and a half years back, I constructed a 5 bhk bungalow at The White Villas in Shahapur where I have constructed a full fledged office, with an office cabin, with a proper waiting room, with a proper conference room, with a separate toilet, with a separate entrance. Now, this was envisioned by me and my team 1 and a half years back, we started the construction. We completed the construction almost 1 year back. And covid happened 25th of March onwards. That's a pleasant coincidence. It's just a coincidence we never knew in our lives, nobody on this planet earth knew that there is something called a pandemic or a coronavirus but we created that villa. So we were the first people who probably came with the concept of even a weekend home can also be operated as an office. So being a business owner like now people go and live in Alibaug and come to South Mumbai sometimes to operate their office. They have also made their offices in their luxurious homes in Alibaug. So, we started the concept of creating a full fledged, functional office within a weekend home in Shahapur and it is functional. In fact, I just posted a video 15 days back about this office in the home. Designs have changed, furnishings and furniture has changed. So working space has taken a lot of prominence. I was at the site, day before yesterday with another bungalow buyer, Nithin Munod from Technocrats who has bought a 5 bhk bungalow and his master bedroom at Shahapur is almost the size of his living room of his Mumbai house. So I have suggested him not only to get a proper bed put up, of course it's the master bedroom, the bed will be comfortable, but I also told him to create a work space not only within his bedroom which can be comfortably done but also in the living room if required. And he's planning his interiors on those lines. So our designs are totally changed now because going to be a design which will help you to use it like a home, a home school as well as an office.
Absolutely right Agnelo. In fact I have only 4 homes in India and I have an office in every one of them. So Agnelo tell us, let's say you have real estate developers and they all say that they target the NRI's, what do you think catering to NRI's means? What should a developer do?
So real estate is a hospitality industry. Real estate is not a product industry. Your relationship management is critically important. What people need is services. I am a services industries person. I was in computer education which is a service. For 27 long years we trained more than 400000 students so we know services at the back of our hand, it's in our blood. Now we extend those kind of services. Almost 35 – 40% of our customers are NRI's from UAE, from Singapore, from Malaysia, from London, from the US and we have operations in those countries as well. What an NRI, or any customer for that matter needs, is complete hand holding. The comfort of the transaction, the legality of the transaction, the band process of the transaction, the convenience of payments, the convenience of delivery, the convenience of maintaining their assets, the convenience of helping them to get revenues after their assets are delivered are some of the services the NRI's looked out for. And for which we were not equipped for a long time in the past. But today, every developer wants to understand that it is a hospitality industry. You need to treat every customer the way we get treated everytime we go to a restaurant. So it's a service sector. The entire team in my office is absolutely trained to make sure that we assist the customer in whatever he needs. And his needs might be beyond the transaction that he has done with you. His needs might be doing small chores in Mumbai, in their absence is their NRI'S. So our team cooperates with them, helps them. It helps them to rent out their property. It helps them if they want to sell off some property that they have in some other place. We help them out to do that. We help them to get their other properties rented as a pure service and a customer service so that relationships with them and bonding with them becomes stronger. So I'd say we are not in the real estate space, we are in the hospitality sector. We are here to serve and the customer for us was a king, is a king, will always be a king.
Agnelo, tell me this. We have a lot of young people watching this. Typically they are 25 – 35 years onwards. They always come and ask me, should I buy, when should I buy my first home. Should I buy my first home first or should I buy my holiday home first etc., etc. and I always tell them to think purely about appreciation. So what are your views on which one should I buy first?
You should never buy an asset which will not appreciate or which has peaked the price point. You should take that asset on a rental basis. But you should always invest in an asset which has got a great future and appreciation. Appreciation happens for only one and one single reason – and that single reason is infrastructure development. Always buy an asset in that direction where the infrastructure is the worst when your buying. Never buy an asset on the outskirts of a city where the infrastructure is already done up. If the infrastructure is done up, it has peaked the price and people can reach there comfortably so lots of people have bought and the people who had to make appreciation benefits have already made it. But if you select a direction where the infrastructure is bad, the roads bad, there is traffic jams, that is a strong indication that growth is going to happen in that particular direction. And when the government is going to build that particular infrastructure the people who are going to benefit is the ones who bought it during the bad infrastructure days. The only reason I selected Mumbai – Nashik Highway was because I was aware that this was the next development zone of Mumbai outwards towards Nashik. That is point number 1. Point number 2 is always buy a real estate asset where there are 2 cities at 2 ends of the asset. Like for example, if you talk about the Mumbai – Gujarat Highway, there is Mumbai on one side and there is Surat on the other side. So both these cities keep growing and your appreciation keeps happening. When you talk about the Mumbai – Nashik Highway, there's Mumbai on one side, there is Nashik on the other side so both sides, the growth starts happening and you get appreciation. When you talk about Mumbai – Pune, it is the same thing. For Mumbai – Goa, the real estate prices are very cheap. It might take a long time for appreciation to happen on that road because of only one factor – there is no city on the other side of the road. There is mumbai city on this side and the only road which doesn't start from the city of Mumbai is the Mumbai – Goa Highway because it starts from Panvel. Where as all the other 3 roads, all the other 4 exit points, the Mumbai – Gujarat is from Mumbai, the Mumbai – Nashik is from Mumbai, the Mumbai – Pune is from Mumbai and the Mumbai – Alibaug sea route is from Gateway of India. So these 4 entry and exit points are from the city of Mumbai, so these entry and exit points will have humongous quantum of appreciation if you buy assets in any one of those directions. Mumbai – Pune has become expensive. Mumbai – Gujarat has become expensive. The only reason why we did a project on mumbai – Nashik highway was because we know that the infrastructure is developing here and here is where the buyer will get the maximum amount of growth appreciation in the capital value.
Absolutely. Agnelo I think what you've said, you've told me this in private before about buying where you see traffic jams and things like that. Can you give the viewers a sense of what the same villa, if it was not in Shahapur or Kasara, but it was in Lonavala or Alibaug, what it would cost?
Okay, so the villa that we are developing in Shahapur and Kasara, like Shahpur is Rs. 99 lakhs, all inclusive with stamp duty, GST, registration, everything, all inclusive, Rs.99 lakhs. Same villa, same designs, same quality of construction in Lonavala will be priced anywhere between Rs. 4 – 6 crores depending on the location but minimum of Rs. 4 crores. The same villa in Alibaug would cost you between Rs. 3 – 5 crores. So the highest prices are in Khandala and then Lonavala. And similarly, Lonavala and Alibaug prices are almost similar. In Alibaug, it is driven by how close you are to the sea whereas in Khandala you are driven by how better valley view that you have or the mountain view that you have. So the new zone of purchasing it on an economical price point is the Mumbai – Nashik Highway. Again where there are beautiful Sahyadri Ranges so there is greenery, absolutely pollution free air, pure oxygen and a fantastic feel of living in very far away but you're not far away at all. Shahapur is just 45 kms from Thane, 75 kms from Mumbai. Kasara is just 90 kms from Mumbai, 60 kms from Thane. So the distances are also very, very close and this is the difference of a price point, the villa that we are doing in Kasara is 74 – 75 lakhs all inclusive. A similar villa in Khandala would cost you nothing less than Rs. 3 crores. In Alibaug, it will cost you nothing less than Rs. 2.5 crores and at the same time we need to remember one thing, you can reach faster to Mumbai today from there than your villa in Lonavala or Khandala because of the local concession within the cities of Lonavala and Khandala because the people who bought there 20 years back have already hit a jackpot because they also bought at Rs. 600 – 700 rupees and today, lonavala has gone Rs. 9000 and plus plus plus plus plus, apart from the other charges. So that's a windfall again for them.
So i'll ask our viewers to post any questions they have. In the meanwhile, I have a few pet questions. I always ask Agnelo this. As you know, though being a Bombayite, I have decided to move residence to Bangalore so when are doing something in Bangalore?
(laughing) So thanks to technology now there is no geographical classification of the location that you are at. You might be in Mumbai, you might be in Chennai, you might be in Coimbatore, you might be in Bangalore, it doesn't matter. What matters is convenience. What matters is what can give you the fastest appreciation. Bangalore again, is a very hot spot thanks to the IT sectors and Bangalore was the number 1 seller in India as far as real estate is concerned but the number one city in the country as far as appreciation is concerned has always been Mumbai and will always be Mumbai. Especially the outskirts.
I totally agree with you and I tell everyone this, looking at investing into holiday homes because Bangalore I think because the city itself, now lets say Downtown Bangalore is also not highrise so the people in Bangalore really don't feel that requirement per se to buy a villa because pretty much for Rs. 2 – 3 crores you can buy a villa in one of the hot suburbs in Bangalore. But for a Bombayite, I feel it's just an unattainable dream for them to live in a villa and have their own garden etc. so that arbitrage I feel is definitely significantly more in Bombay. That is why if you see the weekend home market etc., Bombay is the place that has really shown this appreciation as compared to any other city in India. Maybe I think the 2nd would be around Gurgaon.
Yes and Roshan, the multiples of the property value is a critical point to understand. Rs. 1 crore becoming Rs. 5 crores is a higher possibility than Rs. 3 crores becoming Rs. 15 crores. So the multiples of the value of the asset is playing a very, very critical role. So the entry point needs to be economical and the multiples happen better. Like I know people who have benefitted 15 multiples of their capital value on the Mumbai – Pune Express Highway. For those people who bought in the 90's, and then because of the Super Express Highway, the Mumbai – Pune Express Highway which was developed in 1995 onwards, the prices just skyrocketed. There are people for generations who won't have to do anything because they bought assets in that direction and that one road changed the future of all those people who invested in properties in Panvel, in Belapur, in Navi Mumbai, in Khopoli. Their fortunes changed. I know people who've bought land at Rs. 50000 rupees an acre and Rs. 1 lakh rupees an acre and theve exited those properties at Rs. 3 crores an acre and Rs. 5 crores an acre. So just imagine your Rs. 1 lakh becoming Rs. 3 crores. Can you imagine, there is no calculation. It might not fit in your calculator also. (laughter)
No, no, absolutely. That is what people have benefitted from. Interesting question from Jatin, you know – earlier, there were a lot of pre-covid always guaranteed rental returns and let me, I can answer this a little bit. Of course, while we are in a special situation at the moment, where maybe a lot these guaranteed returns might have been suspended temporarily, the market's going to go back, especially in a market like Mumbai, you know, where there is a huge need and a desire to escape the city and just to get away from concrete etc., you will see that well built assets will generate yield, in my opinion and so if there is confidence, I feel that the guaranteed returns are going to be back with a bang because, as speaking for ourselves, you know, I am also from Tripvillas, we don't feel that uncertainty with providing a guaranteed return if the asset is of a quality nature.
Absolutely, absolutely.
Yeah, the other question Agnelo, while we wait for some more questions to come in, when you see India, in Mumbai, there are a significant number of people from Mumbai who have also invested in Dubai and you yourself have done projects in Dubai etc. Can you give us a little bit of sense of your view of the Dubai market and what's happening there?
So as far as the main city real estate is concerned, it is not only in Dubai, but across the world, in all the major cities, the price of the product has become a standstill, buying has really gone low because it has become unaffordable because of the competition among the developers and the charges from the governments. Even in Mumbai the biggest challenge apart from a clear title of the land, the 2nd biggest challenge is the premiums that are being charged by the government, so everybody's re-looking. Even in the country of Dubai also, the Dubai government is also reducing or changing their policies and the charges, trying to make it more comfortable for the developers and also trying to make it more comfortable for the buyers, so currently in the mainstay cities, it is a challenge to buy real estate. So that is the reason I personally ventured out of the city of Mumbai 5 years back, because I could see this happening. The best part about an entrepreneur, Roshan, is you need to be able to predict the future and then you need to devise your plans according to the predictions that you have made. So when we predicted to exit out of the vertical development 5 years back, today we can smile, we can be happy that good, we are not within the city, because in the city the work has gone a little slow, so it might take a little more time to revive and the government is taking positive steps, they are reducing all their charges, they are giving installment facilities, they are looking, re-looking at the infrastructure development costs that they were putting on the developers. RBI is also looking out at better funding opportunities to the buyers, as well as to the projects. These are some big schemes that are being floated. But the outskirts, I could see that these are the opportunity zones, not only for us, as developers, but also for buyers, because this is going to give them capital gains. So the economics of real estate is changing and we need to understand and educate the customer on what he should look at and what he should invest in. So these are the educative moments. Every real estate developer today has become a professor of why somebody should buy his project. He need to quote the buyer on why and has to answer that question why, with big question marks and he needs to satisfy the customer that yes, this is a good decision, not only for his family, but for his future generations to come and as Indians, we are more concerned about our future generations than our present times. It is a by default a thought process of all Indians.
Absolutely, because for everyone I think, the cost of living is very reasonable, so most people have enough. I mean, they can never consume the capital that they have accumulated or the money that they are investing, even if it multiplies, right?
Absolutely.
An interesting question here, is it feasible to develop holiday homes in tier 3 cities? I know you touched upon it earlier. Maybe you want to summarise for this viewer, you know.
Yes, it is feasible to develop holiday homes in Tier 3 cities also. Now what has basically happened is a very decent size of the population will be not related to any location, so if you are a person who doesn't have to go the office, even once a month, or even once in 3 months, if it…..let me put it in another way. If you are a person who has to go to the office once a month or once in 3 months or once in 6 months or maybe never going to the office, then the location doesn't matter. What matters is a good location, a good infrastructure, great power back up, great internet connectivity. If you're a writer, if you're a scripter, if you're a creative person, if you're a painter, if you're an author, if you're an IT professional, you can be in any part of the country, in a comfortable dwelling and at the same time perform your duties, where your customer can be in any part of the world. Now I don't have to be in America to work with American company. I can be in any part, I can be in Shahapur, I can be in Kasara, I will perform my duties and give my performance. So location is not specific at all. What is most important is, whether it is a 2 tier city or a 3 tier city or a metro city or outskirts of a metro city, it doesn't matter. But what matters is, please remember your real currency is not money, please remember your real currency is the time of your life. If you buy an asset close to a city which will give you appreciation to that asset, that asset is actually working like an employee for you, with a limited investment, with a deployment of money from the banks and the money that the asset will make for you, you will never be able to earn it in your life time. So when you buy the asset, look out for the appreciation perspective and then the comfort point of view. So try to be, the entry point should be economical, below a crore of rupees and this asset should become Rs. 5 crores minimum within the next 15 years time. If that happens, it's a lottery for your life, great asset to use, great asset to exit and at that point of time. So there are people who bought houses – I'll give an example of Mumbai since we're talking about Mumbai, who bought houses in Dadar. When appreciation happened, they sold and they came to Andheri. When appreciation happened, they sold Andheri and came to Borivali. When appreciation happened, they sold Borivali and went to Virar. When appreciation happened, they sold Virar and came to Boisar. There are multiple reasons why this happened. This happened because of the expanding family needs and can you believe it, there are families who have sold their house in Dadar, bought 2 houses for 2 sons in Andheri and still kept money for the aged parents to live out their balance life without depending on the children and still everybody were comfortably happy – the children as well as the parents. Now who can do this? Only an asset can do this. But where can this happen? Where the appreciation can be the fastest, the tallest and the quickest. And that's the magic of the city of Mumbai.
I'll also share, Agnelo, my own family's experience. In 1981, we bought a plantation in India, a coffee plantation. We bought it, I think, for maybe for a lakh of rupees or Rs. 2 lakh for the whole plantation. Today, the price per acre is Rs. 35 lakhs.
Wow, wow.
When I used to come to India as a young boy, there was no road even going to the plantation. Today, we are on the Mangalore – Bangalore highway. In those days when we used to come to India, you could not even get TV until you put a dish antenna in your house. Today, in my villa, I have a Tata Sky. I have all the channels I have in my Bangalore or Bombay house. I have 60 mbps from Jio in my living room or any room in my house. This is the scale of infrastructure development that India has seen and will see continuously because of Jio etc. (both laughing). And as Agnelo is saying right, we have Mangalore on one side. 2 hours, i'm in Mangalore. 3 and a half hours, i'm in Bangalore. I mean, you know, appreciation is natural once you have that kind of a highway and connectivity etc. etc.
So like I gave the example, every road should have 2 cities on the other end. Between you should buy that property so both the cities grow and your appreciation happens. These are all thoughts which are researched and then I'm talking about it. I'm not talking in air. This is out of my personal experience. I have bought land at Rs. 40000 an acre, in just 2007 and im talking 13 year back. Rs. 40000 an acre in Karjat. Today that land is Rs. 40 lakhs an acre. What can give you that kind of an appreciation? Nothing can give you that kind of appreciation. So this has actually happened to thousands of people who did the right steps at the right time. And today, the best part about taking an asset is bank leverage to the tune of 80 – 90% over a period of 20 years. So that's absolutely a decision to be taken.
Yes, absolutely. So Agnelo, I would like to thank you for your time. This interview of course will be transcribed and will be available on holidayhometimes.com for everyone who view and also the recorded. Thank you Agnello for taking the time to interact with our readers etc. we really appreciate it and your thoughts as always are well researched, genuine and we wish you all the best with your new projects which are coming so maybe we can end on what's new launching.
So lots of things are launching new. There are people who are wanting larger plot sizes with bungalows so that they can do gardening also. Gardening is a therapeutic treatment for the mind. So there are people who want that 10000 square feet plot and they don't mind paying Rs. 2 crores, 3 crores, 4 crores. So we have got requests from people who say that up to Rs. 3 and a half crores we want to buy a villa but we want it with 10000 square feet of constructed area and we want a constructed area for 2 – 2500 square feet and a plot area of 10000 square feet. And they are willing to pay as high as Rs. 3.5 crores. So really, the market is changing. Now the man does not want only IT connection in his house but he also wants a mango tree in his compound, he also wants a guava tree in his compound, he wants a coconut tree in his compound. He wants to enjoy the pleasure of farming which will refresh him, mentally. He wants to grow his own chillies and tomatoes and onions. We wants to put it in his own kitchen as a kitchen garden and he wants to do IT work and execute contracts worth crores of rupees, sitting in a beautiful place like Kasara or Shahapur so nothing changes for him. His revenue multiplies. He gets more creative. At the same time, he's enjoying his own growing of vegetables and fruit trees and living a very comfortable life away from the congestion of the city and away from getting infected by viral diseases because the viral diseases are going to stay. The killing nature of the virus will be killed with the vaccine but the infectious natures of various viruses are going to be there for life. These days, I very commonly say that there was a time where we used to get temperature or fever twice in 5 years. Today, you might get it 5 times in a year just because of high density of people and the conditions of living in the city. So people will opt to move out to the local parts, outer sides of the city and come to the city only when it is required. Exactly the way it has happened in every developed city of the world, whether it is London, whether it is New York. Whichever part of the world, whether it is Dubai, people now want to stay away from the center part of the city and come to the city when required. Otherwise, there is technology, there is Jio, there is mobile phone and there is connectivity which would help you connect anybody and everybody from across the world.
Thank you Rajesh. On this note, Agnelo, we will end this show. Thank you for the time and thank you to all our viewers for tuning in. Thank you.
Thank you so much for being on this show and Roshan D'silva is a very admirable friend of ours. Tripvillas is his organisation and Tripvillas and St. Angelo's VNCT Ventures share a fantastic rapo and working relationship. And one of the best indian entrepreneurs that I have come across, in terms of knowledge, in terms of expertise, in terms of planning and in terms of how to understand technology and use it to the expansion of a business. It is a very reputable organisation in which the Government of Singapore has also invested. And that speaks volumes because a company invested in by the Government of Singapore, which is one of the best governments of the world, speaks volumes, not only of the organisation but the founder Roshan D'silva and the team that he has along with him. So thank you Roshan, so much and have a God blessed future to you as well. Thank you so much. Bye.
Thank you. Bye.
To get more information & assistance, please submit the form below and our specialist will get in touch with you at the earliest.