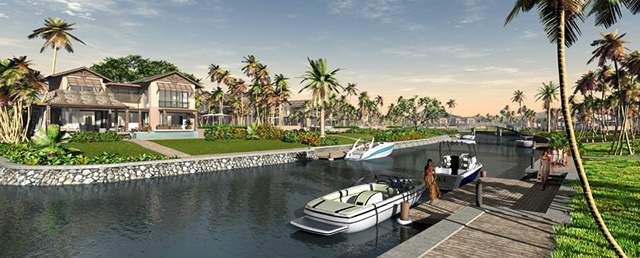 Located in the heart of the Indian Ocean, Mauritius is the kind of place that you dream about living in. Pristine sandy beaches, sparkling water and relaxed lifestyle are all hallmarks of life in Mauritius. What makes this island nation even more perfect is its focus on encouraging foreign investment and ownership in the resort lifestyle.
Mauritius has an Integrated Resorts Scheme (IRS) which encourages foreign nationals to purchase luxury residential properties in Mauritius, and also gives them residency rights in the country. If you would like to know more about the IRS, you can find the detail in our article here.
One of the newest IRS developments is the spectacular La Balise Marina. Located in the Black River region, which is comfortable nestled between verdant mountains and the crystal blue sea on the West Coast of Mauritius. It is no surprise that this part of Mauritius is known as "centre of the sunset coast".
About La Balise Marina:
La Balise Marina is the first residential marina development in Mauritius. It has a range of luxury residential units and facilities for residents and visitors alike. The development is set over 12.8 hectares at a cost of EUR 120 million. The marina is sheltered from the elements of the sea and wind due to its unique position on the Black River estuary.
The commercial centre of the development is called L'Estuaire and includes restaurants, shops for your daily needs and boutiques for that something special. There is also an exclusive complex for residents only called Le Sunset, which will include a fine-dining restaurant, gym, spa, infinity pool and Kids Club. If you like to get outdoors, there are plenty of activities for you to choose from here. From dolphin watching to kite surfing to golfing, not to mention a wide range of water sports activities from yachting to skiing. Here you can indulge your adventurous side or just take it easy at your own pace.
The marina has two basins; Sunset Basin and La Balise Basin. Sunset Basin has three walkways and include the Orca Dock, Risso and West Piers with mooring facilities for 22 vessels of up to 12 metres in length and 1 catamaran. La Balise Basin has the White Shark Pier, Spinner Dock, Humpback and Pilot Wharf. It has a berth capacity for 30 vessels between 9 and 12 metres in length, 4 vessels up to 15 metres and 1 catamaran. Marina services will also be available with Marina Management able to deal with minor repairs and supply of petrol and diesel for your vessel.
The residential properties are all located on the water's edge, are built on freehold land and have easy access to the docks and their own mooring facilities. There are 113 luxury residences in total including the following:
17 Villas that range from 3 bedroom residence of 429 m2 to 5 bedroom properties of 482 m2. The land plots vary from 1,175 m2 to 3,320 m2. All villas are either look out to the canals or the river and have spacious rooms and their own private garden. Villas that face the canals have their own private shipping berth, whilst the river facing villas will have a berth at Dock Orca. The Villas have all been designed with open plan living in mind, giving them a contemporary feel and bringing the inside and outside together.

13 Marina Quay Duplexes are available with 3 bedrooms, each with their own ensuite. The duplexes are approximately 200m2 in size and have their own direct access mooring. These properties are situated in the centre of the marina, and face either the Sunset Basin or Balie Basin.

38 Marina Duplexes that are approximately 200 m2 in size, with 3 bedrooms and ensuites. These residences will face either the Balise Basin or the Canal, providing a unique marina living experience. Each also has their own direct mooring.

45 Canal Duplexes that have either 2 bedrooms (175 m2) or 3 bedrooms (190 m2) and ensuite bathrooms.
The properties all have international standard fittings and prices vary from US$865,000 to US$1.6 million for duplexes and from US$2.6 million for villas. Construction has commenced and is anticipated to be completed by the end of 2013.
If you only plan on spending part of the year in your Mauritian home, you can add your property to the rental pool which is known as the La Balise Marina Experience. Rental properties will be managed by Veranda Leisure and Hospitality , who will offer long-term rentals and ensure that the residence is available to the owner for an agreed period. It is estimated that an occupancy rate of 15% will be sufficient to recover costs of the property.
About the Developers and Promoters:
ENL Group is a conglomerate that does a range of activities including property development in Mauritius. It owns 40% of Villas Valriche, a luxury development that it completed and also has developed several high profile commercial and business facilities on the island.
Investec is an international specialist banking group that focuses on a niche client base for structured finance transactions. They have undertaken property finance projects in several countries across the world including Mauritius.
They can be contacted via the development's website or on +(230) 483 7272.
Project Status:
This article was last updated on 4-11-2020
To get more information & assistance on La Balise Marina, Mauritius, please submit the form below and our specialist will get in touch with you at the earliest.