Just an hour's drive from Kuala Lumpur is the Genting Highlands, a hill resort in Malaysia developed by Genting Group and is best known as Resorts World Genting. Nestled on a mountain peak within the Titiwangsa Mountains on the border between the states of Pahang and Selangor of Malaysia, the area is a preferred location for a quick weekend getaway.
Just behind the resort, being developed at a gross development value of about RM230 million, NCT Development Sdn Bhd has recently unveiled its high-end serviced apartment project. Located at the highest level of the popular resort destination (about 1,800 meters above sea level), the project will be built in three phases, with the entire development set to be completed by 2017.

Elemen (the project), being built on a freehold piece of land that measures approximately 10.2 acres will comprise six blocks of serviced apartments measuring from 866 to 2,970 square feet. In line with this, the company has also inked a memorandum of understanding with Best Western International, which will manage the apartments.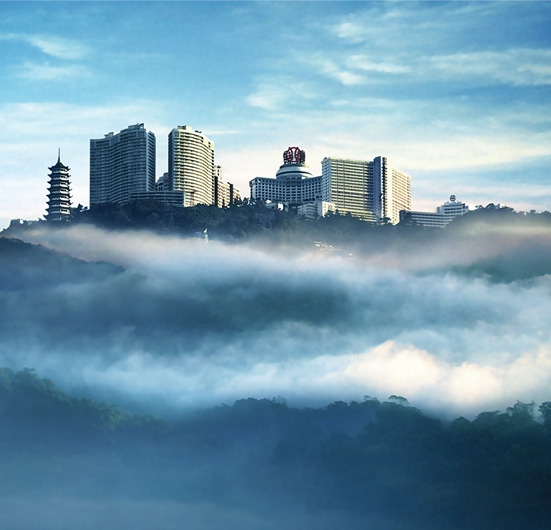 The developer has given more focus on the design of the building with the apartments being build based on the five elements of Chinese tradition – wood, fire, earth, metal and water.

The apartments will be built in six blocks, each block having different floors to house the units. Within the six blocks, there will be a total of 673 units with varying degrees of sizes and layouts to match the needs of discerning buyers, ranging from the more cozy 866 square feet to 2,970 square feet. In addition, the development will have ample car parking spaces with a proposed 1,285 units set aside for residents.

Once completed, the residents will be able to enjoy various amenities/ facilities including a beautifully landscaped garden with a recreational deck, an eco-pavilion, wellness spa, an indoor infinity heated pool, gym and saunas, a wellness lounge as well as a children's playground.

Perched on a mountain peak that rests within the Titiwangsa Mountain Range Elemen though far from the city center is not without the necessary amenities which make up for the comfort of its residents.
In its vicinity are some of the well known medical facilities, tourist areas, a casino, theme park and strawberry farms, to name but a few, a shopping mall and a horde of restaurants and bars including, The Olive, Imperial Rama and Spice Garden.

Apart from that, residents of Elemen will be able to enjoy excellent connectivity, whether it is reaching Pahang / Selangor or going back home and the other parts of Genting Highlands. It would take a 5-minute drive to get to Genting Highlands Resort; a 15-minute drive to Gohtong Jaya, the main township in Genting Highlands which houses several shops, various apartments, housing areas and the Genting INTI International College; and 45 minutes to arrive at the KL city centre.
About the developer:
NCT Group, a leading name in Malaysia, has been long engaged in buildings and civil engineering activities as well as infrastructure, property investment and developments with proven track records across the country. The company is credited for the development of some famous landmarks in Malaysia, including the Putrajaya Mosque and the Asian Institute of Medical Science and Technology (AIMST) in Kedah, as well as a school which is the Sekolah Menengah Kebangsaan Lembah Bidung in Terengganu.
Amenities/ Facilities:
Water-feature landscape

Eco-pavilion

Sky lobby

Rooftop fire pit

24 hours security and surveillance

Multi-purpose hall

Landscaped garden

Gym centre

Recreational deck

Mini market

Guardhouse

Courtyard entrance

Children's playground

Heated infinity pool

Wellness spa

Sauna.



Pricing:
Prices for the units at Elemen start from RM 730,000 (USD222,290).

Contact:
For more information on the development you can contact their sales team at +603-80643333, +603-80643388 or email them at info@nct.net.my. You can also visit their website, www.nct.net.my for the latest construction updates.
To get more information & assistance, please submit the form below and our specialist will get in touch with you at the earliest.