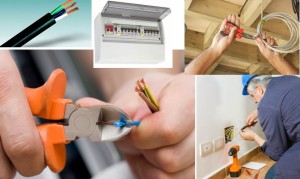 Whenever we are buying a property – whether it's a new house or an old one – we concentrate on the woodwork, flooring, wall paint, wallpaper among others. But most home buyers don't spare a thought to buying right kind of electrical wiring, whose quality would ensure safety or lack of it in a house.
It goes without saying that it is essential to have proper wiring in your dream house as it is a very important place in every person's life, where memories are made. To provide safety to your loved ones, you must not compromise on the quality of wires.
Today there are several brands in the market who offer multi-strand flexible house wires with fire-resistant properties. But in many cases developers and builders do not use them because they are relatively costly than the inferior quality wiring we get in the market. Plus, wiring in houses is today concealed and builders take advantage of this fact because it leaves very little scope for the buyer to find out the kind of wiring used.
But for a home-buyer nothing should be left to chance. If you are careful and follow a few safety tips, wiring can be one of the most predictable and pleasant areas of your house construction. Moreover, you are never in doubt whether your wiring has been done the right way or not. One should always buy good quality household wires, which carry the product certification mark given by an authority of the country.
In addition to electric wire selection, home-owners should also identify locations for switchboards in advance so that they would not obstruct while decorating rooms later. Ensure that proper earthing is done for the entire house. Every power board should have separate fuse and joints should be properly covered.
All wiring systems should have circuit breakers or fuses that disconnect power when circuits become overloaded. Home-owners and buyers must understand that bathrooms are unique in the home when it comes to electrical wiring. By nature, bathrooms have damp environments and are considered to be a special location for electrical installations because they have an increased risk of electric shock for the users due to the presence of water. Providing electric circuits to bathrooms is not the same as other parts of the house. Bathrooms are humid so the wiring must be resistant to water and also proper ventilation must be provided.
In a nutshell, the entire network and material should be designed not only to avoid unnecessary or excess power losses during transmission, but most importantly to avoid accidental fires occurrences due to short circuit. So, you should avoid overloaded electrical outlets and circuits. Overloaded outlets and circuits carry too much electricity, which generates a lot of heat, causing the internal wiring system to wear off and catch fire. So, next time pay attention to your home wiring, no matter where, how and when your dream house is being built.
To get more information & assistance, please submit the form below and our specialist will get in touch with you at the earliest.