Hoping for the best, but preparing for the worse is the key to a successful holiday home rental business. Invariable holiday home owners should always have a contingency plan in case of situations which come to fore unexpectedly without any warning.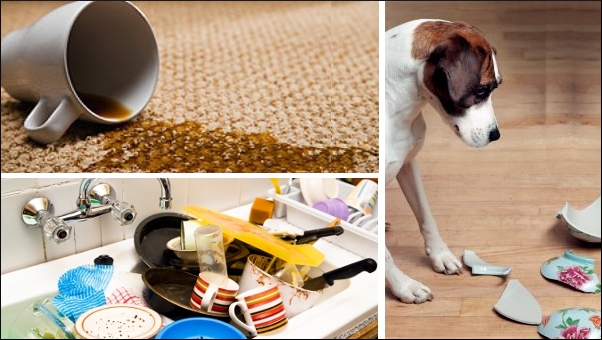 Most owners of holiday homes face situations where there is damage to their property, unruly behavior from guests, exceeding maximum occupancy, etc. As such they are at the wits end as to how they should react to such unexpected situations. Before I go into how you can counter such situations, here are some of the typical situations one might face:
Theft or damage to property: Theft is a very rare occurrence and only isolated cases are heard once in a while. However damage to property or leaving the house in a mess is something every owner must have faced at least once. Because the owner is not stationed in the property at the time of the guests' checkout, they don't inform him about the damage.
Drunken and disorderly behavior: For the owner it is almost next to impossible to screen a guest on whether he will get drunk and create a commotion. But then drunken behavior is totally unacceptable and may put the owner in a lot of hassles if the neighbors complain to the police. Ideally renting out to a young group of bachelors leads to such situations.
Undeclared Pets: Allowing pets in your holiday home means you are prepared for these four-legged cuties. Because pet-friendly holiday homes require extra maintenance and changes in the decor, you will definitely be charging guests extra for letting their pets to accompany them. But what if yours is not a pet-friendly holiday home and guests bring their pets without informing? Imagine you come home and find that the carpets and sofas are full of fur and there are foot marks on the bed-sheets and covers.
Use of amenities without paying: If your property is in a gated community with common amenities like the swimming pool, clubhouse or golf club, guests might have to pay for them. Most gated communities provide these amenities to owners for free, but charge guests. There have been instances where guests have enjoyed these, but never paid.
Exceeding number of booked guests or maximum occupancy: This is a very common situation holiday home owners face and are likely to face again. Because the guests know that your holiday home can accommodate eight people and they know you are not stationed in the property, they book for four or five guests, but come with couple more. Then there are situations where your property can accommodate four people, but an extra guest comes along.
WHAT YOU CAN DO:
Screening is never a solution for situations like these. So what can you do? I think the only foolproof option is to take a security deposit and a rental agreement that lays down all these situations and their subsequent deductions from the security deposit. Why taking a deposit makes sense is because once you find any damage you can always deduct the amount and refund the rest.
When it come to extra guests arriving at the property, make sure that your caretaker knows how many guests would be staying, their names, etc. so that he can immediately inform you if there is any additional guest. Invariably, you can have a registration form for each guest which they can fill up on their arrival. Also always keep aside a couple of good mattresses, pillows and linen in the storeroom in case the number of guests exceeds the maximum occupancy of your holiday home. In such a situation charge the extra guest according to the nights he would be staying. Meanwhile on the first telephonic conversation or email inquiry, be wary of questions like: 'How many people can stay in your holiday home?' or 'Do you stay in the property?' These are good enough indicators that he will be arriving at your place with more guests than he will book.
Drunken and disorderly behavior can have long-term ramifications like authorities or even Homeowners Associations (HOA) disallowing you to run your rental. So your rental agreement should have a clause clearly stating that such behavior would mean forfeiting the entire security deposit.
In case of non-payment of the amenities used, you can ask the caretaker to keep a tab on this if you have one stationed in the property. Or else take the phone number of the person responsible for giving access to these areas and taking payments. Call him on the checkout day and inquire if any guests have availed them. If they have, call the guests and request them to make the payments, failing which the same amount would be deducted from the security deposit. Always insert this clause in the rental agreement too.
Always outline in the rental agreement the specific acts and circumstances when you will deduct from the security deposit. Ensure that the security deposit is not the maximum that can be charged and that all damages will be billed on actuals to the traveler. However make sure that every deduction you make from the security deposit is justified and apprise the guest beforehand to avoid any arguments later on.
To get more information & assistance, please submit the form below and our specialist will get in touch with you at the earliest.