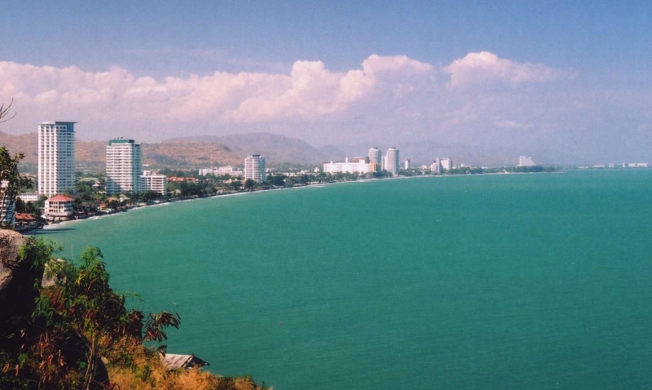 A recent survey has revealed that developers are lining up to launch residential projects worth more than Bt50 billion and totalling about 8,000 units in Hua Hin in Thailand.
The projects are targeted to be delivered to customers from 2013-2015, according to the survey by The Nation.
Condominiums are popular projects in this location, with prices ranging from Bt2 million to more than Bt20 million per unit.
Domestic customers are the main targets, as Hua Hin's proximity to Bangkok – about two hours by car – makes it attractive for either a second home or a vacation residence.
However, land for development is limited, especially close to the beach. As a result, the prices of land near Hua Hin's beaches have increased on average by 10-20 per cent a year.
The finding of the survey noted that, "One example of the more than Bt50 billion worth of projects being launched in Hua Hin this year is a Baan Ratchaprasong condominium complex, Energy Hua Hin. Worth Bt10 billion, it will offer 6,000 units priced between Bt1.7 million and Bt7 million. The eight-storey project will combine 33 buildings. There will also be a 177-room resort hotel in the same location. Construction will start this year and is targeted for completion by 2014 or 2015."
"Sansiri, which has more than 10 years of experience developing condos in the Hua Hin area, has introduced its latest project, Chelona, at Khao Tao beach. The Bt1.5-billion project has 174 units. It is a low-rise project, with four four-storey buildings and one with seven storeys. The project is already under construction and will be completed by October next year."
SC Asset Corporation plans to launch a condominium project worth about Bt2 billion in Hua Hin in March, and in the fourth quarter will launch a detached-house and townhouse project there.
SC Asset chief operating officer Kree Dejchai said demand for second homes in Hua Hin was growing strongly, and the company had succeeded in buying undeveloped land near a long beach. As a result, it decided to expand make its first upcountry investment in the resort city.
Casa Ville Co, a subsidiary of Quality Houses, plans to launch a detached-house project worth Bt460 million in the Cha-am-Hua Hin area in the current quarter.
In the same area, Issara United, a joint venture between Charn Issara and ICC International, a subsidiary of Saha Group, has introduced a condominium project worth Bt2 billion called Baan Thew Thalay. It plans to develop the second phase of the project in the second quarter after the first phase reaches sales worth 40 per cent of total project value. The project will also feature a community mall, a hotel, and low-rise residences, both detached houses and townhouses. Worth at least Bt10 billion, the whole project will take five years to complete.
Several listed property firms also have projects under construction and targeted for completion this year or next. Major Development introduced a Bt3.3-billion luxury condominium project, Marrakesh Hua Hin, last year. Condos have already been transferred to customers and the project has sold 80 per cent of total value. The project comprises 300 condominium units and a 76-room hotel.
Major Development managing director Suriya Poonwaraluk said demand for homes in Hua Hin was enjoying strong growth. As a result, the company plans a new project there this year after completing the transfer of Marrakesh Hua Hin to its customers.
Sansiri also introduced a condo project in Hua Hin last year, Baan San Kraam, which sold out within two days, before it launched Chelona in the first quarter of this year.
The survey also found that the huge investment in residential developments in Hua Hin has driven up land prices by about 10-20 per cent a year. Land near the beach now averages Bt50 million per rai (about Bt310 million per hectare), up 11 per cent from Bt45 million per rai last year.
Land near Cha-am beach sells for Bt30 million to Bt35 million per rai, an increase from between Bt25 million and Bt30 million last year.
Knight Frank Thailand's association director of research and valuation, Risinee Sarikaputra, said demand in the Hua Hin area would continue to rise.
"The flood that hit Bangkok and its suburbs last year changed home-buyers' behaviour. They want to buy a second home in a tourist destination, especially Hua Hin, which is only two hours by car from Bangkok," she added.
To get more information & assistance, please submit the form below and our specialist will get in touch with you at the earliest.