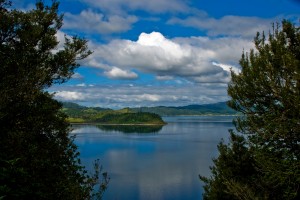 The North Island of New Zealand certainly has the most action when it comes to investment properties. This means prices are also significantly higher than in South Island, but choice is much greater. Whilst New Zealand generally has not experienced huge rates of property growth, it has been steady over recent years in the North Island and rental returns are relatively good in many areas. Rental opportunities exist both for long and short-term rentals on much of the North Island, giving you options on how to manage your investment to suit your needs.
Auckland:
As New Zealand's largest city, Auckland isn't the traditional place for a quiet holiday home. However as an investment opportunity, it would be remiss of us not to mention it. Whilst Auckland does represent the most expensive real estate to be purchased in New Zealand, it still provides value for money, particularly when compared to the escalated prices in most cities in neighboring Australia. Auckland also offers a great bayside lifestyle with all the benefits of a major city.
With property values increasing almost 10% in 2012, Auckland property represents the highest growth rate in New Zealand. Whilst some suburbs have very expensive property, there are still suburbs such as Otahuhu and Manurewa that are showing good rental yields and capital growth potential at a reasonable price. Median long-term rentals on a 2 bedroom house in Otahuhu are $300 per week and a property can be purchased for as little as $209,000 making it an attractive long-term investment.
Bay of Plenty:
Undoubtedly the most popular holiday destination for New Zealanders, the Bay of Plenty is located on the coast of the North Island east of Auckland. Given its popularity and proximity to Auckland, it has a lot of the comforts of a built up area such as good infrastructure and shopping centres, and also has spectacular beaches with a lot of development. Demand for holiday homes in this region is high and prices for top end properties can go well into the millions of dollars, but rental demand is also growing, and there are still some pockets that offer opportunities for good investments.
Tauranga includes areas such as Mount Maunganui and Papamoa and has some of the most beautiful water views in New Zealand, along with great nature reserves. It is considered to be one of the fastest growing cities in New Zealand, but with a population of just over 100,000, still retains its relaxed town feeling. The port is a major export zone for the country, making it an important region for business as well as pleasure. The local council is focusing on development projects to further improve infrastructure, such as the Tauranga Waterfront Project which will add to the waterfront lifestyle.
Prices in Tauranga have been relatively steady, but there are indications that it may benefit from the growth being experienced in Auckland. and really is a great choice for those looking to retire or enjoy a lifestyle location. Long term rentals can fetch about $285 per week, and short term rentals just over $100 per night for a 2 bedroom house, with purchase prices starting from $250,000. Depending upon whether you want to stay in the property for some of the year, the option to do either a short or long-term rental certainly exists in the region.
Waikato:
Located south of Auckland, the region of Waikato is an important hub for rural industries that are so critical to the New Zealand economy. With population growing and increased employment and investment in public infrastructure, this region certainly shows signs of economic sustainability.
Hamilton is the largest town in Waikato and the second fastest growing urban area in New Zealand. Property growth is only just starting to reflect this however, with only just over 3% growth in 2012, meaning there is considerably more room to move. Given its relatively lower prices compared to Auckland, it is also becoming a commuter city for those seeking a more relaxed and inexpensive lifestyle. Median long-term rentals for a 2 bedroom house are $280 per week and a 2 bedroom property can be purchased from $230,000, making the potential returns quite attractive.
Eastland:
Located not far from the capital of New Zealand, Wellington, Eastland has been overlooked by many as an investment location. With lovely beaches and temperate weather, it is now becoming a popular retirement destination. The town of Waikanae has been nicknamed "God's waiting room", but many young families are also now moving there. With continued investment in schools and public transport, commuting to Wellington from here is also becoming easier. Some have estimated that population in this region will grow up to 40% over the next 20 years, raising demand for property along the way. Median long-term rentals for a 2 bedroom house in the region are $240 per week with short-term rentals starting from $90 per night, and a property can be purchased from $249,000.
The North Island of New Zealand may be small, but in terms of property action there is certainly plenty of it. As it also has not been subjected to the unfortunate natural disasters that have hit the South Island, this part of New Zealand is developing and where most growth is being seen for this country.
To get more information & assistance, please submit the form below and our specialist will get in touch with you at the earliest.