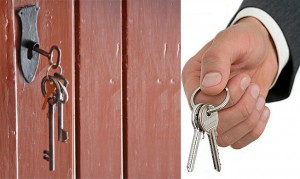 Owning a holiday home is always like a dream coming true. But it can soon be a lurid nightmare for the owners, particularly for those who do not intend to reside there or nearby. Besides ensuring safety and keeping the property damage-free, there are a lot of maintenance issues which you have to deal with, unless you hire a key-holder or take the services of a key-holding company. While in India, key-holding in the holiday home sector is at its nascent stage; elsewhere it is one of the best options for a second home owner to ensure his peace of mind.
So what is a key-holding company and what are the services it offers a holiday home owner?
A key-holding company is the one who is responsible for holding the key to your holiday home. When you are away and your guests are to arrive, the company will be the first point of contact for them. Someone from the key-holding company also known as the key-holder, receives the guests from the airport or any other designated station, and provides necessary guidelines regarding the holiday home and the services available.
And that's not all! The key-holder can also help a holiday home owner in many other small ways: right from moving your mails and newspapers, watering the plants and feeding the pets to reporting a fault in the house to you, liaising with your holiday home insurance agents, maintain your inventories, taking care of the household appliances and also servicing them.
For the benefit of our holiday home owners, Tripvillas will soon be offering key-holding services in key destinations. So, if you are a holiday home owner and want to avail this service, please send an email with the details of your property to

keys@tripvillas.com

and register yourself for this service!
Responding during emergencies:
The key-holder is the closest to your holiday home, although he doesn't physically stay in it. He remains alert and when there is an emergency, he is there to respond quickly. You are away and something goes wrong with your electrical circuit, the key holder will act like a trusted friend and diffuse the problem. A fire or a flood – any emergency – you are alerted and when you return, you are most probably to find your home just as you left it.
Professional Key-Holding Services vs. Individual Key-Holders:
Key-holding can be the perfect solution for your holiday home business. But finding individual key-holders is not easy and more often than not, it may seem too scary to hand over the keys to a total stranger whom you have found through some newspaper advertisment. That is why approaching a professional key-holding service provider seems to be a pretty good idea. There are many registered key-holding companies and they can carry out the job in a professional manner.
Another reason that you, as a holiday home owner, should go for professional key-holding services is that these companies can provide more services than an individual. They can provide a full package of services, which usually include changeover services, property maintenance, security checks, and short-notice cleaning, among others.
Be clear about services provided:
Depending on your requirement, you can also choose the frequency of the key-holder's visits, day or night. Before going ahead with a contract, you should also be clear about the services provided and the terms and conditions. Ask them whether they can provide 24×7 prompt response services in case of emergency and also make sure that that the key-holding company is flexible enough to tailor their services according to your particular needs.
A key holding company must know how much value your holiday home…luckily most of them do. But it is always better to safe than sorry. Before being tempted to embrace the comfort and security a key-holder provides, it is wise to do some background checking and approach a company which has a really good market reputation.
To get more information & assistance, please submit the form below and our specialist will get in touch with you at the earliest.