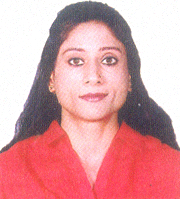 Holiday Home Times caught up with the winner of the Special National Award-2010 for outstanding Women Entrepreneurship in MSMEs, Mrs. Ruby Garg, of M/s Imperial Home Appliances, Solan, Himachal Pradesh, who underlined the benefits holiday home owners can get from water heaters fitted with Stainless Steel (SS) Tanks.
Excerpts of the interview…
Congratulations ma'am on winning the award. What do you think is the reason behind your success?
Ruby Garg: I think time management; one has to be very good in time management because being a lady it has been very important to manage my work and my family simultaneously. Second, you have to be focused. Lot of people are hard-working, but I guess you have to have hard work with a direction. You know where you are going and in which direction you have to work, etc. And thirdly, you should manage your finance very sensibly and should be patience
Please tell our readers more about your company?
Ruby Garg: I started in 2003, but at that time we were mainly making the water tanks, home accessory items, different containers, flower vases etc. But it didn't really do well. So I had to see what and how I should go about it. But I was very determined to do something. And in 2007, I started full-fledged making the complete tanks of geysers. We started manufacturing water heater tank in copper and stainless steel using conventional seamless welding technology. With persistent efforts and innovation, we switched over to plasma welding tanks with precise, clean, consistent and age resistant joints.
Now we are an ISO 9001: 2000 certificated company. Currently, we are manufacturing 1.25 lakh ISI marked geysers yearly. Our enterprise has well equipped plant and machinery and testing facilities required for the manufacturing of the items. We encourage quality circle activities to maintain and sustain quality.
The investment in plant and machinery increased from Rs. 6.80 lakh in 2007-08 to Rs. 15.74 lakh in 2009-10. The value of annual production increased from Rs. 266.13 lakh to Rs. 1968.39 lakh and net profit was Rs. 27.15 lakh to Rs. 155.27 lakh in the same period. Its exports increased from Rs. 7.16 lakh in 2008-09 to Rs. 10.26 lakh in 2009-10. Today we are an OEM company basically supplying to the bigger branded companies.
What kind of challenges have you faced during this period?
Ruby Garg: There are challenges, but being a lady there were even more. In beginning I have faced the main problem of getting finance.
Tell me more about SS tanks. How will they benefit holiday homes owners?
Ruby Garg: See use of water heaters or geysers is very common in our daily lives and in the tourism industry…one can easily understand. For an owner of a holiday home, a water heater should be maintenance-free with long life. Earlier very conventional tanks (copper tanks) were used in geysers. We have started manufacturing SS (stainless Steel) tanks with seam welding and that is the main USP which we brought and was acknowledged by the market.
The Stainless Steel tanks developed by us are specifically to handle extreme heat conditions. The water heaters fitted with Stainless Steel tanks are immune to corrosion problems. Stainless Steel tank with seam welding makes sure that every geyser tank produced is designed for long service. SS tanks have both the heat exchange performance and the durability.
For a holiday home owner what should she/ he look at while choosing a geyser for his home?
Ruby Garg: Today there are several kinds of geysers for a home. For instance there are electric geysers, gas geysers, solar water heaters, etc. But the fact remains the same that the tank of a geyser is the most important part of the appliance. Holiday home owners must ensure that they make their investment wisely. Holiday home owners must ensure that their geysers last long and what better way can it be than to go for a geyser that is fitted with a stainless steel tank with seam welding? Owners of holiday home should look for geysers that are low on maintenance and are value for money.
What kind of support you want from the government?
Ruby Garg: Only to make the process easier, especially to get finance from the banks. Because banks need collateral in the beginning and I think no SME has collateral at that time to show.
Thank you ma'am and once again congratulations from the entire Holiday Home Times team.
To get more information & assistance, please submit the form below and our specialist will get in touch with you at the earliest.