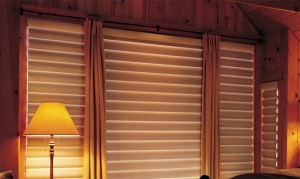 These days, window shading is becoming increasingly popular among hotels, cafes and pizzerias. As a holiday home owner, you can consider them as a solution for your humdrum windows.
Why opt for window shading?
Window shading can make windows elegant and fashionable, and at the same time, can also keep out dust and ultraviolet rays.Moreover, they apparently block upto 90 per cent of sunlight entering a room. Some home owners state that their shading helps them minimize their AC bills and even eliminate the need for AC in some climates. This in turn, can be used as a green statement to the guests.
There are several window shading solutions available, using different materials, techniques and designs. A traditional window blind is made with thin sheets of plastic, fabric, wood, artificial fiber or metal that can be adjusted while opening and closing.
Persian Shades:
These are the commonest types of window shadings, which are structured as horizontal strips made of metals or fibre, and connected with strings attached to it. They are flexible and can be rotated up to 150 to 180 degrees depending on the requirement.Vertical blinds are structured in such a way that the materials like plastic or fabric are hung from one end to another while in horizontal format, the strips can be rotated up to 90 degree to allow the light to pass through the gap. These are ideal blinds for regulating the exterior light or natural light of sun.
Venetian shades:
These usually consists of horizontal slats, usually about 25 mm wide one above another. Venetian blinds are made of metal or plastic. They are united by strips of cord or tape which can be rotated up to 180 degree. You can install these shades where you need to regulate light and air. It is an ideal type of blind for holiday homes and resorts.
Pleated blinds:
These blinds are less prone to damage from factors like strong winds, dirt etc, but they are more likely to break down. It is an ideal type of blind for cold rooms as it restricts the heat flow. It is a good alternative for your store room or where you preserve your edible items as it can restrict entry of insects and flies.
While selecting window shades for your holiday home, keep the location in mind and use materials suitable according to your need, style and durability. Moreover, there is great scope to be innovative, like using movable shades or external shades with unique designs. You can even go for a unique tree arrangement for outside window shading.
To get more information & assistance, please submit the form below and our specialist will get in touch with you at the earliest.