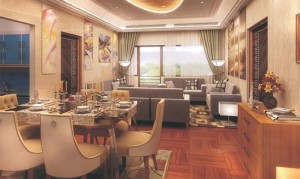 If you dream of a home with views of snow-capped mountains or lush green hills, it might be time to explore properties in Dehradun. The climate is soothing round the year, not too cold with bright sunny days in winter and not too hot in summer, due to its close proximity to the hills.
Dehradun is the widest valley in the world and is surrounded by the lower Himalayan mountain range in the north, the Shivalik Hills in the south, the river Ganga in the east, and the river Yamuna in the west. The water divide of Ganga and Yamuna passes through the city. Dehradun is located 230 kilometers north of India's capital New Delhi.
"Dehradun holiday homes yield high returns and both short and long term rentals are of optimum value" says S.K. Goyal, CEO of doonhousing.com.
"Residential property prices in metros like Chandigarh and Delhi-NCR are nearing their peaks. With a studio apartment in Delhi priced as high as 21 lakh or even more, people are looking at properties in locations like Dehradun closer to the metros," Mr. Goyal says.
"Rising disposable income and the desire to get away from the frenetic pace of city life, is driving growth of Dehradun holiday homes. For instance, only 30 per cent of buyers are locals. The remaining 70 per cent are people from other places. Hence, using one's property as a holiday home or vacation rental can be a profitable venture."
Goyal continues, "The average age group of people investing in Dehradun hails from the middle and top management segments, usually in the age bracket of 30-45 years. We see a mix of young people looking for second homes or even holiday home entrepreneurs. Then there are self-employed professionals such as doctors, and lawyers who have fair amount of disposable income in hand."
"The trend of investment here is somewhat different compared to other cities or holiday home clusters. The city today is an education hub. Yearly, Dehradun witnesses a huge influx of parents and students. This trend makes the city ideal for investing in a property which can be turned into a holiday home."
Goyal also adds that some people invest in Dehradun solely to settle down in a quieter place after retirement.
"On an average 2-3 BHK apartments will cost around 20 to 50 lakhs, depending on area and amenities offered by the developer, which I think is great value-for-money, considering the ROR in terms of rentals," Mr. Goyal says.
Dehradun has seen a surge in projects with prices starting from a few lakhs for economical apartments and plots to several crores for luxurious villas. Since non-residents cannot buy more than 250 square metres of land in Uttarakhand, apartments remain a hot favoutite amongst investors. "Shivalik Greens, located on the Dehradun-Mussoorie Highway, is best suited for investors who would be using the property as a holiday home for intending guests. They are soon to offer serviced apartments too," Mr. Goyal adds.
To get more information & assistance, please submit the form below and our specialist will get in touch with you at the earliest.